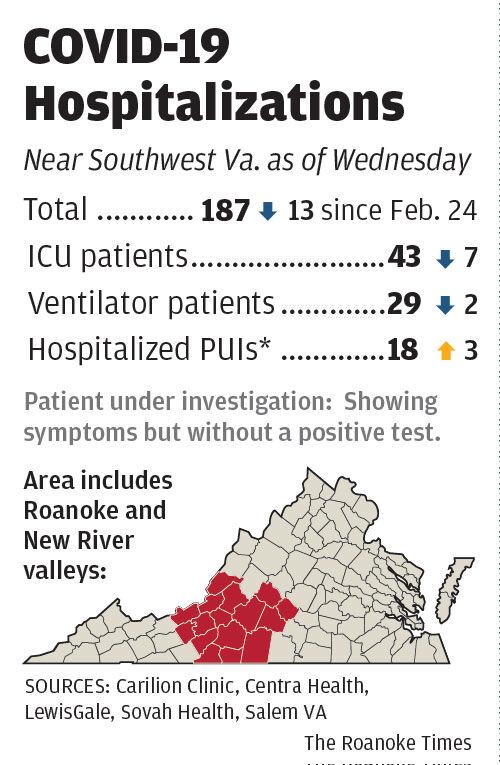 A weekend mass vaccination clinic in Roanoke will deliver 8,000 doses of Johnson & Johnson's new one-shot vaccine primarily to younger adults with medical conditions, as part of the state's plan to stage mass clinics across the state.
"This clinic will offer a crucial kick-off to reach a substantial number of all those eligible under Phase 1b who have expressed interest in being vaccinated," said Dr. Cynthia Morrow, director of the Roanoke City and Alleghany Health Districts. "While we intend to continue to target vaccination appointments to those over the age of 65, the authorization of the Johnson & Johnson vaccine means that we have enough doses to expand appointment opportunities to an even larger segment of the RCAHD community."
Email invitations will go out later this week to people 18 to 64 with underlying medical conditions who have preregistered. They can then make appointments on a first-come, first-served basis. Though a glitch in the system allows invitation links to be shared, the emails should not be forwarded, since doing so promotes line-jumping and allows ineligible people to take appointments and leave vulnerable people unprotected and frustrated.
The clinics are being run jointly by the health districts and Carilion Clinic. Morrow said that more clinics will be added as supplies increase.
In the New River Health District, Dr. Noelle Bissell on Wednesday said 5,000 doses of J&J have been received and will be given out during a clinic Monday.
Clinics that will vaccinate between 1,000 and 5,000 people a day will be staged across Virginia starting Friday, under the state's plan to use its initial shipment of 69,000 doses of the new vaccine.
Dr. Danny Avula, who oversees the state's COVID vaccination campaign, said during a media call Wednesday that supplies of all vaccines are increasing at a quick pace. He expects that by the end of March, 500,000 doses a week of the three types of vaccines will be arriving, and that within three months everyone who wants to be vaccinated will have had at least one dose.
"As I look toward the rest of the month, this is a very different scenario than we have been in. Up until this point, this has been about constraints of supply and how do we make sure it gets to the right population," Avula said. "We are quickly moving to a scenario where supply is going to be here in a really significant way, and we need to maximize the channels."
Avula said the initial 69,000-dose shipment of the J&J vaccine is for two weeks, but by mid-month Virginia will be ordering 100,000 doses a week, an amount that will increase with production. Pharmacies are also getting 22,000 doses of the new vaccine this week. Also, Virginia's allocation of Moderna and Pfizer vaccines continues to increase by 20,000 doses a week, from a low of about 100,000 weekly doses in early February to 180,000 this week. The federal government also is giving pharmacies their own supplies.
Unlike the Pfizer and Moderna vaccines, which require two doses for full protection, the J&J vaccine is one and done. That appeals to some people, plus it is simpler for vaccinators to store as it does not require ultra-cold storage.
But in clinical trials, the efficacy rate for J&J was lower than Pfizer's and Moderna's products, which has led to questions about whether if it offers less protection.
"It is important to understand the period Johnson & Johnson did trials was very different," Avula said. "They did it in eight different countries on three continents, and they did it at a time when we were seeing a lot of circulating variants."
He said the most important thing is that it is "virtually 100% effective against death and hospitalization."
He said he doesn't expect people to be reluctant to take it, but in holding the large clinics all across the state this weekend, health officials will learn about the willingness across the health districts.
People who are invited to the mass J&J clinics but prefer the other vaccines can decline and not lose their place in line, Avula said.
While public health officials continue to say the best vaccine is the one that is available, Avula said that people might have a preference and that by summer they might more easily be able to choose where to go and what to get. While supplies aren't anywhere near that, they continue to increase.
"As we look forward to the end of March, through the month of April, we should be getting between first and second [doses] somewhere around 500,000 doses a week that will quickly ramp up through April to about 650,000 doses a week," he said. "Everyone in 1b who wants to get vaccinated will be able to do that by the end of April. And everybody across the board who wants to get vaccinated will at least be able to get their first dose by the end of May."
Avula said that all Virginians 65 and older on the preregistration list should be vaccinated within two to three weeks, and that efforts are underway to work through the list of essential workers, and of younger adults who have health conditions that place them at risk of serious illness from COVID.
He sees more vaccinators joining the effort as doses begin to arrive at private practices and more pharmacies, as well as the staging of large clinics.
Until recently, the Roanoke City and Alleghany Health Districts were splitting their weekly doses evenly between those 65 and older and teachers, public safety workers, health workers and targeted populations that are at great risk, such as those who are incarcerated or are homeless. Morrow said they began last week to vaccinate other priority workers, such as grocery store employees, and were planning to reach other adults in 1b, who because of their health are at risk of serious illness from COVID.