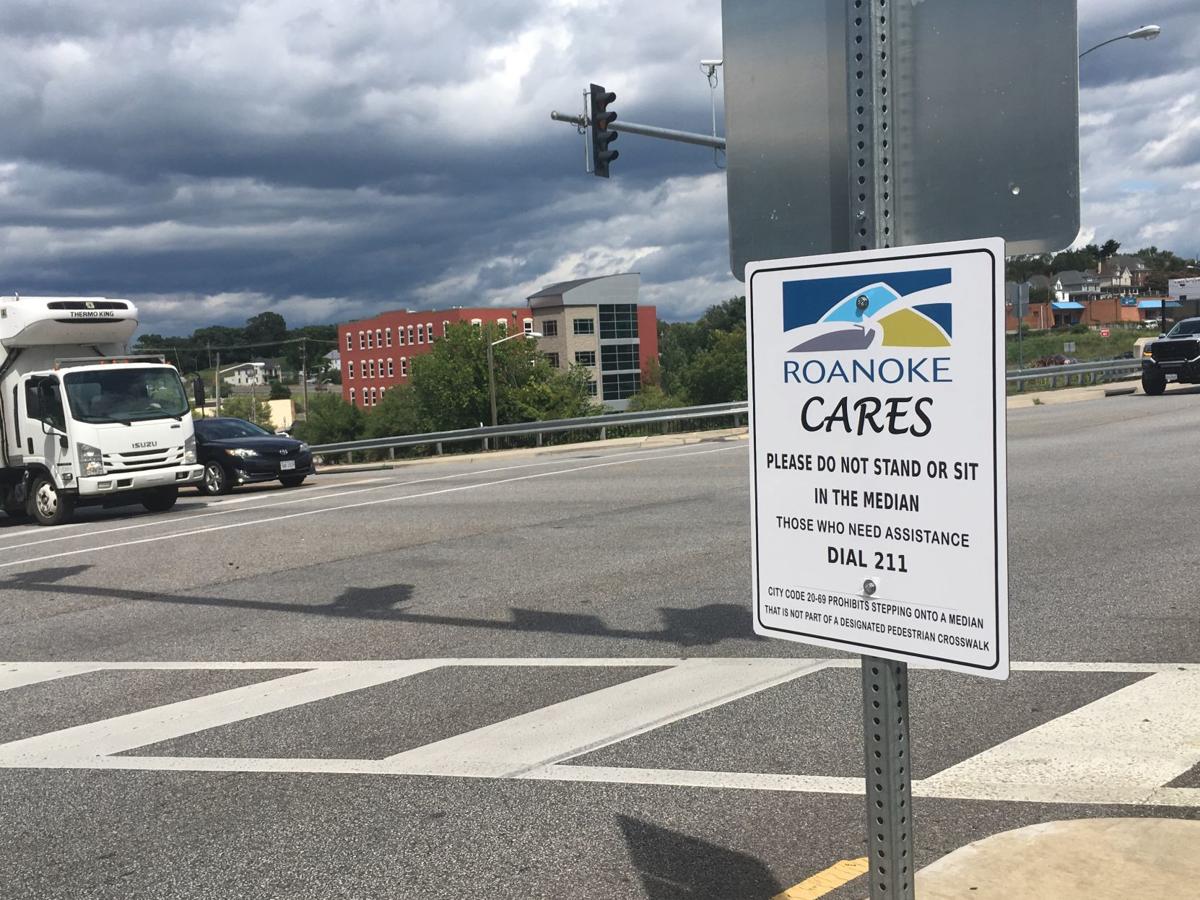 Roanoke police have handed out hundreds of citations to people standing on median strips in the city since the practice was outlawed two years ago.
But the city, police and a local nonprofit are partnering to send a message to those offenders that goes beyond a court date, or even a "move along."
With a nod to the fact that many of those who violate the city ordinance are panhandlers begging for money, signs going up at intersections across the city are telling those in need, "here's help."
"Roanoke cares," the signs announce, and along with an admonition that standing on the median strip is illegal, deliver encouragement for those in need to dial 211 — the statewide number to call to be connected with human services in your area.
"There are so many resources in the Roanoke Valley, particularly for people who need food and shelter," said Anne Marie Green, president of Council of Community Services, the Roanoke nonprofit that operates the statewide 211 service that's funded by the Virginia Department of Social Services.
Callers are asked to describe their needs so workers can connect them with services to help them in their area.
The hope is to help with lasting change in the lives of people needy enough to fly their cardboard signs begging for money at intersections, which provides a short term fix at best, Green said.
"This partnership allows us to educate the public not only on the law, but a resource that could potentially benefit them," said Caitlyn Cline, spokeswoman for the Roanoke Police Department.
The Roanoke City Council approved the ordinance banning standing on median strips in June 2017. City staffers drafted the law in response to a series of three pedestrian deaths in the city during the previous year, but acknowledged the law also could help address the proliferation of panhandlers who display their signs at intersections across the city.
The city, like many localities, previously had an ordinance against panhandling, but in 2015, the 4th U.S. Circuit Court of Appeals declared asking for money to be constitutionally protected speech and designated public roadways as a legitimate public forum. The ruling invalidated many anti-panhandling ordinances, including Roanoke's.
Since Roanoke passed its median strip ban, police have written 218 citations under the law, according to Cline. It's unclear how many of those were for panhandlers. No one has been cited since the signs started going up Aug. 11, Cline said.
With their offer of assistance, the signs acknowledge that the ordinance isn't only about safety, but includes an awareness of why people stand on median strips in the city.
Green said it would be hard to tell if the signs have generated any calls so far, unless a caller offered that they called after seeing the sign. The 211 line receives about 10,000 calls a month, she said.
Roanoke City Manager Bob Cowell said nothing in particular prompted putting up the signs.
"It is just something we have seen in other communities and allows us to remind folks about the ordinance and hopefully keep them safe as well as an opportunity to also make people aware of how they can connect to assistance if they need it," he said.
Salem has similar signs, Cowell said.
The sign installations were carried out by the administration, but were endorsed by city council members during a meeting early this month.
Councilwoman Michelle Davis said she first saw similar signs in Henrico County, near Richmond, a few years ago. She appreciates that the signs aren't aggressive, and offer help instead of a threat.
Councilman Bill Bestpitch said anyone occupying a median is in peril, and noted that near his house he'd already seen a person in a wheelchair sitting on a narrow median strip, in what seemed like a precarious perch — and directly beneath one of the new signs.
"I hope all of our pertinent intersections will be marked and people will get the message that this is not a safe activity," he said.