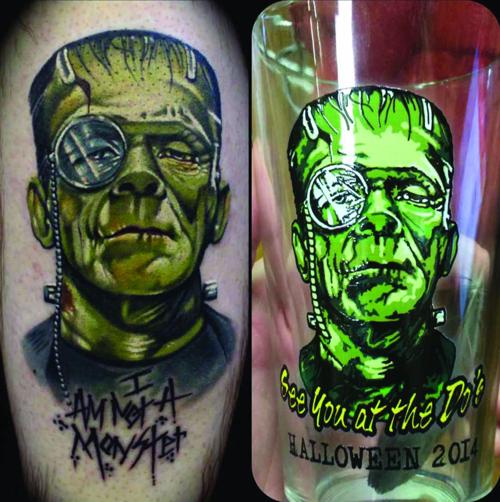 A Roanoke tattoo artist has brought a federal lawsuit against a local restaurant chain, claiming that an image used in recent promotions is the monster he created.
The copyright infringement suit was filed Friday in U.S. District Court in Roanoke by Roger Ladouceur against Macado's Inc.
The lawsuit alleges the restaurant chain, in promoting its Halloween events over the past two years, used a drawing Ladouceur said he produced and copyrighted in 2013 — a rendering of the face of Frankenstein's monster wearing a monocle.
"It was originally created for a client on whose leg Plaintiff placed the Tattoo in October 2013, and since then, Plaintiff has utilized the Tattoo as a marketing device ... to advertise his tattoo business," the complaint said. "In 2014, without license, permission or other authority from Plaintiff, Defendants knowingly, willfully and intentionally usurped the Tattoo for their own commercial purposes, making an exact or substantially similar copy."
The lawsuit, filed by Blacksburg attorney James Creekmore, says Ladouceur made the company aware of his objection last year but the image remained part of the restaurant's holiday promotions again this Halloween.
Photographs of the drawing Ladouceur said is his, and numerous examples of a Frankenstein monster used in Macado's advertising art, were submitted as exhibits within the suit.
Among other stipulations, the lawsuit seeks "an award of all those profits of Defendants attributable to their use of the Tattoo, which shall include but not be limited to all profits across all of their restaurant businesses from the sale of food, drink and merchandise during and through the entire Halloween 2014 season ... into 2015 to present."
Dean Nichols, named in the complaint as the registered agent for the restaurant, said he is not yet able to comment on the case.