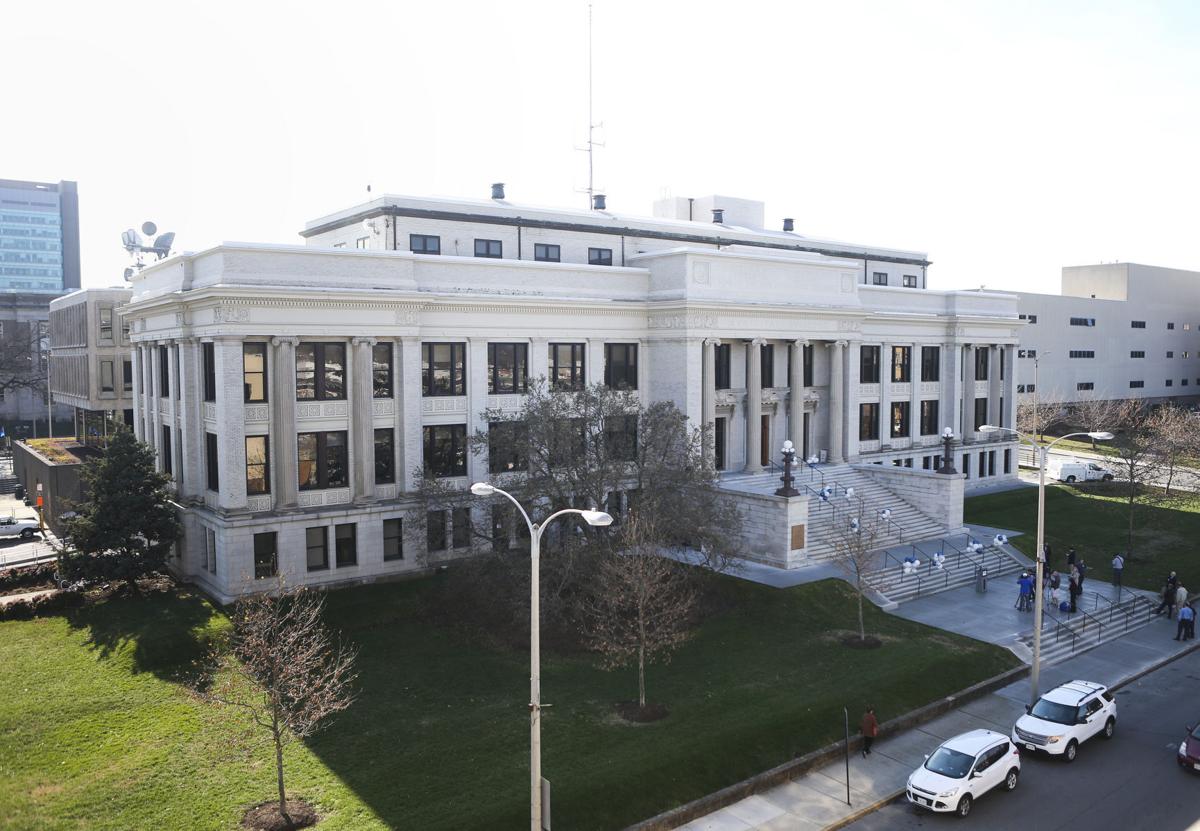 Roanoke's city council may soon ban guns from city hall, thanks to a new law passed last year by the Virginia General Assembly.
The council scheduled a public hearing for 7 p.m. Jan. 19 as it considers an ordinance to prohibit people from carrying guns inside the Noel C. Taylor Municipal Building, a goal of present and past council members for at least four years. Without discussion, the council set the public hearing as part of its consent agenda during Monday's regular meeting.
The city gained the authority to restrict firearms when the General Assembly passed a law last year that allows localities to prohibit guns on city property.
A letter from City Attorney Tim Spencer to council members stated that an ordinance could alter city code and "prohibit the possession, carrying or transportation of firearms in certain municipal facilities." Roanoke Mayor Sherman Lea said that no local ordinance has been drafted, yet, but he expects that it most likely will apply only to the banning of guns inside the municipal building.
"The main focus is on the municipal building, and banning bringing firearms into the building," Lea said in a telephone interview before Monday's meeting. "We have been talking about that for a few years now."
Lea supports such a ban, and he said he believes a majority of council will approve an ordinance.
Past city councils had requested that the General Assembly allow the city to ban guns from the municipal building and from council meetings, but Republican majorities in Richmond blocked gun-related bills.
Another push for the law happened in a legislative special session called after a mass shooting at a Virginia Beach municipal building in May 2019 left 12 people dead. GOP legislators adjourned the special session after 90 minutes without taking action.
Four months later, Democrats won a majority in the Senate, two years after winning the House of Delegates and governor's mansion. In the 2020 session, several restrictions on guns were passed by the General Assembly and signed into law by Gov. Ralph Northam, including the law that gives localities the ability to ban firearms on city property.
The council is not required to hold a public hearing before considering an ordinance that would ban guns from the municipal building, but Lea said that city leaders should hear the views of citizens before voting whether or not to approve such a move.
"We think it's always right to hear from our public before we take action of this type," the mayor said. "Some will vehemently oppose [a ban], but that's the way we govern, by giving everybody a chance to air their views."
The public hearing will most likely be held through online platforms or by telephone, due to the COVID-19 state of emergency that has limited public attendance at council meetings. The hearing will be advertised in The Roanoke Times and information about how to participate will be available late next week.
Blacksburg is the only other nearby locality to consider banning guns from city property and events. The Blacksburg Town Council is expected to consider an ordinance Jan. 12.
In other council business from Monday:
Residential real estate values for single-family homes rose by an average of 4.5%, according to latest reassessments.
The Roanoke housing market has been hot despite the pandemic, said Susan Lower, the city's director of real estate valuation. She told council members that Roanoke currently has a "seller's market" because of low inventory, high prices and low interest rates. The median sale price for houses in Roanoke is $165,000, a $15,000 increase from a year ago.
Commercial property values are up only slightly, about half a percent, due to effects of the pandemic on the local economy and businesses. Overall real estate values rose about 2.7%.
City Manager Bob Cowell told the council the reassessment will add up to about $2.1 million in additional city revenue from real estate taxes, 40% of which will go to public schools based on the city's funding formula for education.
The council held its organizational meeting as it welcomed two new members, Robert Jeffrey and Stephanie Moon Reynolds, and recognized Lea as mayor and Trish White-Boyd as vice mayor.