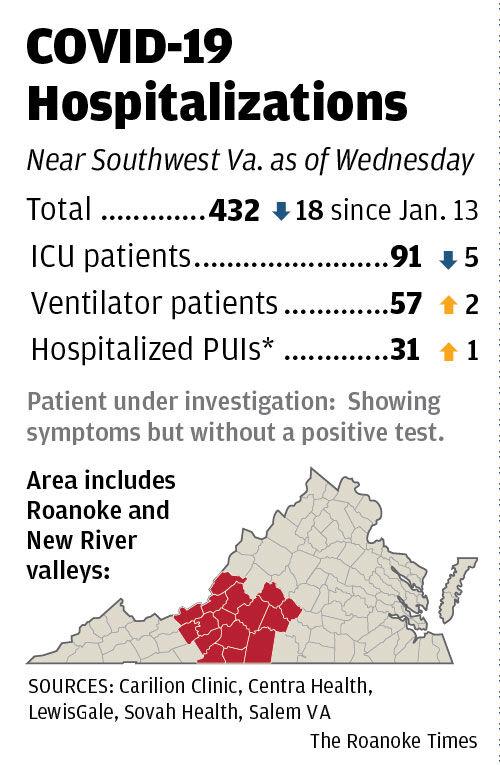 All 4,000 appointments were snagged within a couple of hours Wednesday morning for COVID-19 vaccination clinics this weekend in Roanoke.
"For me, it was really heartening to know there is this level of interest in the community, and really encouraging that our community is this interested in protecting themselves," said Chad Alvarez, senior director of Carilion Retail Pharmacy, who is leading the clinic's COVID-19 vaccine task force.
Carilion Clinic and the Roanoke City and Alleghany Health Districts announced at about 9:30 a.m. that they had teamed up to offer the first clinics to anyone 65 and older. So many people signed up online in such a short time that the system began to give errors as appointments filled, and all slots were claimed before noon.
"You never really know until you deploy a new technology, even though you test and you try, exactly all the issues you will encounter until you see the usability of the system," Alvarez said. "We may not have anticipated all the feedback we received this morning, but I assure you that feedback is critical for planning lessons in the future."
Alvarez and Dr. Cynthia Morrow, who leads the health districts, held a joint press conference Wednesday afternoon to put out word that these clinics are just the beginning of their partnership to combine vaccination efforts.
Carilion and the local health departments are also partnering on Friday to vaccinate 2,000 Roanoke Valley teachers.
"The plan is to continue to host and co-host events like this at large centers. As for the specific dates and times, I can't nail those down until we see our supplies," he said.
"There is not a magical supply of vaccine that is going to suddenly emerge," Morrow said, but the partnership puts in place structure to register and vaccinate people quickly as more becomes available. Demand for the vaccine has far outpaced supplies since more essential workers and older people became eligible to roll up their sleeves.
"This is the beginning. We are just over one week into that expanded group. We really need people to be patient and kind, but also to have hope. More vaccine will be coming every week and with every week more of us will be vaccinated," she said. "The more people who are vaccinated, the more protected our community is. With all the frustration, at the end of the day, every week we will have more and more of our community members protected, and that is our ultimate goal."
Dr. Noelle Bissell, director of the New River Health District, had a similar message during her weekly news briefing. She just can't get as many doses as she needs and as she has the capability to give out.
"We are definitely not stockpiling vaccine," she said. As of this week, the district has received 10,000 doses since its first shipment of 600 on Dec. 23, and has used more than 9,800.
Bissell said with the holiday on Monday she didn't receive any doses and began Tuesday's clinic with a 200-dose supply and 500 appointments. Enough doses arrived to finish that clinic and host Wednesday's.
Wednesday also marked 28 days since the district's first supply of Moderna's vaccine was administered, meaning those first recipients should be getting a second dose.
Bissell said they will contact people to come for their second doses but are working through the logistics.
"The date on your vaccine card is the first date we would want to do the second dose. It is not an absolute deadline. It is not an appointment for a second dose," she said. "It might be a little bit longer, 35 or 42 days. We are planning these large clinics to accommodate it."
Bissell said that she might use intended second doses as first doses to get more people some protection, and then borrow from a first-dose shipment to give out second doses.
"It's a constant process of logistics as to how to get the most people vaccinated, to get more first doses in there and still give our second doses in a very reasonable time," she said.
Bissell said that she didn't think immunity would drop off with a delay, as other vaccines that require multiple doses — hepatitis A, hepatitis B and shingles — continue to show sustained immunity after one dose.
"There is a growing list of public health experts and professionals advocating doing like Great Britain and other countries are doing, which is delaying the second doses to get more first doses in," she said. "There is nothing exact as we are living this and breathing this during this pandemic. It's always nice to make decisions based on the actual hard data, but we just don't have it. This is a novel virus. This is the first time doing this. And we are looking at the best way to manage this."
The health districts are not the only way to get vaccinated, though other methods are limited. Morrow said Tuesday that more providers and pharmacies are getting supplies and will be reaching out to their patients.
With its family medicine practices, Carilion has vaccinated about 900 patients who are eligible to receive the vaccines.
Virginia's hospitals reported Wednesday that they have vaccinated 234,000 people since mid-December.
Carilion reports it has vaccinated about 9,000 people in the last two weeks through partnerships with the health districts in its footprint, including in the New River Valley, Franklin County, Tazewell County, Giles County and Lexington.
"We have stopped at nothing to plan to stand up strategies to deploy the vaccine as quickly as reasonable," Alvarez said. "For Carilion, it's an organizational priority. Our community is our friends, our neighbors. We play, we work, we worship together, and we want to deploy this to everyone."