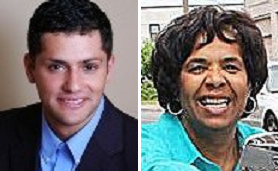 As voters in Roanoke's 11th House District head to the polls today, a political action committee affiliated with Virginia House of Delegates Speaker Bill Howell has made two more major contributions to Republican candidate Octavia Johnson.
According to numbers provided by the Virginia Public Access Project, the speaker's PAC, Dominion Leadership Trust, gave $30,384 to the Republican candidate in two installments last week. That's on top of the $75,000 already given to the campaign, for a total of $105,384.
The newest donation puts Johnson's war chest at $121,240. Her opponent, Democrat Sam Rasoul, has collected $108,351. The Democrat still leads with expenditures, though. Johnson has spent about $73,000 total, while Rasoul has spent about $94,000.
Polls open at 6 a.m. today and close at 7 p.m. in the special election to decide the successor to Del. Onzlee Ware, who has resigned the 11th District seat. The General Assembly convenes Wednesday in Richmond.