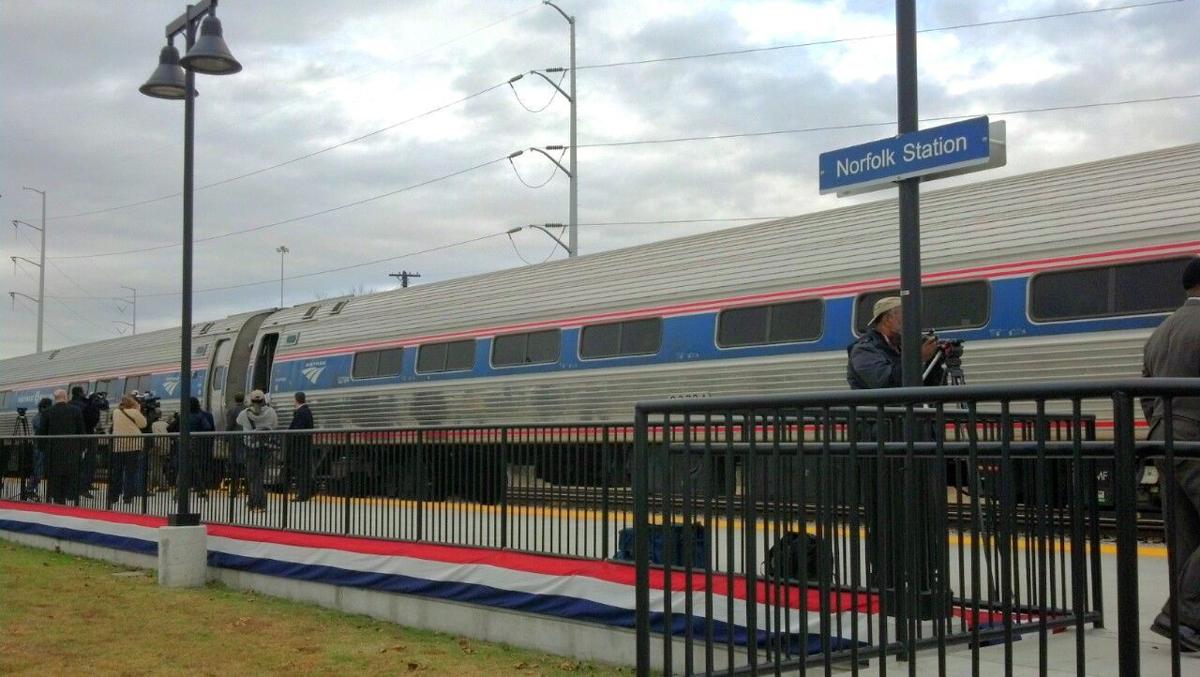 When passenger train service comes to Roanoke in 2017, riders will board from an old-fashioned, low platform that requires climbing stairs or using a lift to enter the car, according to tentative plans subject to federal review.
Planners setting up Roanoke's train service say a standard low platform will meet Roanoke's site-specific needs and comply fully with the Americans with Disabilities Act because of the availability of mobile lifts. But planners didn't publicize the proposal when they approved it 14 months ago, and now that members of the disability community are in the loop, they're upset.
Advocates for the disabled say such an approach will shortchange today's diverse ridership and there is a better option: a raised platform.
A raised platform would be roughly 48 inches above the top of the rails — the same height as the floor of the train type Amtrak will use — versus 8 inches for a low platform. The two approaches are light-years apart in functionality and convenience. There are steps or ramps to reach raised platforms, but they position riders just about level with the floor of the train for what's called "level boarding." While more complex to build, they benefit users of wheelchairs, walkers and canes; seniors; and travelers slowed down by luggage and children.
A raised platform "would put your customer satisfaction numbers through the roof," said Gary Talbot, Amtrak's program director for ADA, speaking specifically of Roanoke.
In fact, a new type of raised platform could come out in 2017 for new Amtrak stations that share track with freight rail, as is the case in Roanoke, Talbot said. It could happen in Roanoke if it's available in time and if it garners enough support, he said. Talbot stressed that he doesn't speak for Amtrak, is not in the top brass and was giving his professional and personal opinion as a disabled person and advocate.
If, instead, Roanoke ends up with a low platform as tentatively planned, its advance in modern transit would be coupled with a throwback to early passenger railroading. Roanoke's old passenger train station, now a museum built in 1905, had a low platform that's only a step up from ground-level boarding.
Roanoke last had passenger rail service 35 years ago. It is next on the list of Virginia communities to get intercity passenger rail. The Virginia Department of Rail and Public Transportation has pledged nearly $100 million for needed infrastructure, including $9.4 million for a platform and a train servicing facility. Norfolk Southern Corp., the host railroad, will furnish track.
Amtrak will operate the service with a state subsidy of $1.2 million a year. Wendel Architecture, a city consultant, predicted 65,000 riders a year will use Roanoke's Amtrak station after it opens in 2017.
Low platforms are common across Amtrak, but raised platforms and level boarding are widespread in the Northeast where Amtrak owns the tracks and has more control. In Lynchburg, the closest Amtrak station to Roanoke, hundreds of thousands of people have boarded the train from that stop's low platform.
From a low platform, riders climb several steps to enter the passenger compartment. It's a bit like climbing a wheeled staircase to board a small plane parked a distance from the terminal, except that the stairs are internal to the train. Amtrak equips most low platforms with a lift for those unable or unwilling to climb stars. A rider with special needs enters a steel box with safety rails that has been placed beside the train. An attendant hand-cranks the box to level of the train floor, 4 feet above the rail, for boarding.
That works, but there's a better way, according to advocates for level boarding inside and outside Amtrak. Get rid of the lift, they say — it's slow and it separates the disabled from everyone else.
"It would be a wasted opportunity to build a low-level platform at a location like that," said Kenneth Shiotani, an attorney at the National Disability Rights Network, speaking of Roanoke.
Level boarding isn't possible everywhere, but "where it can be done it helps everybody and it makes boarding faster and more efficient. People are less likely to trip and fall," he said.
A Roanoke City Council member not involved in passenger train planning reacted strongly when given details of the low-platform plan.
"I would be very disappointed with that," council member Sherman Lea said. "My position is that we want our citizens who are disabled to have every advantage that they can."
In Roanoke, however, Norfolk Southern could not run its freight trains near a raised platform without a setback, because freight trains sway and carry occasional wide loads. When freight and passenger traffic use the same tracks, the only workable location for a raised platform is to set it back from the tracks by several feet to ensure that railcars can pass freely and safely. In addition, the Virginia Museum of Transportation would also require a setback to accommodate its 611 steam engine, which is expected to use the platform for excursions, the Department of Rail and Public Transportation said.
For those reasons, planners of Roanoke's new service have decided on a low platform that's too low to interfere with freight or the 611. Its dimensions would be 850 feet long and 16 feet wide, according to a prior city document.
A formal proposal will be submitted to the Federal Railroad Administration for review before design and construction. The law favors level boarding where possible but allows low platforms in integrated settings such as Roanoke.
To further complicate matters, a raised, setback platform would require some kind of device to close the gap between riders and the passenger train. However, an Amtrak contractor designed such a platform. A prototype, unveiled July 23, is in testing. As demonstrated in Ann Arbor, Michigan, this raised platform built by RLE International Inc. deploys a horizontal plate to the train and then, after boarding or disembarking, retracts it to clear the way for freight trains. It costs $2 million and could be available in 2017.
When the train nears the station, a conductor reaches for an iPhone, said Talbot, describing what he called "a killer solution for Roanoke."
"They would just hit the button and the platform would come out to meet up with the train floor," said Talbot, a former accessibility engineer for Boston's mass transit, Walt Disney World and General Motors.
Talbot, who will not decide what kind of platform type Roanoke gets, said the case for level boarding in Roanoke is strong and he urged people to speak up for it. "I wouldn't settle for anything else," he said.
Jeremy Latimer, rail transportation programs administrator at the state rail department, cautioned that the new raised platform, while potentially promising, may not work out as planned or be ready in time for use in Roanoke. "I personally think it would be a great alternative to what we have now. With any new technology, it has to go through testing, and that takes time."
At the least, Roanoke riders will get to wait in a new train station being planned somewhere along Norfolk Avenue. Assistant City Manager Sherman Stovall said city staffers have focused on that project, leaving platform matters to the railroad and Amtrak.
The platform is "really a pretty small detail to us," said Phil Schirmer, Roanoke's city engineer.
Perhaps, but it's a pretty big detail to Terry Winborne, an IT worker who has used a wheelchair since an accidental gunshot struck him in the back when he was a teenager. He chairs the board of the Roanoke-based Blue Ridge Independent Living Center in Roanoke. Winborne has ridden the Metro trains in Washington, D.C., which have level boarding, and has used lifts in public places. He much prefers level access.
If Roanoke goes with a low platform, "what would be the option if the lift was broken? How would I get on the train? Is somebody going to carry me on?" he asked.