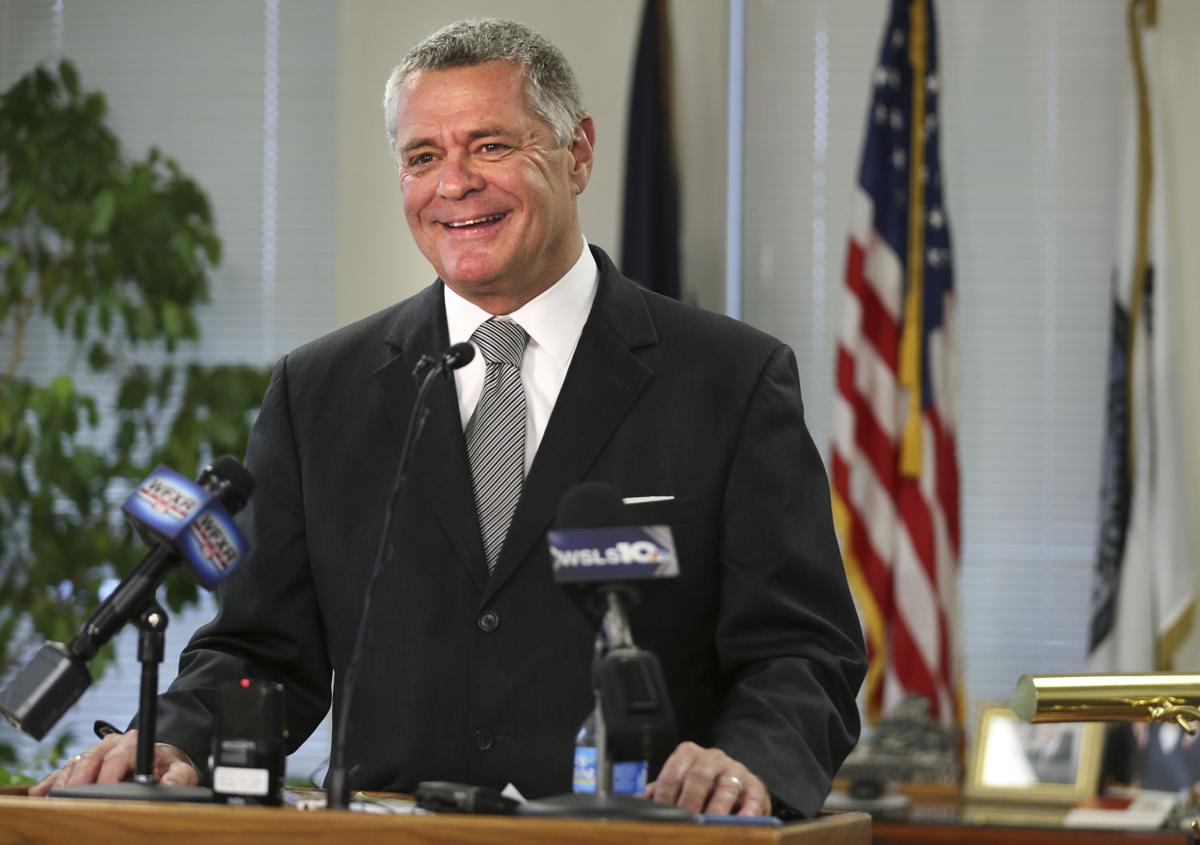 Roanoke City Council members Thursday called for Mayor David Bowers to apologize for his statement on keeping Syrian refugees out of the region in which he invoked the long-repudiated internment of people of Japanese descent during World War II.
And if he won't apologize, they said, they may call on him to resign. Two grass-roots efforts are already demanding Bowers' resignation. A special called meeting of the city council has been set for 2 p.m. Friday in city hall to discuss Bowers' statement.
"If he issues a sincere, appropriate apology, then I think that's the best way for all of us to move forward," said Councilman Bill Bestpitch.
Bowers made a new statement Thursday after being told of his council colleagues' position and petitions for his resignation, but it stopped short of saying he was sorry.
"I was thinking of the families of the innocent victims of the terrorist attacks in Paris and the threats to our nation's capital city when I made that statement yesterday," Bowers said. "My statement was intended to be respectful, measured and moderate in tone and substance. People here in Roanoke know that's the way I try to handle things."
"I did not intend to offend anyone," he continued, "but I did want to express my concerns about the current situation involving the safety of the American people."
He continued, "I'm reminded that President Franklin D. Roosevelt felt compelled to sequester Japanese foreign nationals after the bombing of Pearl Harbor," he said, "and it appears that the threat of harm to America from ISIS now is just as real and serious as that from our enemies then."
The internment of 120,000 people of Japanese descent, most of them American citizens, in camps during World War II is considered by many in retrospect to be among the U.S. government's more shameful acts.
In 1988 Congress approved legislation apologizing and acknowledging it was based largely on racial prejudice and "a failure of political leadership."
President Ronald Reagan signed the Civil Liberties Act of 1988 into law. In 1990 his successor, President George H.W. Bush, issued the first apology letters and compensation checks to the survivors. The U.S. paid $1.6 billion in reparations.
That outrage-inducing component of Bowers' statement especially troubled his council colleagues because it was delivered on city letterhead with no consultation.
"He needs to apologize," Councilwoman Anita Price said. She's hopeful Bowers will "re-evaluate that statement that he put out, especially the offensive portions."
If he does not, Price said, "It leaves us with no choice but to say, 'Mayor you've done wrong, you need to step down.' "
Councilman Ray Ferris had a similar view. "I don't think he needs to resign if he is willing to step up to the plate and admit … that the comments about the Japanese-Americans, that that was a wrong," Ferris said. "If he can't recognize that, the worst we can do is censure him. You can tell him he ought to resign."
The city's charter says the council "may punish its members for misconduct," but does not define the terms "punish" or "misconduct."
Bowers' comments were uniformly repudiated by all of his council colleagues Wednesday.
Council members called for Roanokers to tell the world about the "real Roanoke" that features 105 nationalities.
"Mayor Bowers has made Roanoke synonymous with racism and xenophobia. He praised Japanese American internment camps during WWII, he needs to resign," reads the petition created by Catherine Koebel.
State law provides for voters to remove an elected council member "for neglect of duty, misuse of office, or incompetence in the performance of duties when that neglect of duty, misuse of office, or incompetence in the performance of duties has a material adverse effect upon the conduct of the office."
The petition must be signed by a number of registered voters in the city equal to one-tenth of the votes cast in the last election for the office, which would be 935 signatures in this instance.
Bowers has had his supporters on social media and on news websites, many saying they rarely agree with the mayor on much.
Thursday afternoon, Alven Hagy, 48, took his support for Bowers to the street. For about an hour and a half he stood on the corner of Campbell Avenue and Second Street, outside city hall, with a sign reading, "I stand with our MAYOR on the SYRIAN REFUGEE ISSUE!"