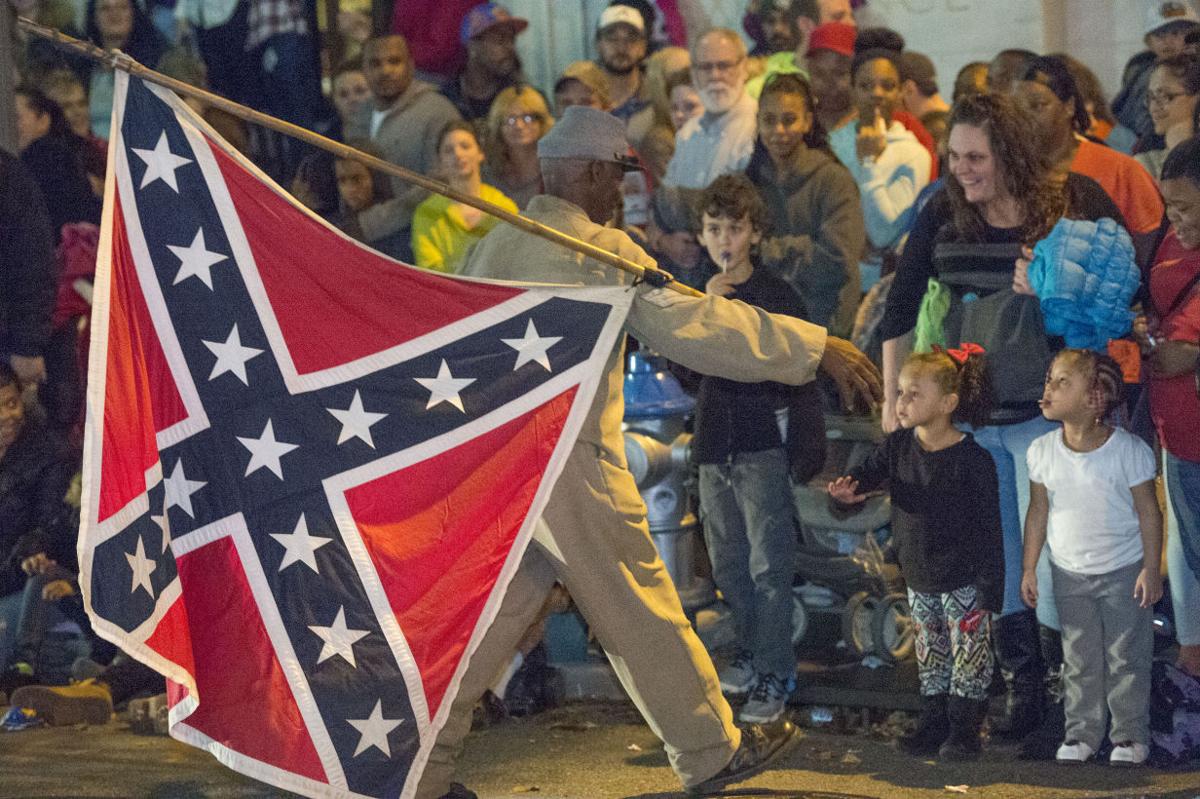 After Roanoke's Christmas parade became partly a rolling pro-Confederate flag and Second Amendment rally last year, parade organizers have made changes aimed at improving the event for this year.
The city and Downtown Roanoke Inc., organizers of the parade set for 7 p.m. Friday, made a number of application and procedural changes to shorten its duration, enforce a holiday theme and limit the number of entries in various categories to ensure a diverse offering. The changes were in place before the St. Patrick's Day Parade in March.
The parade rules "really kind of needed to be updated anyway," said Jaime Clark, spokeswoman for DRI. "Our goal is to have a fun family event."
The parade became a stage for controversy last year after complaints about an annual Sons of Confederate Veterans entry that displays the Confederate flag.
The Roanoke NAACP called on the city to ban the flag, and then showed up to protest at the parade.
In response, a group of flag proponents, some of them armed, joined the SCV float, drawing supporters out of the crowd and causing a stir along the route. DRI received numerous complaints about the parade.
Clark and DRI Executive Director Tina Workman said many of the changes didn't stem from the flag controversy.
Over 33 years, the parade had become too long, taking up to two and a half hours to pass, they said. Having so much enthusiasm for the parade is great, but the length was too much for children watching, and kept spectators from spending time patronizing downtown businesses. So the number of entrants was reduced from 110 to 85 in an effort to hold the duration to 90 minutes or less.
The parade also begins a half-hour later than in the past. That allows more time for downtown workers to head home before spectators begin showing up, and might give spectators time to eat downtown before the parade begins.
The new rules also limit the number of entrants within categories. That was to address an overabundance of certain kinds of entries, Workman and Clark said, particularly beauty pageant queens and car and motorcycle clubs.
Car and motorcycle clubs are also limited to 10 vehicles per club.
Political campaign entries are prohibited, along with business entries that are really just rolling advertisements without a holiday theme.
Only two historical re-enactor groups can enter. For this parade, those slots are occupied by the Fincastle Resolutions Chapter Sons of the American Revolution and Vikings of the Valley.
Other changes are more directly related to last year's controversy.
An implied rule that a float must be holiday-themed is explicitly stated, and a more detailed description of the entry must be included. Volunteers will check the entries for compliance in the staging areas before the parade starts, Workman said.
The SCV 28th Infantry Camp 49 float typically consists of a Confederate camp scene with a Christmas tree, to show soldiers celebrating the holiday, according to the group's commander, Mark Craig.
The horsemen have fallen in with him in the past, and he was aware they were coming, he said last December, but they were not mentioned on his application.
Craig's SCV float, however, won't be in the Christmas parade Friday for the first time in 18 years.
He failed to enter the Christmas parade only because DRI didn't send an application as a reminder as it has done in year's past.
"We wanted to be in it to honor our ancestors," he said. "And I didn't want to get out of it because that's exactly what Tina [Workman] wants."
Clark said DRI mailed an application to Craig as usual. "Had he submitted an appropriately holiday-themed entry, similar to the entry submitted to the St. Patrick's Day parade," she said in an email, "we feel certain he would have been allowed to participate in the Christmas parade."
Craig said he believes his group is being targeted by the new rules and DRI because of last year's parade, even though he has consistently said he had nothing to do with the flag proponents who fell in behind his float. Last week, he again said he had nothing to do with "those idiots."
Craig and his camp entered the city's St. Patrick's Day parade in March under the new application and rules.
Craig missed the parade with the flu, but said DRI staff required changes to the SCV entry.
They were told to leave behind their muskets despite offering to disable the firing mechanism, though they saw people in another entry carrying muskets, and were told they couldn't tow their trailer, which displays their name and a Confederate flag.
"Mr. Craig's group was welcomed at the St. Patrick's Day Parade and they were all allowed to march with the appropriately holiday-themed materials which were detailed on his approved application," Clark said. "The standards, which are set legally and universally for public safety, are clearly defined on the application."
The application says "no working and/or loaded firearms are allowed; only prop and costume-style weapons/replicas."
The application was developed with input from the Roanoke city attorney, Clark and Workman said.