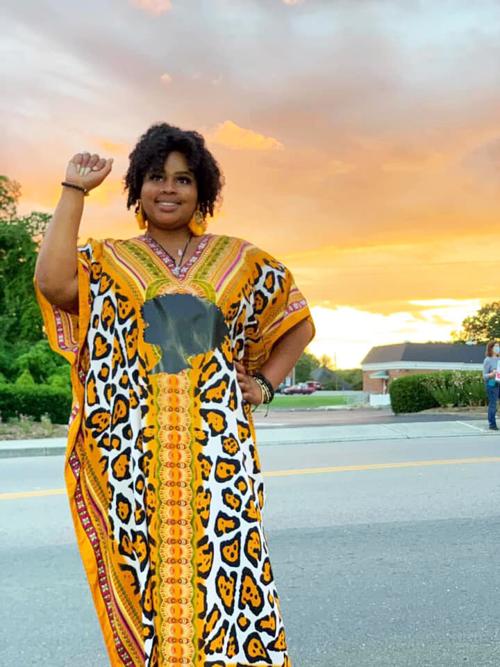 A Rocky Mount cosmetologist and activist has announced that she intends to be the Democratic candidate who will challenge incumbent Charles Poindexter, R-Franklin County, in the 9th District House of Delegates race in November.
"Uncontested incumbency is un-American and the people should have a choice who they want in power," said Bridgette Craighead, 30. "When I heard Del. Charles Poindexter was running unopposed again, I knew something would have to be done. If no one else is going to do it, I will."
Though Craighead is a newcomer to politics, her profile rose in dramatic fashion after she co-organized Franklin County's first Black Lives Matter protest in June 2020. National and international news outlets have interviewed and profiled her as county officials debated whether to ban the Confederate flag from the school dress code and whether to move a Confederate monument from in front of the county courthouse. (The flag was banned from the dress code, the monument stayed put.)
Craighead believes she can put her willingness to speak out to good use in the halls of government, she said. "I felt that someone needed to fill the position to be a voice for the people that are not usually heard."
Regarding Poindexter, she said, "I didn't even know who this man was. What has he done to represent me?"
A 2008 William Fleming High School graduate, Craighead earned her cosmetology certificate from Paul Mitchell The School Roanoke in 2020. A Rocky Mount native, she said, "I lived in Roanoke for a while but something always pulled me back to Rocky Mount. I decided to make this my home."
She's a single mother with a 4-year-old son, Bronsyn. While she studied for her cosmetology certificate, she lived in a government-assisted apartment and worked on customers' hair in her kitchen, she said.
On Nov. 11, she opened a business in downtown Rocky Mount, El3ven11 (pronounced "eleven-eleven") Beauty Lounge. "It was a perfect day," she said. "It's a dream come true, honestly."
In addition to founding the Black Lives Matter chapter of Franklin County, Craighead has helped organize community efforts, including assisting residents with registering to vote and giving voters rides to polling places, and promoting a series of outdoor movie screenings at the Pigg River Community Center for Black History Month.
At present, Craighead is the only person seeking the Democratic nomination in the 9th District, said Franklin County Democratic Committee Chair Don Vineyard.
Poindexter, a farmer, retired engineer and former member of the county board of supervisors, has served in the General Assembly since winning a three-way race in 2007. He faces a lively campaign year, as Patrick County attorney Wren Williams intends to challenge Poindexter in the Republican primary.
Poindexter did not return a phone call seeking comment Monday afternoon.
Almost three decades have passed since a Democrat represented the 9th District, which covers Patrick County, most of Franklin County and some of Henry County. Before Poindexter took over, Republican Allen Dudley held the seat for 14 years.
Craighead said her strategy for campaigning will involve "finding a common ground where we all can relate, instead of continuing to divide us all."