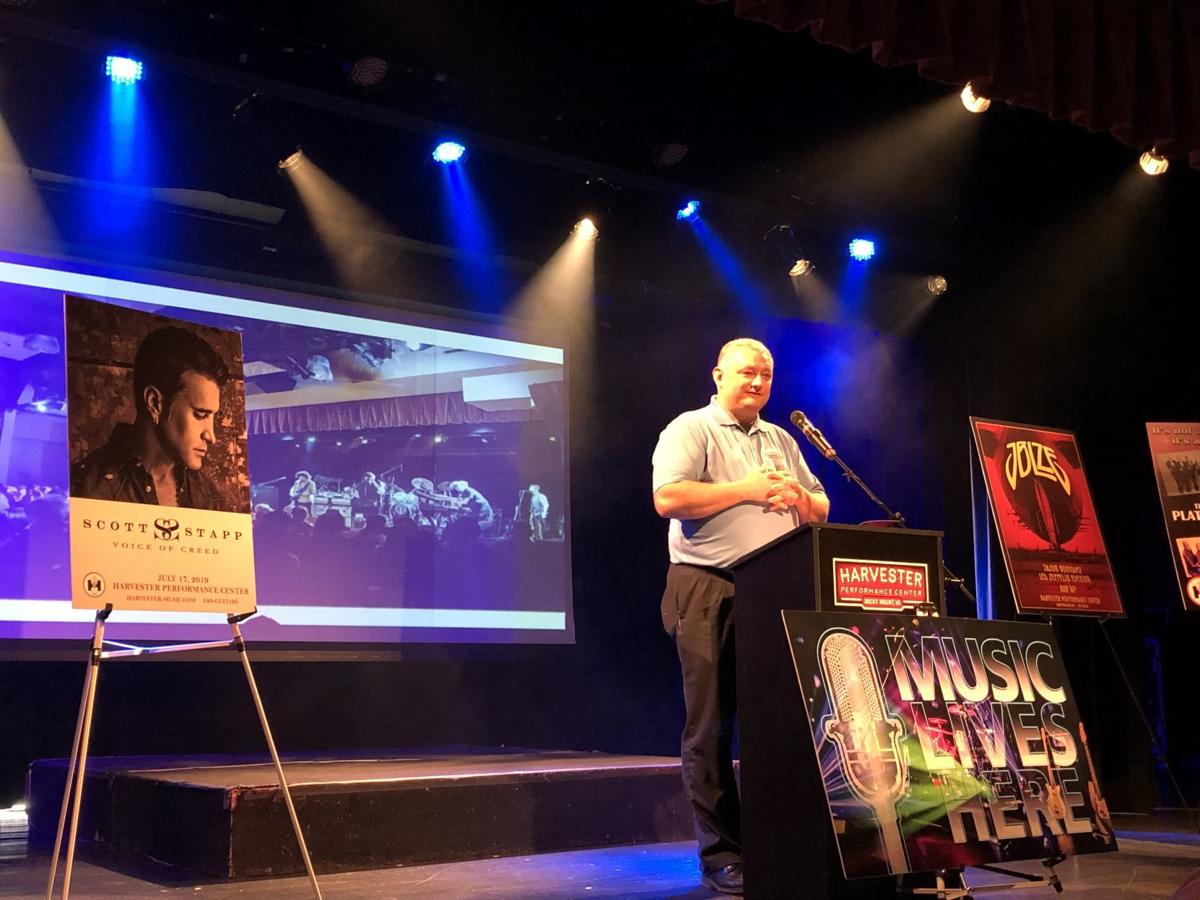 Matt Hankins, the driving force behind the founding of the Harvester Performance Center, has stepped down as assistant town manager after 13 years in Rocky Mount government.
As he put it Thursday, "it's been a real treat to serve the people of Rocky Mount this way," but "I'm working 14 and 16 hour days." He wanted to make a change that lets him spend more time with his family.
"COVID-19 has been a good chance for a lot of folks to reevaluate work-life balance," Town Manager James Ervin said. "I think it's time for someone else to burn the candle at both ends and keep things working."
Hankins points to the Harvester as his proudest achievement during his time with Rocky Mount. "Obviously the highlight of a career," he said. He praised the Harvester staff and others who helped make the music venue a reality. "These things don't get done by themselves. They get done with a team."
Hankins worked six years as communications director for Martinsville before coming to Rocky Mount in 2007. He came up with idea in 2011 to convert a vacant hardware store at 450 Franklin St. into a music venue that could serve as an economic development tool.
The Indigo Girls played at the Harvester's grand opening in 2014. The venue's stage has seen more than 1,000 shows from the likes of Willie Nelson, Arlo Guthrie, Ricky Skaggs, Charlie Daniels, Wynonna and more. Hankins has been the center's CEO on top of his assistant town manager duties.
The Harvester sometimes attracts criticism from skeptics who question whether supporting the venue with town funds makes for a good investment. Hankins said his resignation is unrelated to those criticisms.
Rocky Mount officials credited Hankins for collaborating with regional and state partners to bring in more than $30 million in economic development projects in a statement released Thursday.
Recently hired Rocky Mount Cultural and Economic Director Beth Simms will take over Hankins' Harvester responsibilities and the town will advertise in the coming months for a new assistant town manager.
Hankins declined to comment as to whether he has a new job lined up, though he said he's open to continue working in local government. For now, he said, he'll be helping out with his wife Dulcie Webster Hankins' downtown Rocky Mount business, Wood Grains Furniture and Gifts, and catching the occasional Harvester show.
"My hope is that the Harvester goes forward and it does even better," Hankins said. "That's really going to be key to the growth of the community."