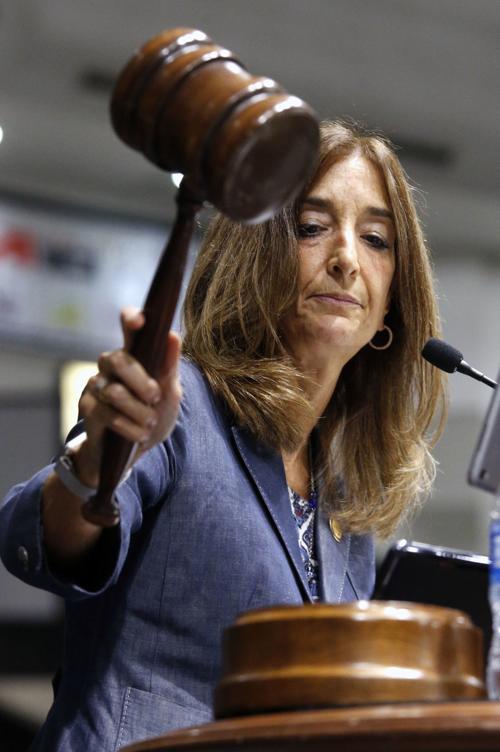 RICHMOND — House Speaker Eileen Filler-Corn removed three Republicans from committees Wednesday in response to a letter they sent to Vice President Mike Pence last week asking him to overturn Virginia's electoral votes.
Dels. Ronnie Campbell of Rockbridge, Mark Cole of Spotsylvania and David LaRock of Loudoun asked Pence to reject the "certificate of ascertainment" that was submitted to formally cast Virginia's electoral votes.
On the opening day of the regular session of the General Assembly, Filler-Corn, D-Fairfax, removed Campbell, a former state trooper, from Courts of Justice; LaRock from Transportation; and Cole from Privileges and Elections. When Republicans controlled the House, Cole served as chairman of the elections committee.
"By seeking to disenfranchise millions of Virginians and undercut faith in our democratic institutions, Delegate Dave LaRock, Delegate Mark Cole and Delegate Ronnie Campbell showed exceedingly poor judgment and conducted themselves in a manner unbecoming of their office," said Kunal Atit, Filler-Corn's spokesman. "Their attempt to cast doubt on our elections process in order to impede the peaceful transfer of power between one president to another is an affront to our democracy and violates the public trust."
The letter sent by the delegates also called into question Virginia's enactment last year of a law to allow for the use of ballot drop boxes. The letter said that the numerous changes to voting laws — championed by Democrats who made expanding voting rights a priority in their first year of taking control of the legislature — "led to greatly increased opportunities for massive voter fraud and election fraud."
Days after the presidential election, Campbell posted on his professional Facebook page a link to a petition to ask the U.S. Supreme Court to order a new election (which it can't do). He asked people to sign the petition, which also called for an election without the use of absentee ballots, which were used by many Americans to avoid voting in person during the coronavirus pandemic.
He also sent an email to constituents saying, "Democrats are trying to steal this election." The email included a video with Steve Bannon, Trump's former adviser, discussing conspiracies about the election.
Campbell did not return a request for comment.
LaRock attended the rally in Washington last week. In a statement afterward, he spread the baseless claim that "paid provocateurs" stormed the Capitol. In a response to calls from local leaders in Loudoun County for him to resign, LaRock put out a fundraising email touting his support for Trump.
"Rather than focusing on the business of Loudoun County and the needs of the colored community, they are wasting their time and taxpayer resources to attack me," the email reads.