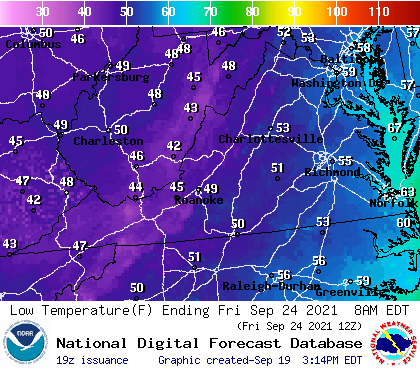 The calendar and changing seasonal weather look to match up extremely closely this week.
Wednesday is the first day of autumn, and that day promises to bring a sweeping cold front that will arrive with rain, wind and some thunderstorms, clearing out the lingering stickiness in favor of cool, crisp, truly autumnlike days for the latter part of the week.
But if your thought of "summer" is sunshine and near-90 high temperatures (Roanoke hit 88), Sunday just might have been the last such day of 2021.
A damp "wedge" pattern will set in for Monday and Tuesday, as easterly winds bank ocean air against the mountains. We'll have low clouds and periods of drizzle and light rain, with temperatures probably staying below 80 on Monday and almost certainly doing so Tuesday, with an increase in showers.
While daytime highs will be cooler with thicker cloud cover, it will remain humid, as lows at night do not fall far into the 60s. Temperatures on Tuesday and Wednesday may vary only a few degrees for 24-36 hours, before the cold front arrives late Wednesday and begins the temperature drop.
Rainfall totals on Tuesday and Wednesday look to be substantial, with widespread 3/4 to 1 1/2 inch amounts, locally 2 or more where a heavier fetch of rain can set up for a while, or a stronger storm can pour. Not an unwelcome event for a region still tilting a little dry on the whole over previous weeks, and of course priming the foliage for colorful bursts in weeks ahead.
Atmospheric dynamics will have some strong, changing winds aloft on Wednesday, but the persistent cloud cover of the first half of the week will likely dampen instability, limiting the severe storms risk. Don't be surprised to hear some thunder or see some pretty strong wind gusts on Wednesday.
Thursday and Friday will bring low humidity, highs in the 60s and 70s, and widespread lows in the 40s. There appear to be some reinforcements to the cool air mass over the weekend and next week, perhaps right through the end of the month.
Sure, there will be most likely more days that reach the 80s, even into October and maybe November, but nothing now to suggest a run of summerlike heat again. Most historic instances of truly summerlike heat in fall are holdovers from late summer patterns that don't fully let go, not re-starts once there is a clean break like the one that is coming late this week.
Summer 2021 is likely gone for good.