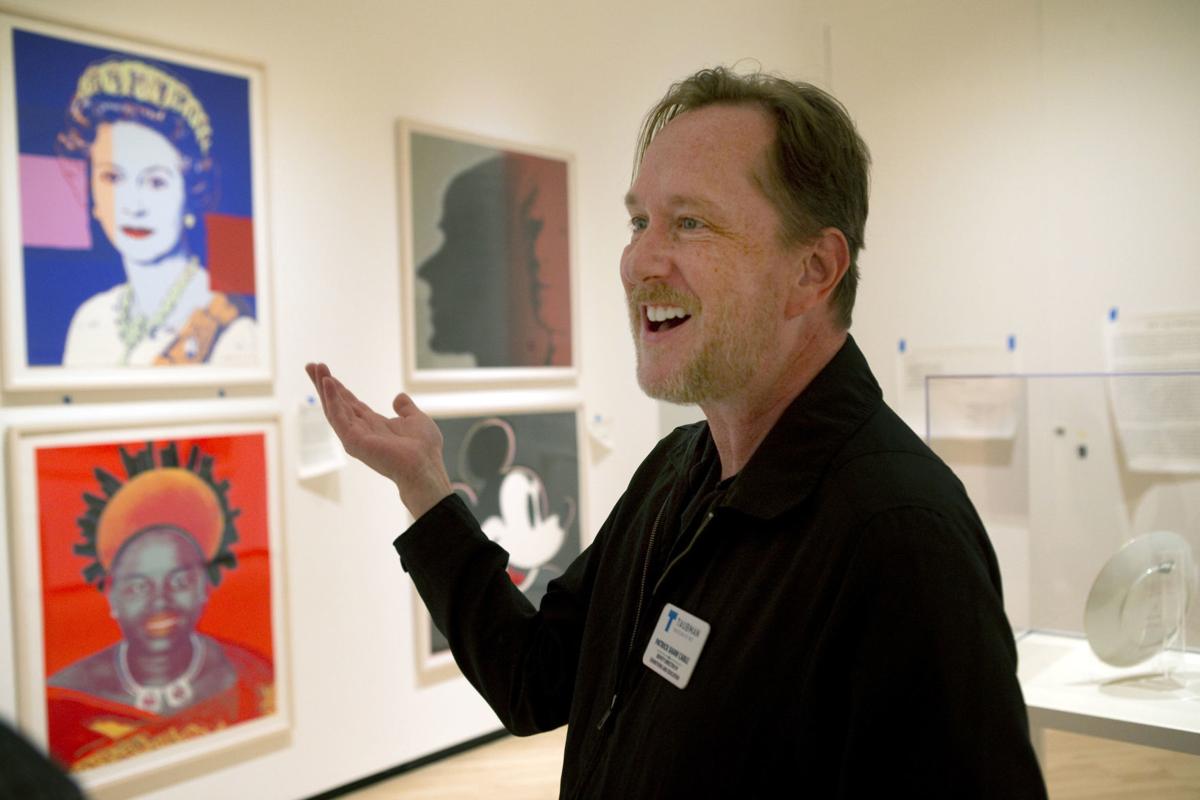 Staff and volunteers at the Taubman Museum of Art are in mourning after learning Monday of the unexpected death of 53-year-old Patrick Shaw Cable, the museum's chief curator and educator since September 2018.
"He was beloved by the community. He was a joy, a breath of fresh air," said Taubman Executive Director Cindy Petersen. "Being in the galleries with him and listening to him talking about art and pulling all the strings together was just phenomenal."
"He was a terrific asset to the museum," said Heywood Fralin, vice chairman of the Taubman board of trustees. "He was someone who was extremely well-liked by everyone. All of his colleagues at the museum thought of him as a friend."
Petersen said she did not know the cause or the exact date of Cable's death, only that it happened over the weekend. Cable was found in his Roanoke home Monday morning after he didn't report to work.
Tuesday, Petersen closed all operations at the museum to help staff process their grief, and notified museum volunteers of the tragic news.
Though he was a relatively recent addition to the staff, his rapport was such that "it seems like it's just been years," she said.
A native of Asheville, North Carolina, Cable had already embarked on a career as a curator by the time he earned his doctorate in art history in 2000 from Case Western Reserve University in Cleveland. A prolific author and lecturer, he worked at the Cleveland Museum of Art, the Art Gallery of Hamilton in Ontario, Canada, and as senior curator at the El Paso Museum of Art before Petersen hired him.
Cable's "laugh and smile was a true treasure at the Taubman," Petersen said. "He loved being in Roanoke."
Shows that Cable masterminded began to appear in the latter half of 2019, including the special ticketed exhibition "POP Power from Warhol to Koons: Masterworks from the Collections of Jordan D. Schnitzer and His Family Foundation."
A real estate investor and art collector, Schnitzer said he has worked with about 100 curators through the years as he made arrangements with museums to exhibit works from his collection. "I think Patrick was extraordinary," he said. "He came across very down to earth, very humble. He talked in a way that when he would describe artists' work, and their history, and their relationship with each other, it made the art and the work come alive."
Visitors to "POP Power" gave feedback that listening to the audio tour Cable recorded was like attending a metropolitan area exhibition, Petersen said. "His voice will continue to live through the audio tours and this exhibition as it travels."
"I was so looking forward to the next exhibition with him," Schnitzer said.
"I feel like I lost a champion," said Texas artist Julie Speed, who worked with Cable at the El Paso Museum of Art and later at the Taubman when he brought her show, "East of the Sun and West of the Moon," to Roanoke. "I'm just flabbergasted that he's not there."
Speed's show proved hugely popular with Taubman visitors, Petersen said. "I haven't heard in a long time so many comments from people who came through and were blown away."
Cable also worked to strengthen the museum's partnerships with regional artists, universities and other arts organizations, Petersen said.
"His warmth, wit and ranging intelligence made him a joy to collaborate with," wrote Scott Williamson, music director of Temple Emanuel in Roanoke. "I'm sorry we are deprived of his curatorial gifts and creative vision so soon, but I'll miss Patrick, my friend more than anything."
"It is so sad," said Southwest Virginia Ballet Artistic Director Pedro Szalay. "He was an amazing guy. When he explained something, it was so delightful to hear."
Szalay said that "from day one," Cable made him and others he met feel like family members.
Williamson and Szalay intend to collaborate via Zoom on a video tribute to Cable, in which Szalay will dance while Williamson sings an Irish folk song.
The museum staff members intend to publish their own tribute video to Cable on Thursday.
Petersen said the Taubman is asking for those who knew Cable to share tributes, which the museum will share with his family members in North Carolina.