Goodman, 32, a senior police officer in Salem and 2020 Officer of the Year, is a champion for students at Andrew Lewis Middle School, where he's a school resource officer. "He's a good man," said seventh grader Aidyn Swing. "You can tell by his name."
I came to the Salem Police Department because I wanted to be a DARE officer or an SRO. Working with kids is a passion that I have. My father was a police officer so I grew up around law enforcement and having that close interaction.
And I love working with this age range. When kids get here in the sixth grade, you know, these are important years. For a teenager, a lot happens over these three years.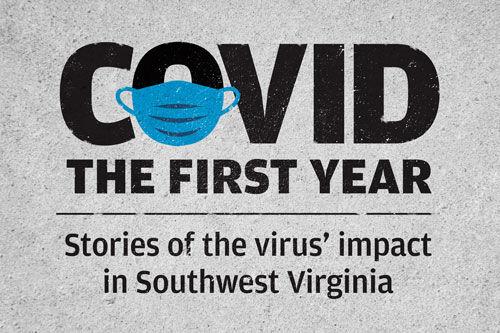 In a regular year, I stand out back when the kids are getting dropped off. And I try to greet every kid as they walk through the door. I recognize every face. I recognize a new haircut or new glasses. I try to make those personal connections, and know if they play a sport or they're in the band or they're in the choir. I just try to show my support for them the best way I can and let them know, hey, I'm here for you.
That's still my focus but now, not only is it in the building, but it's out in the community as well. We have students here in the building, and then we have students working remotely. As the SRO, I have to be able to [serve both].
So, what we've done since school let out last March is we've started making home visits to some of the kids. It started out with one of the assistant principals, Matt Coe, and myself. As time went on, we added a guidance counselor with us, just as another resource for families.
Weekly, we go out and we visit several kids. We chat with them on their porches and try to do it as distanced as possible.
We offer help, ask how their grades are, or if there are any resources we can provide to them. I would almost say it's the highlight of their week for some to see some familiar faces. A lot of kids miss being able to be in school five days a week.
I feel like, as far as that connection, it's probably made it a little bit stronger, when I can remove myself from the school setting and step into their element and where they live. It gives you a better understanding of who they are as a person or as kids.
During COVID, we've tried to set our kids up the best way possible to be successful. We try to reach them wherever they need to be met. I feel like the school district has done a fantastic job of providing services, adapting and adjusting to COVID.
I always hope to bring that sense of security and safety for them. That understanding that, hey, I'm still here for you, even if you can't come in the building or you're only here part of the time, I'm still a resource for you. I just hope that they understand that we're all in this together and we'll get through this together.