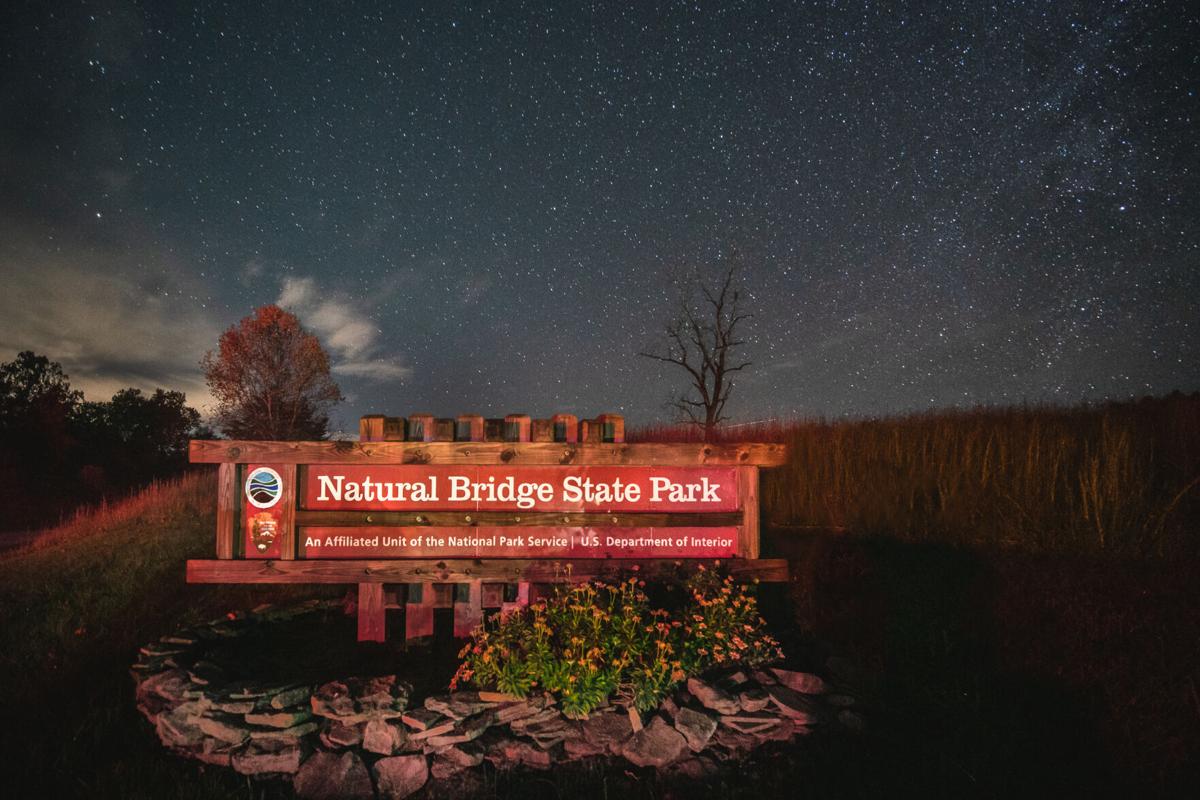 At a state park where the rock bridge is natural, the night sky is now officially dark.
Natural Bridge State Park, which is far from the city lights that make it harder to see the stars, has been recognized as an International Dark Sky Park.
The status, which requires an extensive review and approval from the International Dark-Sky Association, has been granted to about 130 parks around the world. Natural Bridge is the fourth Virginia state park to win the designation.
Supporters say it will make the Rockbridge County park better known for star-gazing, while encouraging efforts to reduce light pollution — a growing problem east of the Mississippi River that not only reduces the visibility of constellations, but can have adverse effects on wildlife, human health and energy use.
"Our commitment to providing visitors with unique opportunities to enjoy and learn about our natural resources is at the forefront of this project," Melissa Baker, director of state parks, said in an announcement Wednesday.
For years, the 215-foot tall limestone formation that is called Natural Bridge has been illuminated at night by multi-colored spotlights as part of a "Drama of Creation" presentation based on the Book of Genesis.
Because the nightly event lasts for a brief time, it was unaffected by the dark-sky designation, according to Kara Asboth, a spokeswoman for the Virginia Department of Conservation and Recreation. The show, which is presented by the adjacent Natural Bridge Hotel, is not a park-sponsored event.
Some lights along a walkway to the bridge, which were pointed upward and remained on overnight, had to be reconfigured, Asboth said.
The dark-sky designation does not carry any binding enforcement power that could limit future lighting around Natural Bridge. However, both the Rockbridge County Board of Supervisors and the Lexington City Council supported seeking certification from the association, which supports the reduction of light pollution.
Natural Bridge could lose its designation if light pollution exceeds set limits, Asboth said.
According to the International Dark-Sky Association's website, light pollution can interrupt the activities of nocturnal animals and cause sleep disorders and other health problems for humans, and is linked to the inefficient use of energy.
With Natural Bridge now an official dark-sky destination, more visitors are expected to an attraction that drew more than 180,000 in the first year after becoming a state park in 2016.
To become listed, the park underwent a complicated application process that took several years. "There are not that many accomplishments that bring recognition of this caliber to the hard work staff put into doing their jobs," park manager James Jones said in the announcement.
Also Wednesday, the department announced that Sky Meadows State Park in Fauquier County has also gained dark-sky status. James River State Park received the recognition in 2019, and Staunton River State Park became the first in Virginia in 2015.