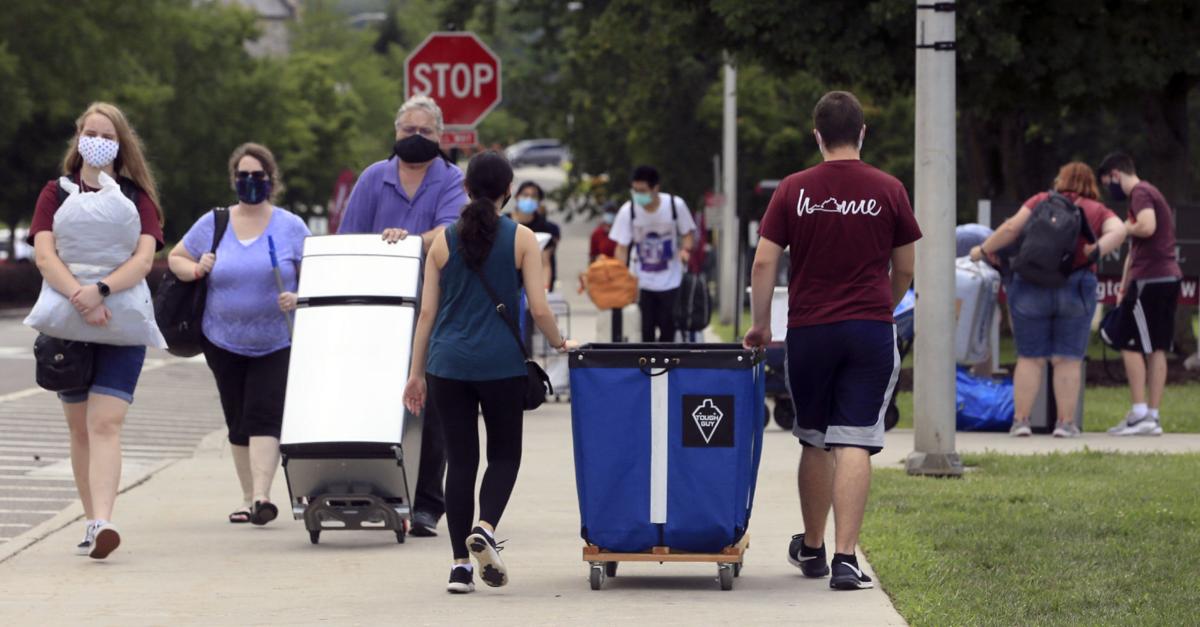 Virginia Tech leaders are urging students to comply with public health guidelines as the abrupt closure Monday of the University of North Carolina at Chapel Hill, and other colleges' recent actions, send shock waves through the campus and higher education communities.
The pleas come as Tech has welcomed back roughly 4,000 of an estimated 8,600 students expected to live on-campus this fall.
While Tech officials say initial COVID-19 testing data appears to not be cause for alarm and that plans are in place to mitigate spread, some students and employees — particularly members of the disability community — are calling on the university to reassess its plan to reopen campus.
Tech President Tim Sands said Tuesday that five students have tested positive for COVID-19 out of 3,663 tests administered Aug. 9-16, when residential students first started moving back to campus.
The results reflect what he called one "true positive" test and "four positives from students who had previously confirmed SARS-CoV-2 infections." About 800 residential students began moving in on Friday.
Sands did not provide information about the nature of the prior infections.
The university plans to launch a public dashboard this week that will be updated weekly and contain data on student test results, as well as data on the number of individuals quarantined in university spaces. The university has 425 quarantine beds.
All on-campus students are required to get tested before classes begin Aug. 24.
"As we continue to carefully populate our campus, we're off to a very good start," Sands said in a statement. "But a successful on-campus fall semester depends on our continued vigilance and compliance with our reopening plan."
"As residential colleges and universities around the country begin to open, we are watching the situation closely," he added. "Each institution's local conditions and resources are different, and their fall opening plans reflected those differences. For some institutions that opted for an earlier start to the semester, populating their campuses is proving to be a sound decision. For others, it seems to be a mistake. Their experiences are helping us learn more about the assumptions we made and the possible outcomes."
Sean Grube, director of Housing and Residence Life, likewise urged on-campus students to wear masks, wash their hands and maintain physical distancing this semester.
"I have several good friends and colleagues at UNC-Chapel Hill, and I know that they worked as hard as we have at Virginia Tech to prepare for students' arrival. However, their preparation was not enough," Grube said in the Tuesday email, a copy of which a university spokesman provided.
"What happened at Chapel Hill can happen in Blacksburg," Grube wrote. "But we want to make sure it doesn't."
Still, some faculty, students and staff remain worried that Tech could see a similar fate as that of UNC-Chapel Hill, or even Notre Dame, which on Tuesday moved in-person classes online for two weeks after seeing a spike in coronavirus cases.
"It should serve as a warning to all other universities that are thinking of opening next week," said Ashley Shew, an assistant professor and a co-chair of the Disability Alliance and Caucus at Virginia Tech. "We're all playing this terrible game of betting how soon the university will close."
Members of the alliance, in particular, expressed frustration Tuesday with how university leadership has responded to the group's recommendations on responding to the pandemic.
"I'm very disappointed in Virginia Tech. Everybody in our community is afraid. We're afraid of what happened at UNC happening here," said Emily Burns, a disability coordinator at Tech. "They say, 'We hear you.' But they don't take action."
Mark Owczarski, a university spokesman, said Tech is aware of concerns among students and employees, especially in the wake of announcements from schools scaling back plans.
"We really can't comment on decisions made by other universities because we don't have the insights or information or background that guided another's decision," he said in an email, noting that Tech is closely monitoring its own situation on the ground. "As President Sands has said many times, we will pivot from our current plan if and when we need to."
Unlike Tech's reopening plan, the plan at UNC-Chapel Hill had faced fierce opposition from faculty and even the local health department, which back in July advised the university to move online as cases in the region mounted.
Dana Riger, a clinical assistant professor at UNC-Chapel Hill, said Tuesday that she was not surprised the school closed, given a recent upswing in clusters of cases.
"After the first week we saw — after all of our best efforts and many, many students complying – that it was inevitable that college students were going to congregate, that college students were going to party," said Riger, who teaches courses in human development and who earned her doctorate at Tech. "I don't think there is anything fundamentally different about college students at any university in terms of their cognitive development and decision-making abilities."
After what happened at UNC-Chapel Hill, she said, it seems "naive" to believe "even the most well intentioned are not going to violate those safety protocols."
"If I had a child going to college right now I would encourage them to stay home, if they are able to," Riger said. "Better safe than sorry."
Asked how some Tech students would be expected to behave differently from some students at UNC-Chapel Hill, Owczarski said, "I think all I can say to that is that we continue to reach out to our students to express our expectations of their behavior and what we all need to do together to prevent the spread of COVID-19."
Public health officials expect cases to increase as the population increases in Blacksburg, Radford and other college towns.
Between Friday and Tuesday, the health district reported 14 new cases in the Blacksburg zip code that surrounds campus. But the zip code that includes campus does not show up in statewide data.
Dr. Noelle Bissell, director of the New River Health District, said the department is concerned when it sees more extensive spread beyond that which it can link to other people through contact-tracing.
Otherwise, she noted, COVID-19 already exists in the region, and the health department is able to contain even a large number of cases by determining how people got exposed.
"The last thing we want to do, we don't want to blame anybody, we don't want to shame anybody," Bissell said in an interview with The Roanoke Times last week, noting it's not possible to eliminate risk completely.
That is partly why the department won't disclose cases specific to students. Releasing such information, she said, doesn't change the department's message for people to wash their hands, wear masks and maintain their distance from others.
"I don't want the knee jerk reaction that we have cases, then we have to shut everything down," Bissell said. "I want people to see that we can manage this without panicking."