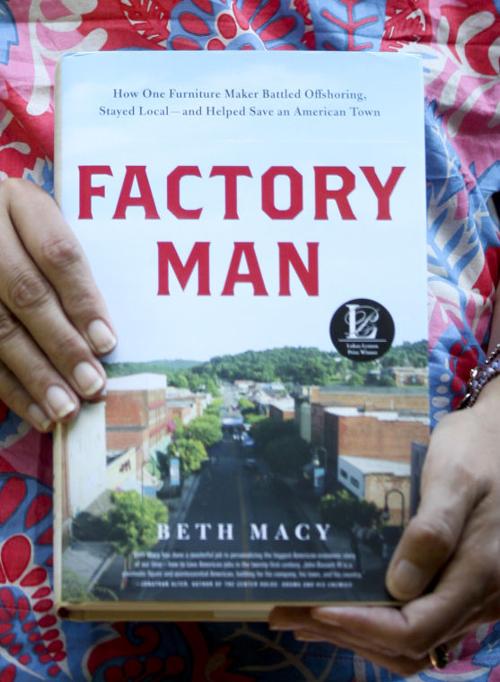 And you thought it was a big deal when Tom Hanks merely tweeted how much he liked "Factory Man."
Two months after posting on Twitter that he loved Roanoker Beth Macy's bestselling book so much he wanted to give it "142 stars," the Academy Award-winning actor and his production company, Playtone, will produce a miniseries for HBO based on the book, according to the website deadline.com.
Playtone, which was responsible for other landmark HBO miniseries that include "Band of Brothers" and "John Adams," will develop a project based on the book, which chronicles John Bassett III's battle to save his Galax furniture company and his employees' jobs against an illegal onslaught of cheap imports from China.
"It's totally surreal," said Macy, describing the attention her book has gotten since its publication on July 15. "This whole experience, there's nothing I can compare it to. I feel so lucky."
Macy's book — her first — hit The New York Times bestseller list one week after its publication. It has earned stellar reviews nationwide for its underdog story of one man's battle against the negative impact of globalization on his company and Southwest Virginia.
One of those reviews came from Hanks, who wrote on his Twitter account on July 24: "Great summer reading. I give it 42 stars. No, I give it 142 stars. Yeah, it's THAT good. Hanx."
Now, Hanks and fellow Playtone executive Gary Goetzman want to bring that story to HBO. According to entertainment website deadline.com, Playtone is currently producing a miniseries based on Elizabeth Strout's bestselling book "Olive Kitteridge," which will star Oscar-winner Frances McDormand.
Bassett's grandfather helped start a company and build a town, both of which carried the family name. Bassett — the company, the town and the family — flourished in the 20th century by making high-quality furniture at reasonable prices. The company paid good wages, as did most of the furniture and textile factories in Southside Virginia.
However, that economy collapsed in the age of globalization, as companies sent their production offshore and eliminated the jobs of thousands in Henry County.
John Bassett III fell out with the rest of his family and was left to operate one factory in Galax, from where he launched his fight against illegal dumping by the Chinese. Even as his own industry and major retailers stood against him, Bassett won his case and saved the jobs of hundreds of workers.
"Factory Man" grew out of newspaper reporting by Macy, a former journalist for The Roanoke Times. She will serve as a consultant on the project.
Peter McGuigan, Macy's agent at Foundry Literary + Media in New York, will be a co-producer. McGuigan, a Lynchburg native, is a Virginia Tech graduate.