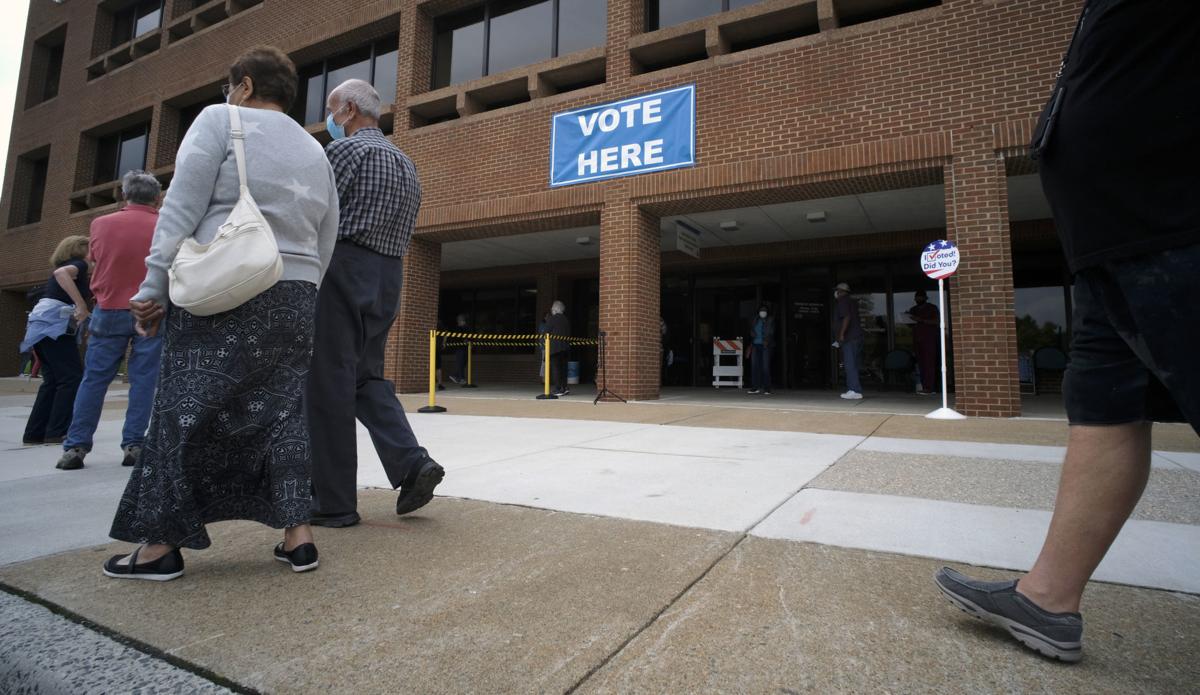 On the last day state residents could register to vote, Virginia's online voter registration system was down due to a cut cable that shut down multiple agencies including the registrar's offices, the Virginia Employment Commission and the Virginia Department of Health.
Virginia Information Technology Agency posted on Tuesday morning that a fiber was cut near Route 10 in Chester, resulting in the website crashing and being inoperable for over three hours. In a 12:35 p.m. update, VITA released a statement saying the Verizon fiber was struck as part of a Chesterfield County roadside utilities project.
By 3:30 p.m., the site was back up.
The setback pushed politicians and advocacy groups to call for an extension of the voter registration deadline — an action previously taken in 2016 following a computer glitch.
In a briefing Tuesday, Gov. Ralph Northam said he doesn't have the power to change state code, but would support a court-ordered extension.
Virginia law notes that it's the Commissioner of Elections who has the authority to have alternative methods in the case of an emergency that "interferes with the electoral process or the opportunity for qualified voters to exercise their right to vote as determined by the Commissioner of Elections."
The Lawyers' Committee for Civil Rights Under Law filed a lawsuit Tuesday night saying voter registration must be extended for 48 hours and that the state should make "a significant effort" to tell the public about the change.
ACLU of Virginia, which previously fought for and was granted an extension in 2016, said in a tweet Tuesday afternoon that the crashing of the website is a state failure, and as a result, is "the state's responsibility to remedy this injustice."
The Virginia State Conference of the NAACP requested Northam push a 72-hour extension after the registration system is restored.
Former Gov. Terry McAuliffe said in a statement that courts "must immediately take action" or otherwise risk disenfranchising Virginians statewide. Lt. Gov. Justin Fairfax tweeted that he'd work with Gov. Ralph Northam's administration to "ensure all voters have access to #Vote."
NextGen Virginia, a nonprofit advocacy group that pushes for increased voter participation, also called for election officials to offer an extension.
The calls for extending voter registration deadlines have echoed across the country in the past month, including from the only other state to so far experience an outage on the deadline day: Florida.
Florida officials extended the voter registration deadline until 7 p.m. the following day after glitches with its online portal on the last day to register last week. Florida Secretary of State Laurel Lee said in a press release that the site was inundated by an "unprecedented" 1.1 million requests per hour.
In Arizona, a federal judge ruled voter registration deadline be extended from Oct. 5 to Oct. 23 — nearly three weeks — due to concerns that the pandemic had jolted voter registration efforts. Both extensions were met with criticism and challenged in courts.
Virginia's registration website advised people registering to vote to complete a paper application, which will count as long as it's postmarked by Tuesday.
But registrar's offices statewide have already cited an impact on early in-person voters.
Around 7:30 a.m., Albemarle County tweeted that the system shutting down also meant early in-person voters could not be checked in on the poll books and "will only be able to vote a provisional ballot."
Virginia Beach's registrar office posted a similar notice about casting provisional ballots, which is a vote set aside until officials can verify voter eligibility.
(804) 649-6103
Twitter: @sabrinaamorenoo
Get local news delivered to your inbox!
Subscribe to our Daily Headlines newsletter.