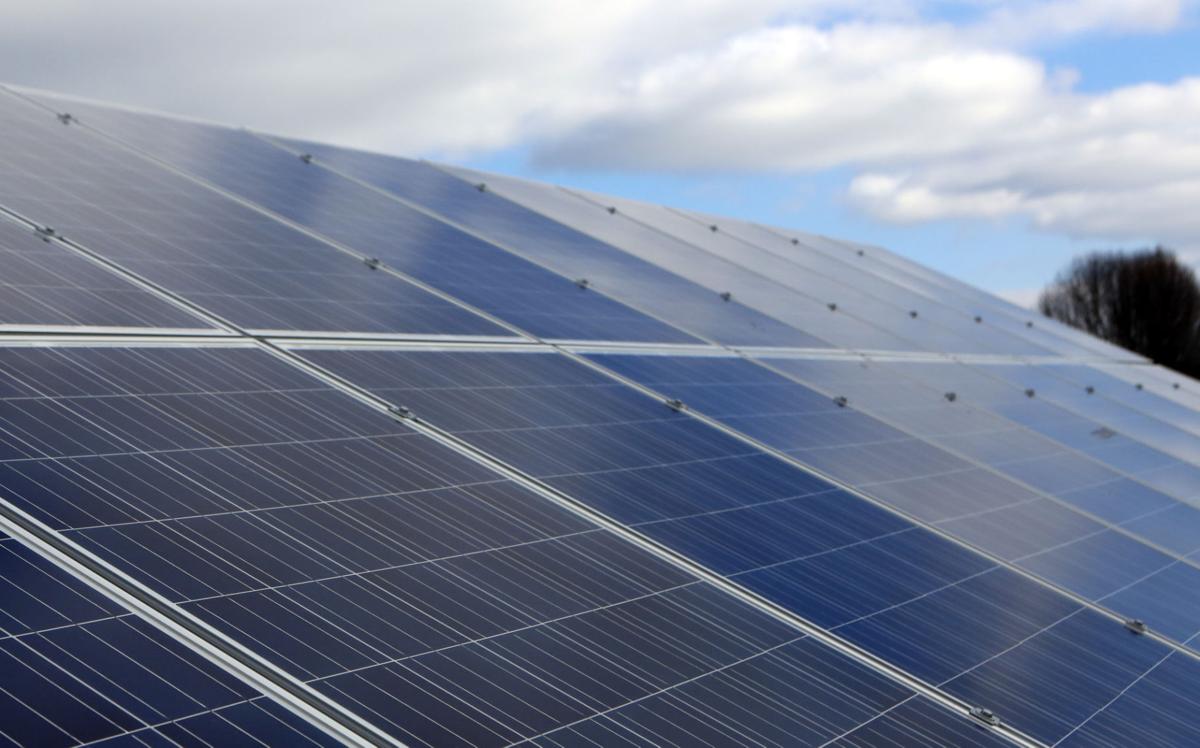 Pulaski County's new SolSmart designation won't add to the about 192 sunny days a year residents enjoy, but it could help households and businesses make better use of the sun when it shines.
Officials spent five months working to attain gold-level SolSmart certification from the Virginia Department of Mines, Minerals and Energy and the University of Virginia's Weldon Cooper Center for Public Service, County Administrator Jonathan Sweet said. Now residents and businesses can pursue solar energy projects without undue permitting or zoning obstacles.
Sweet said every project his office pursues must meet three goals he calls the triple bottomline: "What's good for our communities; what's good for our coffers; and what's good for our environment," he said. SolSmart "just falls right into that. It just makes good sense to let our citizens transition or have access to residential or small-business solar."
Pulaski is one of 24 Virginia localities to so far become SolSmart certified. Nearby Blacksburg and Roanoke also are certified and other New River Valley communities are being recruited for the program, according to DMME.
But the county is rarified, even among this group. It was the third Virginia locality to receive gold certification, joining Fairfax County and the Northern Virginia Regional Commission at the highest level of the program. All other municipalities have received silver or bronze designations, according to DMME.
To reach gold status, the county had to streamline the paperwork and time frame required to gain solar power permits, and keep its regulatory fees low. Zoning changes have made accessory use of small-scale solar allowed by-right in most major planning zones. The county also had to identify areas where large-scale solar could work and implement development incentives for solar energy, among many other requirements.
For Sweet, it's about improving the economy as much as the environment.
"Pulaski County is striving to be one of the greenest energy counties in the country per capita," Sweet said. "We are home to nine international companies, who much like our U.S.-based industry value green energy and environmental stewardship."
Sweet pointed to Pulaski's existing green energy production, including the Appalachian Power-owned 75-megawatt hydroelectric dam operating on Claytor Lake, and the regional landfill that boasts a 3.6-megawatt methane conversion plant.
But officials are also pursuing major wind and solar project partnerships that, if approved, would bring significant investment, Sweet said.
SolSmart is funded by the U.S. Department of Energy Solar Energy Technologies Office and is led nationally by The Solar Foundation and the International City/County Management Association. In Virginia, it's run through a partnership between DMME and the University of Virginia's Virginia Solar Initiative, which provides free technical assistance to municipalities to make it faster, easier and cheaper to use or develop renewable energy.
Currently, about 1% of the commonwealth's energy is renewable. SolSmart was implemented in May and dovetails with theVirginia Clean Economy Act and other recent state actions intended to reduce reliance on fossil fuels and slow climate change.