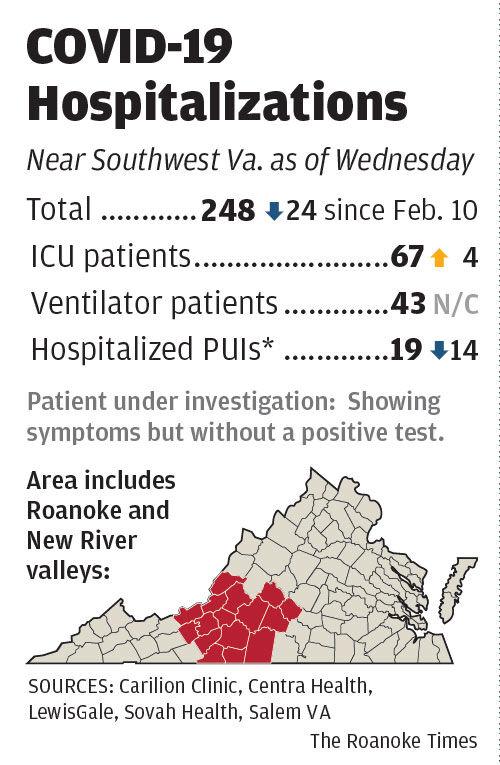 A month after half of all Virginians became eligible for the COVID-19 vaccine, Gov. Ralph Northam announced Wednesday that a call center is up and running to answer their questions.
The hotline, 877-VAX-IN-VA, or 877-829-4682, came a day after Tuesday's launch of vaccinate.Virginia.gov, a centralized preregistration system that allows people to express interest in getting the shots and gives vaccinators the ability to strategically invite the oldest and most frail to their clinics.
Northam said about 750 people were hired to work the phones, with about 10% of them speaking Spanish. Other language speakers can ask for someone to call them back in one of 100 languages.
He had announced weeks ago that both systems would be created to better coordinate efforts and alleviate frustration by older Virginians who are eligible to receive the shots but stymied by limited and clunky systems, and by not knowing if they even had a place in line.
Over the holiday weekend, all of the fragmented local systems were merged into one. Northam said when the centralized preregistration system launched Tuesday, it was taking about 150 registrations a minute and logged 300 applications a minute at its peak.
"Two hundred and forty thousand Virginians signed up since this launch, and I'm one of them," he said. "That tells us the system is working, and it is meeting the demand."
About 1.6 million records from local health districts were merged into the central database. Those who have already preregistered are in the system, he said.
People who don't find their names should wait a few days, he said, as records are still being added.
Dr. Danny Avula, who heads Virginia's vaccination effort, said, "Preregistration puts you in line for any vaccination by the health department and their partners."
CVS, which is getting its own allocation of doses from the federal government, has a separate registration system at cvs.com.
Avula said the health department is working with other drugstore chains so that they will be able to pull names from the preregistration system once they get their own supplies of the vaccine in coming weeks.
Virginia receives about 130,000 first doses of vaccine each week that it then distributes to the health districts based on their share of the state's population.
"Health departments are using a lot of different channels to get vaccine out. Some of it is going to private providers who are doing the 65 and up population, for example. Some might be going to pharmacies to do those with underlying conditions," Avula said. "The strategy looks different in every community, but all of it is built off these preregistration lists."
Northam said that vaccinations are going up, with more than 12% of Virginians having received at least one dose, and that rates of new COVID cases are going down. Transmission of the virus is still high and has yet to fall to pre-Thanksgiving levels.
Northam said he would lift restrictions starting Monday on outdoor sports and allow 250 spectators. He said other restrictions will be lifted slowly and deliberately as rates of the virus go down and vaccinations rise.
"Those people who have been vaccinated are safe now, we believe. If they acquire COVID-19, they are not going to get sick from it. But that doesn't mean they can't continue to spread it, and that's where the challenge is," he said.
"Until we get to herd immunity, people will need to continue to follow these measure of wearing their masks, of social distancing and of keeping their hands washed. That's when we can put this pandemic in the rearview mirror," he said. "So, yes, we're making good progress, but we are not to the point where we can lift these measures."