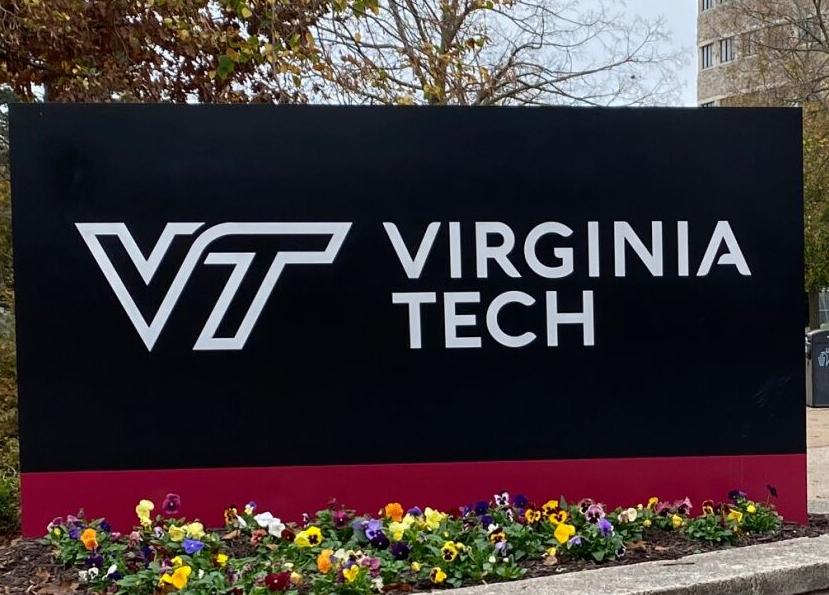 Virginia Tech students are calling for the end of a right-wing student club whose leaked private chats the university on Friday called "homophobic, racist, ableist, and misogynistic."
Screenshots of the chats, some of which were shared with The Roanoke Times, showed students poking fun at sign language for gay people and the use of pronouns to be inclusive of trans people. Chats also repeated old right-wing conspiracies about President Barack Obama being born in Kenya and First Lady Michelle Obama being a transgender woman.
Turning Point USA at Virginia Tech, a club on campus since at least 2017, says it aims to "educate and mobilize students that believe in the free market, constitutional freedoms, and limited government to preserve liberty on our college campus and throughout our nation." The club is affiliated with a national group founded in 2012.
As of Friday afternoon, nearly 4,200 students and others had signed an online petition started Wednesday calling for the chapter to be abolished.
University officials released two statements Friday saying the content of some of the leaked conversations were harmful and not consistent with Virginia Tech values.
"This week, screenshots from a Virginia Tech student group's private chat were made public on social media and the Dean of Students has responded with an outline for a path forward," Tech President Tim Sands and three other officials wrote in a campus-wide letter, which did not mention the group's name. "The content of the private messages was deeply antithetical to our values and — candidly — homophobic, racist, ableist, and misogynistic. We think it is important to say that avoiding this truth shields us from being reflective and making meaningful change in ourselves and in our circles of influence."
Dean of Students Byron Hughes reminded students of the university's "Principles of Community," and said any behavior that violates the student code of conduct would be addressed appropriately.
"A difference of opinion or belief is necessary but sharing it in a way that would cause people to believe that they do not belong cannot be the Virginia Tech way," Hughes and a colleague wrote. "We believe we can do better, and a Virginia Tech without group chats like this is an example of what needs to fuel our aspirations."
In one chat, a student asked the whereabouts of an unnamed person. "He's still there? ... And are we sure it's a he? Ya know...pronouns," the student wrote. "For anyone who isn't clear… that's a joke." Another student, whose name matches that of the club's president, responded, "I mean he did look like a bitch".
In another chat, the president posted about a Tech workshop on "GaySL," a form of queer sign language. Another student wrote, "Maybe it's just a group of deaf people that need a 'safe space' to be deaf and gay." The president said, "our tuition dollars are funding this bs."
"If we teach about drag then we should discuss the child pedophilia as well," one member said.
"It's a clown world we live in," another responded.
James Albritton, a freshman from Alexandria, shared some of the screenshots online. He said he joined the group chat recently to conduct interviews on race relations at Tech for a school project, and estimated it had about 100 members. Albritton told The Roanoke Times he was alarmed by some of the rhetoric on the chat and decided to share them publicly.
"It's not about being conservative, liberal, left or right. It's about basic human decency, respecting others' values and differences," Albritton, 18, said Friday. "This is not political. It's bigoted. The school said it's racist, misogynistic ableist, homophobic. If those are really things considered 'political values,' you should question yourself why you hold those values."
Albritton met this week with Student Affairs staff, who he said expressed support for students calling out the chats. Tech officials "have their hands tied with the whole right of free speech," Albritton said, adding that one dean told him the issue is bound to "die down" in a couple weeks.
"They're protected on the rights of free speech, but it was still discriminatory and hurtful language that upset many people that align with all of those communities," Albritton said.
Turning Point USA defended the chats in a statement to The Roanoke Times. An email to the local chapter Friday went unanswered.
"For Virginia Tech to comment on a private group chat among students is abhorrent and a clear violation of their privacy. Contrary to some of the comments made by the university, the contents of this group chat were not racist, bigoted, or [anti]-LGBTQ, nor were they targeted at any individual. They were commenting on a particular use of university funds," said the emailed statement provided by Turning Point spokesman Andrew Kolvet. "Far from being hateful, these private chats reflect widely-shared views held by tens-of-millions of Americans who believe universities and far left cultural activists are indoctrinating students using tax payer dollars, student tuitions, and fees, to blindly accept an ideology rather than teach them the skills they need to succeed in their career."
The statement added that the group messages "were clearly made in jest," and that any "attempt to 'cancel' these students or suspend this chapter will be met with immediate action."
No students involved in the group have been referred to the university's student conduct office for potential discipline, Tracy Vosburgh, a Tech spokeswoman, said by email Friday. The chapter itself is not facing any potential discipline or sanction, she said.
Azzah Abdoalrhman, a sophomore from Richmond, said she believes the university must do more to counteract discriminatory remarks on campus.
"I want to see real, administrative change within the policies of Virginia Tech because stuff like this is not new. It's happened within our student government, as well, with people in authority saying racist, misogynistic things until it got published," Abdoalrhman, 19, said.
"Tech has a history of not doing anything. I hope real consequences come to this club, either it gets shut down or the president steps down," Abdoalrhman said. "I just want solid change to come out of it. It's a recurring thing at this school."