BLACKSBURG — Steven White hopes he doesn't become campus-famous.
He insists he isn't already. But White hardly appears inconspicuous as he stands on a grassy knoll clutching a sketchbook and pen, gazing out on a skating rink in the quad below. A mustard-yellow satchel full of notepads, pens and paints sits at his feet.
"I can't wait to see your doodle," a woman says as she passes by.
"I'm Kelly. You did my yoga doodle."
As the university's official "doodler," White finds himself crisscrossing campus, documenting everyday life in the pandemic years: students flying a kite, an employee harvesting maple sap, a groundskeeper mowing grass, and abstract reminders about COVID-19 health guidelines.
Every day, the university sends out a daily newsletter to 26,780 people. And every day, at the bottom of the email, you'll find one of White's sketches, completed in watercolor.
Since the fall semester, White has inked and painted nearly 150 of his drawings, called "Semi-frequent, mostly sketchy Doodles at the very bottom of the email."
"It does two things. It tells a story every day … and I think it gives people something to smile about," said Tracy Vosburgh, who oversees Tech's communications shop as senior associate vice president for university relations. The doodles were "very purposefully put at the bottom" of the newsletter, she said, in August as the campus prepared to reopen amid the coronavirus pandemic.
"We were, every day, putting out really important information, and I really wanted to do everything possible to make sure everyone opened that email and read it," Vosburgh said. "I called Steven and said, 'What do you think about doing a doodle for the daily email?'"
"I thought perhaps we'd get a doodle every once in a while," she said. "He's prolific enough that it's turned into a daily doodle."
Before the pandemic, White worked on motion design for the university, such as title screens for videos, including the president's recorded State of the University address. Now, White says about all of his time is devoted to scheduling sketches, doodling and archiving his work.
"I was floored," White, 50, said about the creation of the project. "It was a great opportunity to do the thing that I'm passionate about. And, I mean, I'm already sketching every day. So it was just the chance to do the thing I love for the university I love."
Tech's daily newsletter gets an average of about 1,500 clicks per issue, and roughly 15 of those are on the daily doodle, Vosburgh said. That's more than the number of clicks on the weather forecast, which she says has long been a top interest. Vosburgh said she didn't have data on open rates or time spent on the newsletter.
While White described himself as a longtime "margin doodler," he isn't formally trained and only seriously took up sketching 16 years ago.
He joined the university as a web designer in 2008, the year after the mass shooting on campus.
"After April 16, I wanted to come back to the university and help," White said. "I was in Blacksburg at the time and I was working for a startup at the [Virginia Tech Corporate Research Center] and I was like, you know, I would love to contribute."
White grew up in Bluefield, West Virginia. His father, an electrical engineer, encouraged him to attend Tech because he admired its engineering program. White ended up studying communications. He enjoyed writing and recalled how before email and when long phone calls "cost real money," he would write a lot of letters to friends and family growing up.
He graduated in 1992 and he went straight to graduate school at the University of Tennessee.
"The economy was … similar to now, like it was really hard to find a job," he said.
White returned to Blacksburg, and worked at local companies doing communications and marketing. For a time, he worked for the Radford Army Ammunition Plant, crafting newsletters and PowerPoint presentations for military officers.
He began drawing shortly after the birth of his son. Early sketches, "really bad ones," White said, include his son in his car seat or baby swing. White says he was drawn to sketch more seriously in order to be a better designer and visual communicator.
"My third-grade teacher, I remember this, she taught us this: It's good, better, best. Never let it rest until your good is better and your better is best," White said. "She was just teaching us …there's no 'gooder' She was just teaching us .. that's how grammar works. But I love that, like that could be me in a nutshell."
Among his inspirations, White counts several "urban sketchers," such as Montreal-based artist Shari Blaukopf and Seattle-based Gabriel Campanario, who founded the Urban Sketchers group, a loose, global network of artists who draw on location.
"I'm self-taught, but I do love to watch other people do their art," White said, citing Instagram and YouTube as venues to explore. "And that's been really, really important to my development as a sketcher and as an artist."
White's style has evolved over the years. He avoided sketching people initially, because of the difficulty in capturing a likeness. But he's now carrying around his 193rd personal sketchbook.
He has no shortage of scenes to cover on Tech's campus. White recently put out a call for doodle ideas and received 50 to 60 suggestions. While White's doodles vary by subject and mood — from a muted night scene of a lonely bike to impressionistic cadets on the Drillfield — White says he often tries to highlight workers on the frontlines of the pandemic.
"I try to get a lot of our staff and wage employees, because they're like our heroes," he said.
Before the pandemic, White would spend an hour before work every day sitting at a Starbucks in Christiansburg, where he lives, sketching customers.
"I love watching people. Just being an anthropologist," he said. "Cannot get enough of it."
On a recent Wednesday, White describes his doodling process as he sketches a skating rink put up for one of Tech's five "well-being days," this semester, devised to split up spring break. It also happens to be St. Patrick's Day, and White is wearing a "Lucky Charms" T-shirt with its overly excited leprechaun mascot.
He starts by looking for "a nice line," to give the drawing perspective, this time the edge of the skating rink. He then works foreground to background, sketching in the nearby basketball hoops then the dorms and trees in the distance. The initial sketches take him about 20 minutes. Later, at home, he'll fill in with a thicker ink pen, then paint with watercolors, another 30 to 40 minutes.
He ends his site drawings by taking a panoramic photo on his phone to use as a color reference.
"It's a snapshot of where we are," White said about documenting campus life. "When my kids get all these sketchbooks and I'm dead in the ground or whatever, they go, 'Oh, well that was that year that there were all those masks in the pandemic."
The doodles will continue in some form post-pandemic, Vosburgh said, but they may not be a daily feature. For White, the experience offers a humble contribution for an unprecedented time.
"I'm just kind of documenting life as we live it in 2021," White said. "I like the idea that I'll have some sort of legacy here at the university. … I love thinking that the record of 2020-2021 will have some of those sketches around, digitally at least. It's kind of fun."
Photos: Steven White's doodles chronicle Virginia Tech during the pandemic
032821-roa-a1-vtdoodler-01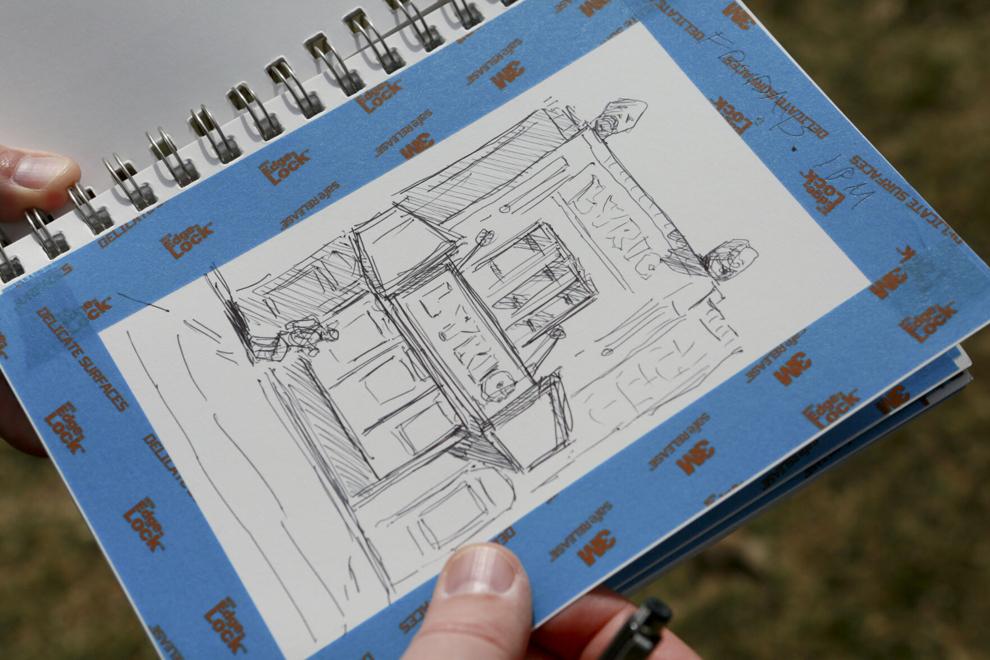 032821-roa-a1-vtdoodler-02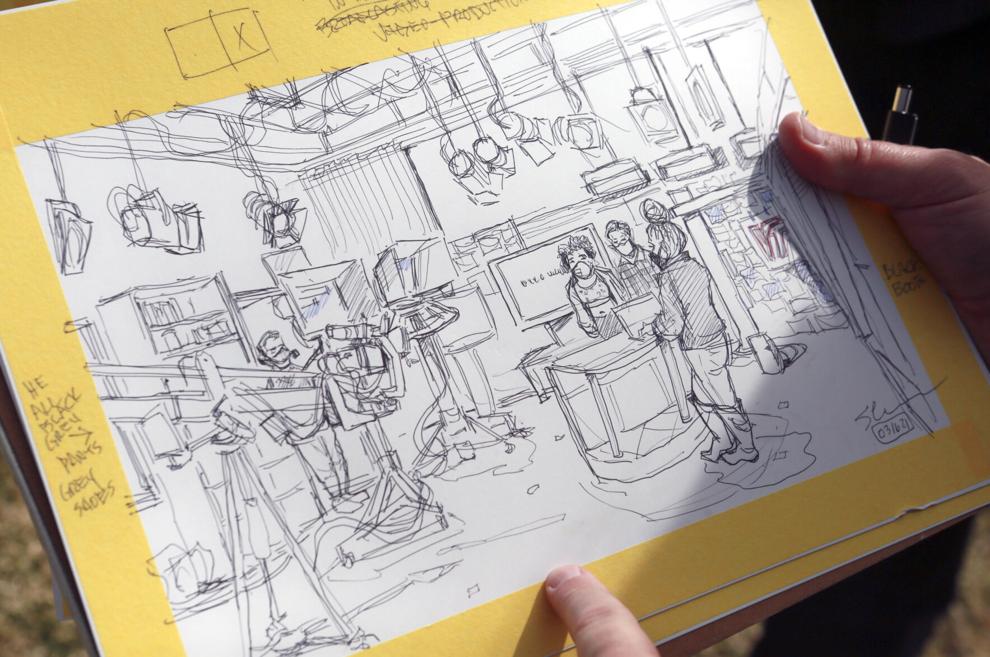 032821-roa-a1-vtdoodler-04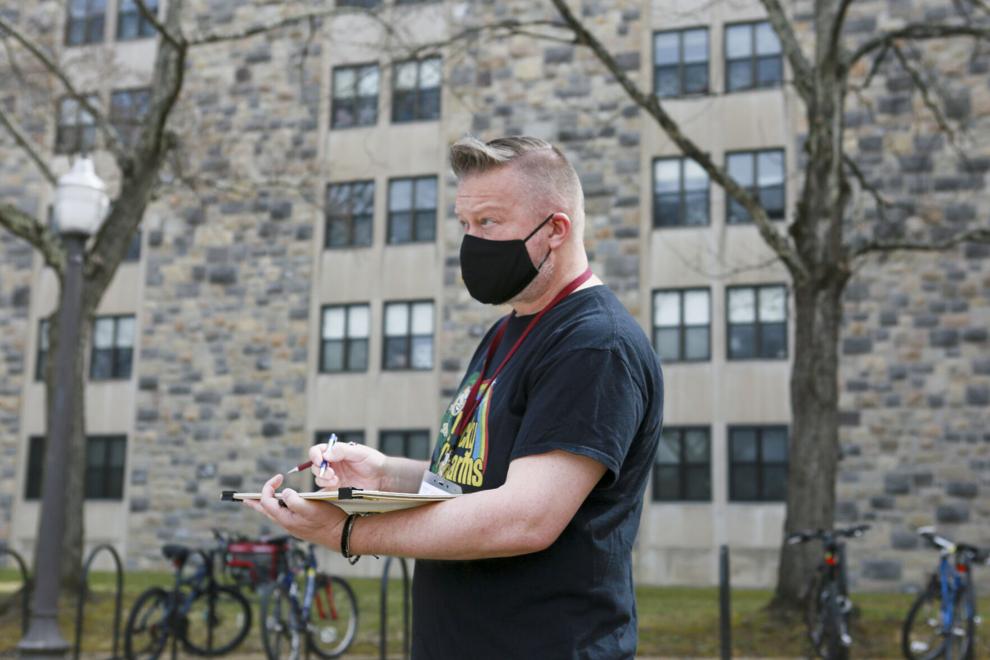 032821-roa-a1-vtdoodler-05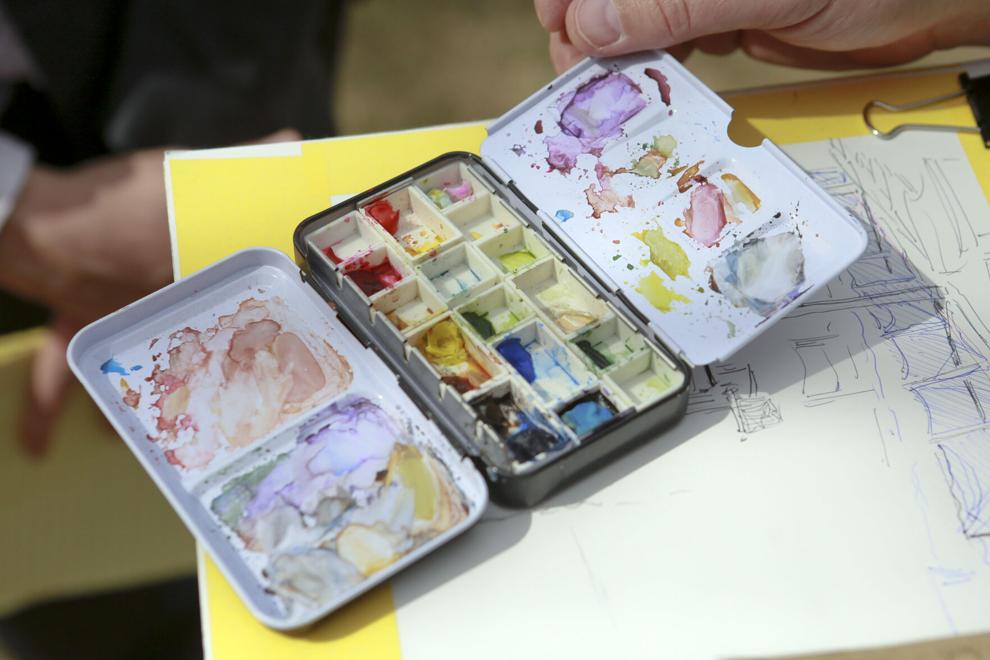 032821-roa-a1-vtdoodler-06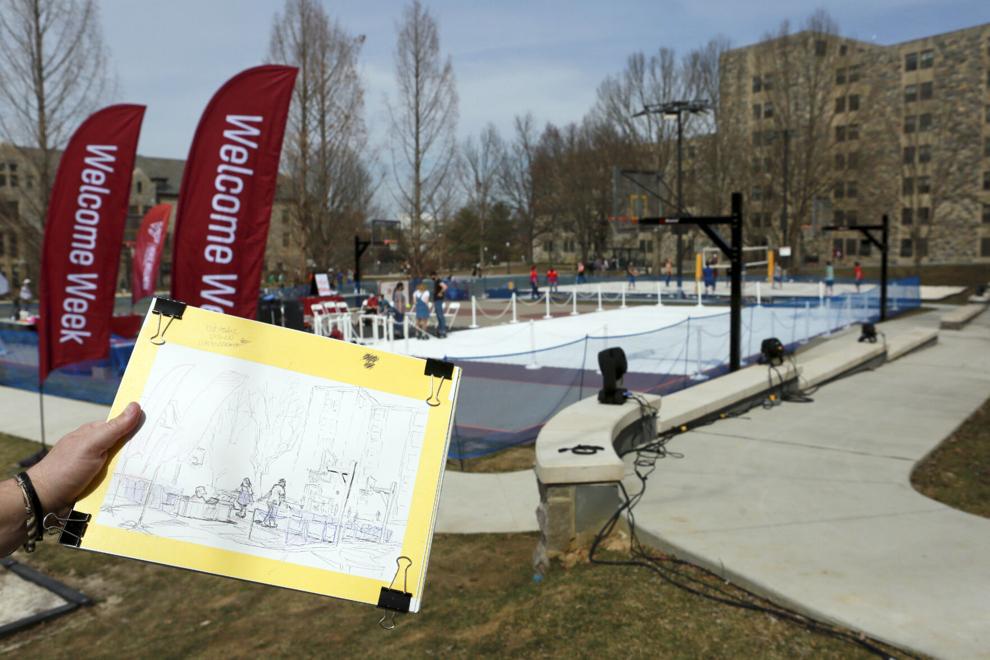 032821-roa-a1-vtdoodler-07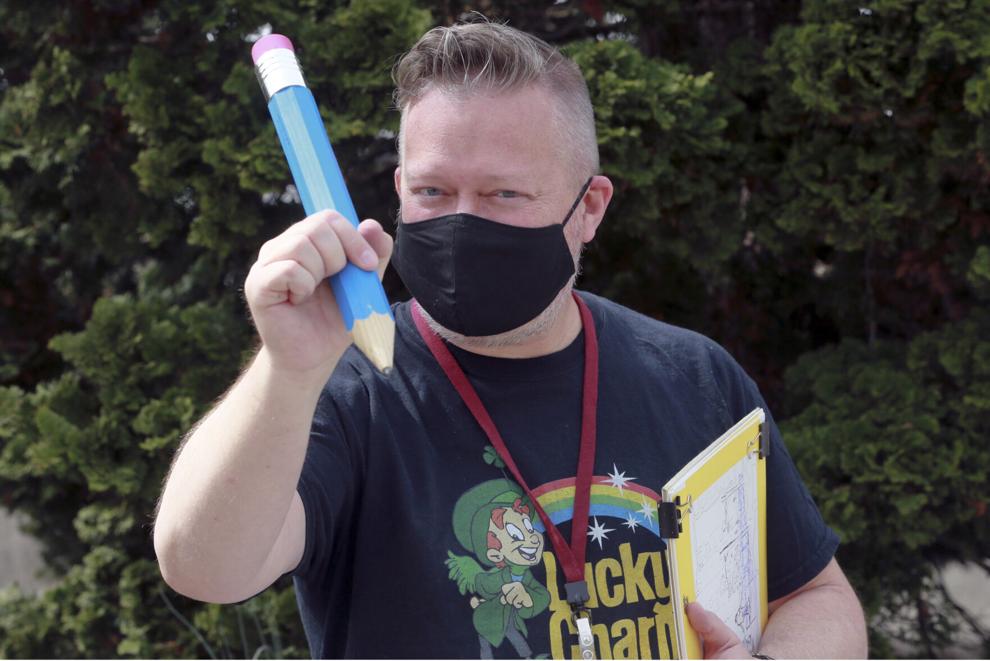 stevenwhite_barn.jpg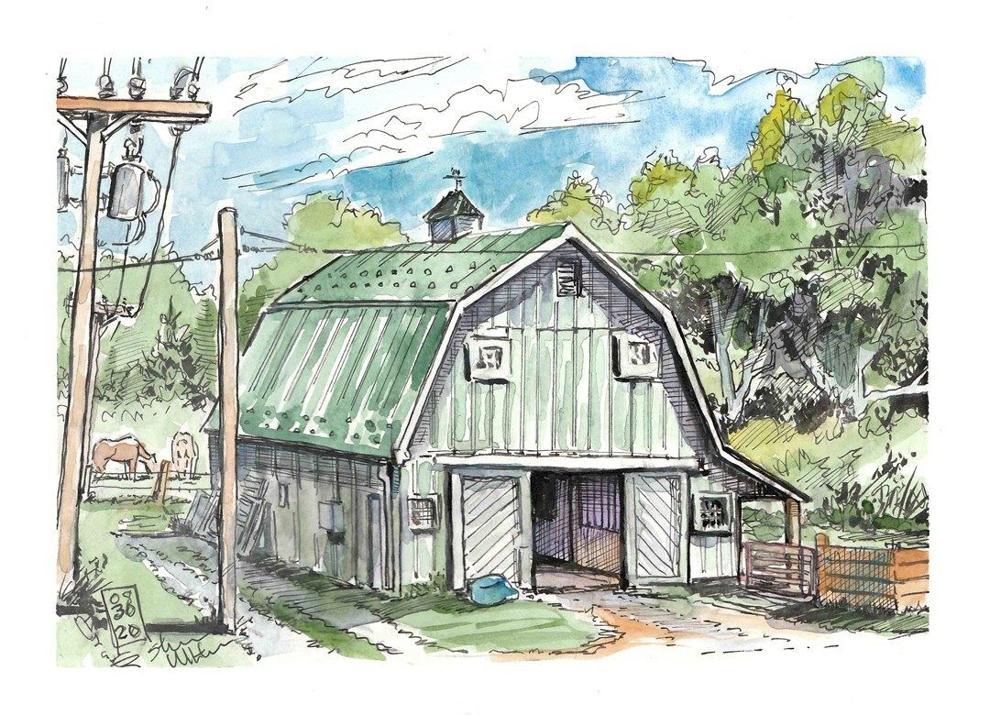 stevenwhite_bike.jpg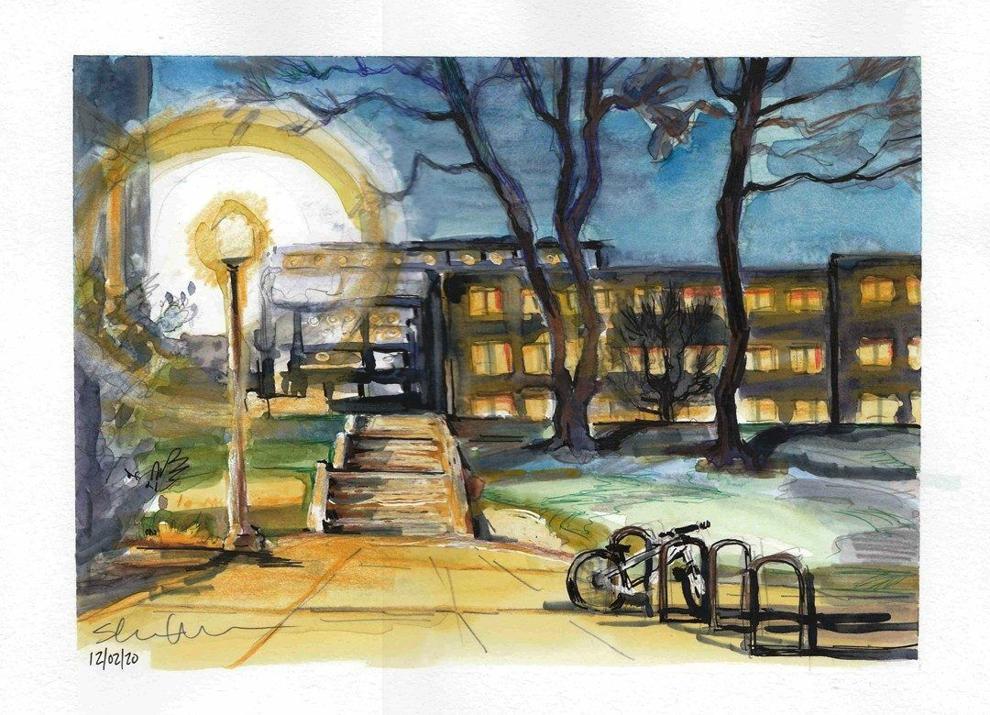 stevenwhite_blackculturalcenter.jpg
stevenwhite_cadets.jpg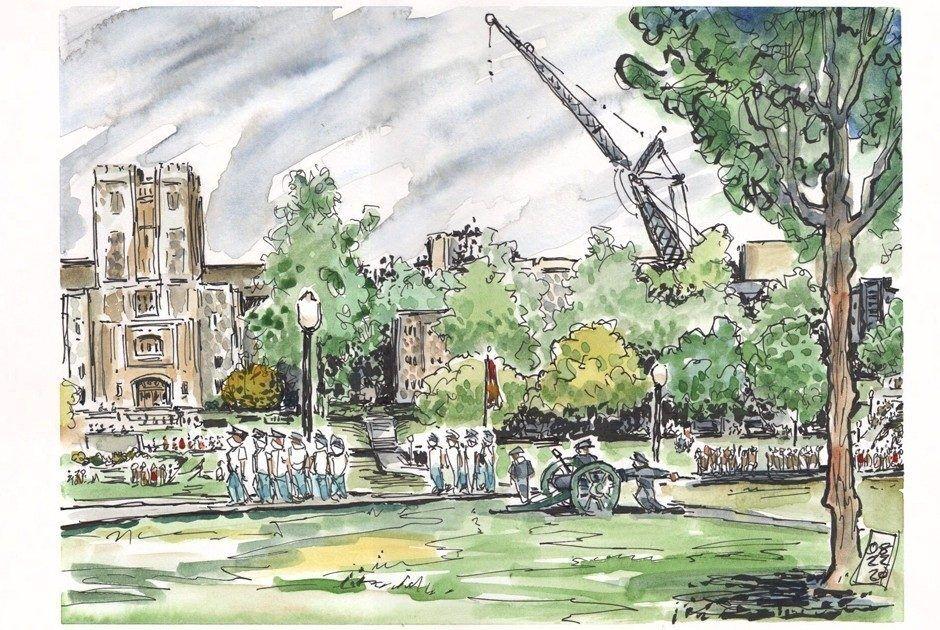 stevenwhite_covid.jpg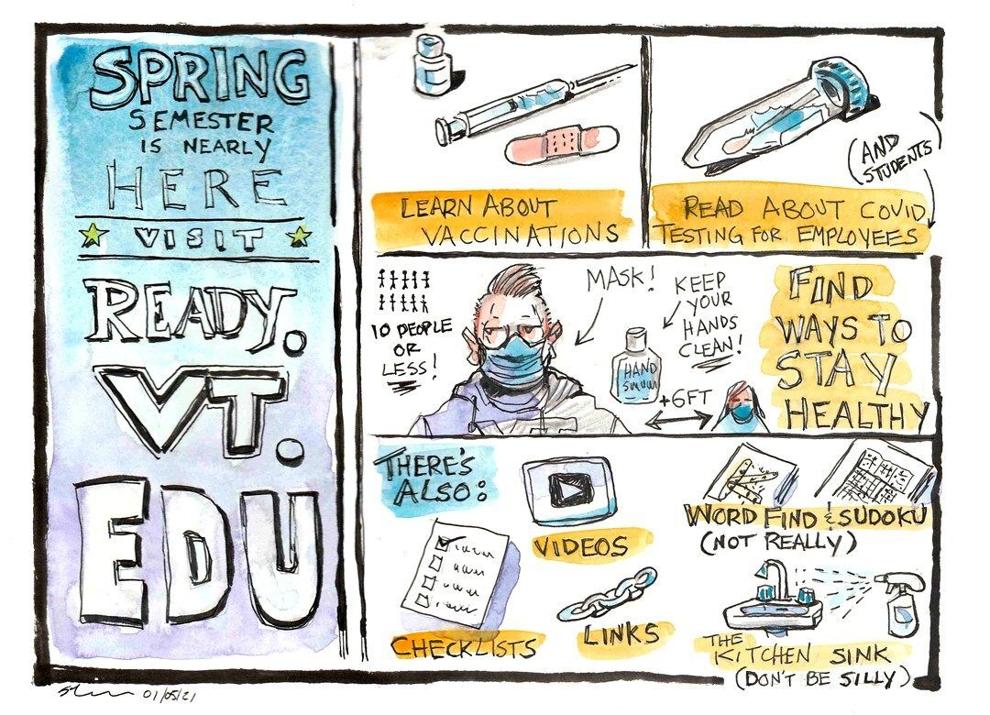 stevenwhite_houskeeping.jpg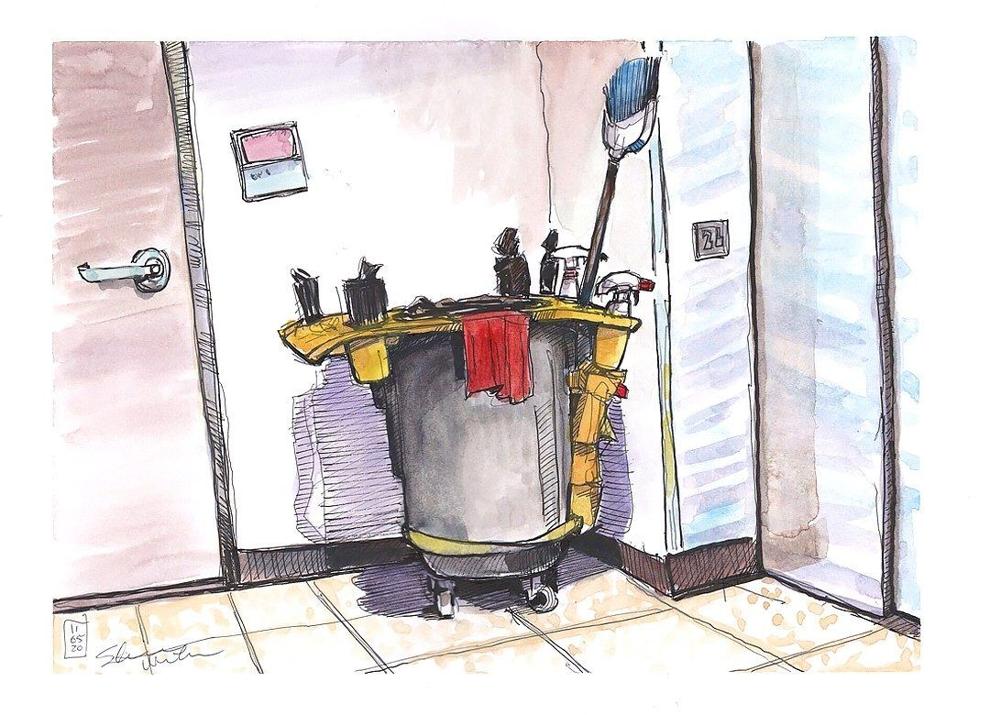 stevenwhite_vtstudio.jpg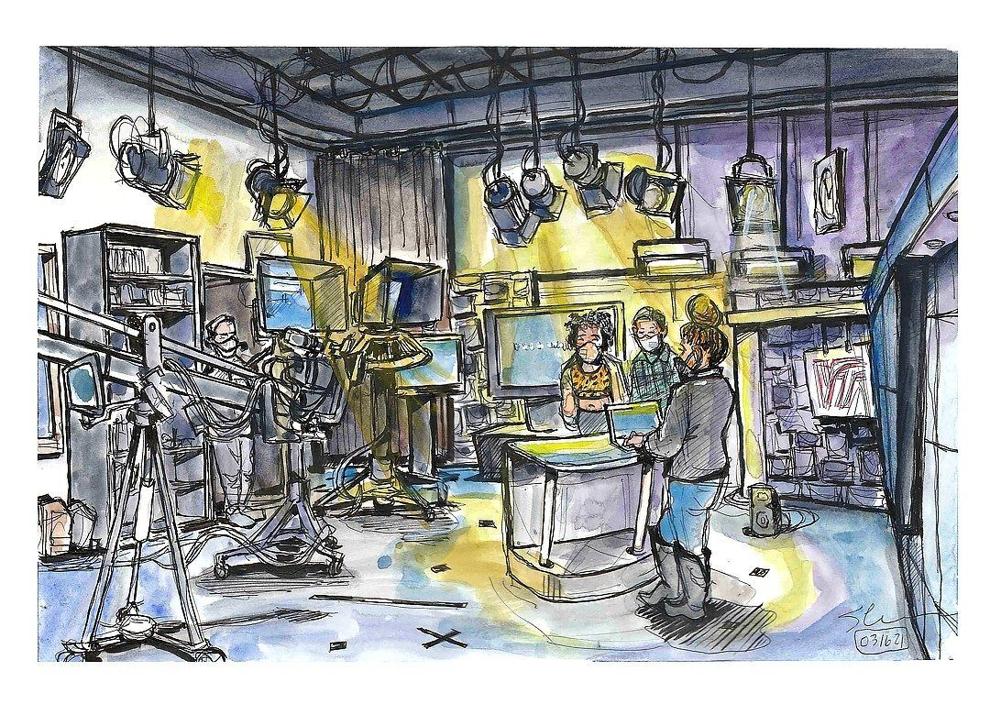 stevenwhite_yoga.jpg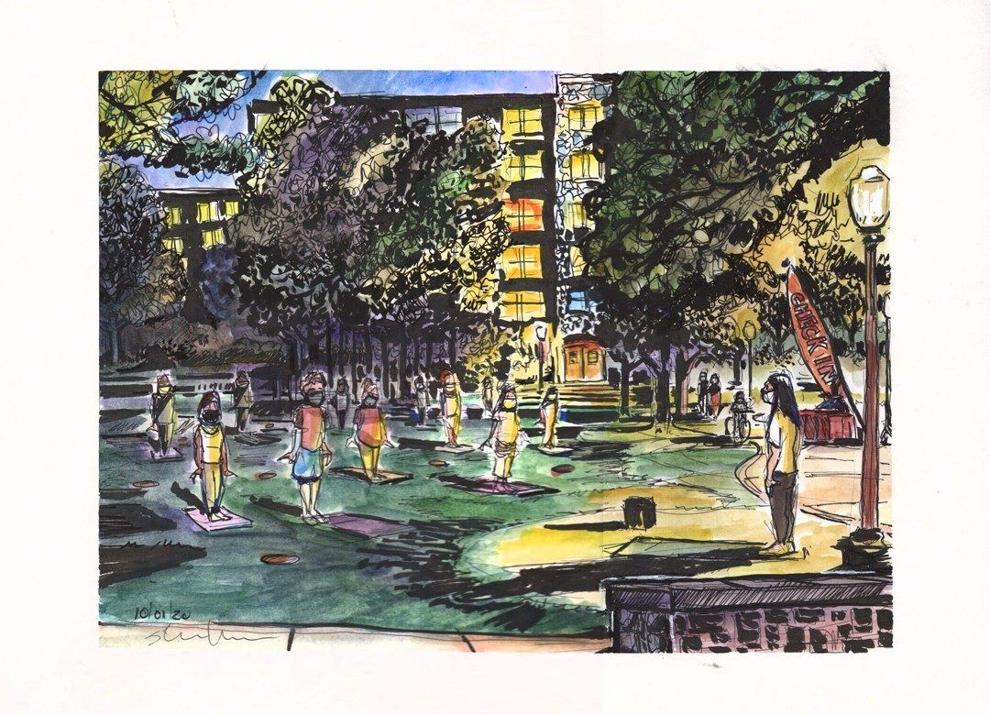 HIDE VERTICAL GALLERY ASSET TITLES