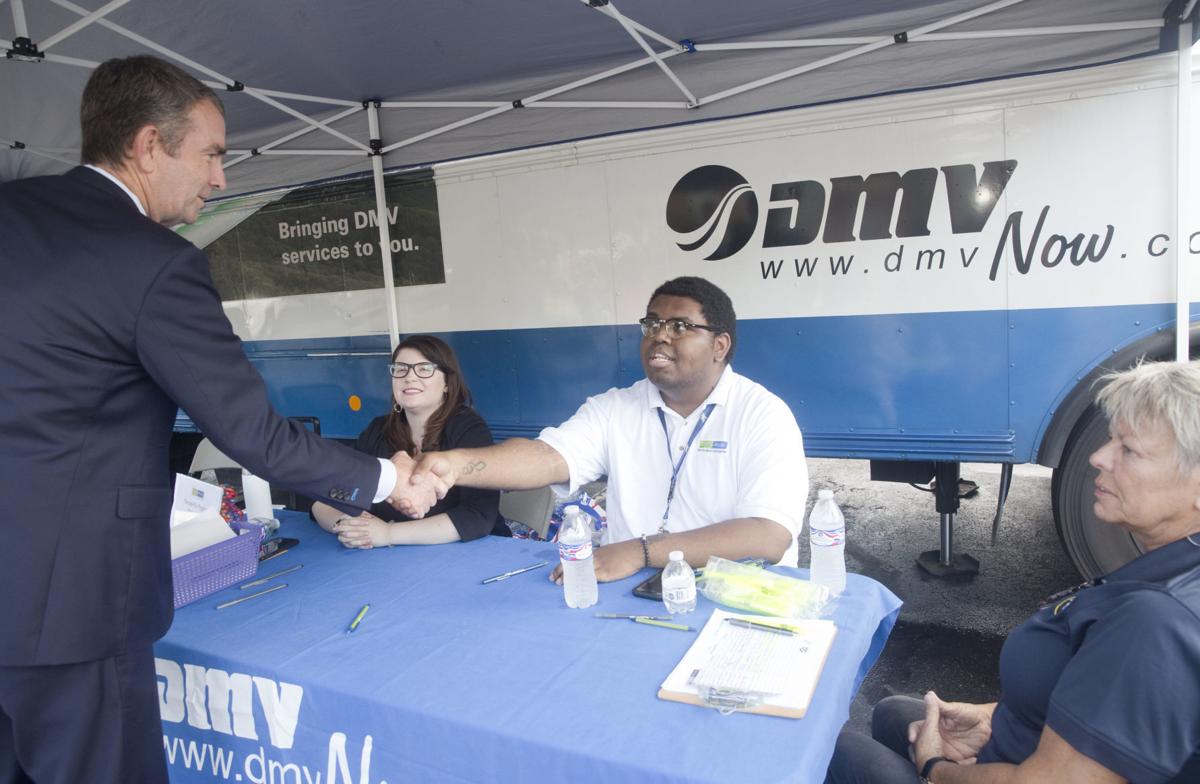 Melissa Adams is behind the wheel of her car again six years after having her driver's license suspended because of unpaid court debt.
"It makes all the difference in the world that I can actually get to work and back, take my son somewhere, get to school activities or take him to doctor's appointments — things that had been hindered in the past," said Adams, 35, of Danville.
Adams is among nearly 60,000 people who had their driving privileges restored because of action Gov. Ralph Northam took to halt the practice of suspending the driver's licenses of those who didn't promptly pay their court debts.
Because the policy change happened through an amendment in the biennial budget, it's effective only through the end of June 2020. When lawmakers return to Richmond in January for the start of the General Assembly session, they'll consider legislation to permanently repeal the law, which evidence shows disproportionately hurts poor and minority drivers.
Sen. Bill Stanley, R-Franklin, who has championed the issue for years and worked with Northam on the stoppage, has already filed a bill to end the practice for good. He's optimistic his S B 1 will pass both chambers this year.
"What's proven is it's helping people get their dignity back and get back on their feet," Stanley said. "And the worry that no one would pay their fines again, that didn't occur. The sky didn't fall and the sun rose the next day. It wasn't a bad idea, and it should have been done earlier."
Suspending driver's licenses is used to encourage people to pay their court fines and fees. But supporters of ending the practice point out the challenging cycle that people get caught up in if they lose their license because they can't pay a court debt. Without a reliable form of transportation — which is especially challenging in rural areas, which lack quality public transportation — they may lose their jobs and need government assistance. If they drive on a suspended license, they risk being pulled over and receiving more charges and more court fines.
When the policy change happened, more than 29,000 people with valid licenses automatically had their driving privileges restored, according to Brandy Brubaker, a spokeswoman for the Virginia Department of Motor Vehicles.
As of Dec. 2, 30,467 more people became licensed in Virginia after addressing other issues, such as providing proof of residence.
Additionally, more than 120,000 Virginians would have had their driving privileges suspended after July due to court debt had Northam not approved of the policy change.
This change does not eliminate court debt, so people still need to pay their balances. The state can use other methods to collect it, including garnishing tax refunds, putting a lien against property or imposing jail time.
Randy Rollins, president of Drive-To-Work, a nonprofit that helps people restore their driving privileges, said he's surprised more people haven't taken the action necessary to legally drive again.
"I think one of the misconceptions the public has is that this legislation back in July cured their problems and they don't have to do anything," Rollins said. "Some don't have to do anything, but many have to do something. They may be slow in doing it."
Stanley said a woman approached him in a store recently to show off her new driver's license and thank him for working on the issue.
As an attorney, Stanley said he often sees these cases playing out in courtrooms. People can't pay a fine and soon are under a mountain of fines and fees they can't overcome.
"We create that kind of inability to pay for those at or below the poverty line and punish them for being at or below the poverty line, and that was patently unfair," Stanley said. "People don't want to be poor, but we put in place a debtor's prison and debtor's tax and just throw them into the oblivion of poverty."
That's what happened to Adams. Six years ago, a police officer pulled her over for failing to come to a complete stop at a stop sign.
Shortly after, she was hospitalized for a few months for a rare blood disorder. The traffic ticket escaped her mind. Her driver's license got suspended.
Eventually, she owed more than $4,000 in court fines and fees.
"It all just came on me so quick," she said. "It all just added up."
Adams tried to work out a payment system with the court, but she couldn't get it negotiated based on her ability to pay. Rather, it was based on how much she owed, she said.
"After I got out of the hospital and all that hit me, I was saying, something needs to be done about this," Adams said. "This is un-freaking real."
Adams joined a class action lawsuit filed last year by the Legal Aid Justice Center and McGuireWoods that challenges the constitutionality of the statute that automatically suspends the licenses of drivers who can't afford to pay court costs and fines. U.S. District Judge Norman Moon of Charlottesville postponed the trial to give the General Assembly a chance to pass a permanent fix.
"We're seeking clean repeal of the law," said Pat Levy-Lavelle, an attorney at the Legal Aid Justice Center working on the lawsuit. "We think anything short of that would be problematic, and likely the litigation would move forward."
Next year will mark the third time Stanley will carry the bill to repeal the law. In the past, the bill sailed out of the Senate with bipartisan support, only to die in the House of Delegates.
This past session, when the bill made it to a subcommittee of the Republican-controlled House Courts of Justice Committee, four Republicans voted to halt the measure. Members of the subcommittee expressed concern that without some sort of repercussion — like suspending a driver's license — court costs and fees associated with nondriving offenses would go unpaid.
Democrats now have the majority in both the House and Senate. Stanley said that will likely help the legislation move smoothly along to full floor votes.
"I think with the overwhelming support that we had in the Senate and House once the matter hit the floor through the budget amendment, it'll pass overwhelmingly this time," Stanley said.
Get local news delivered to your inbox!
Subscribe to our Daily Headlines newsletter.