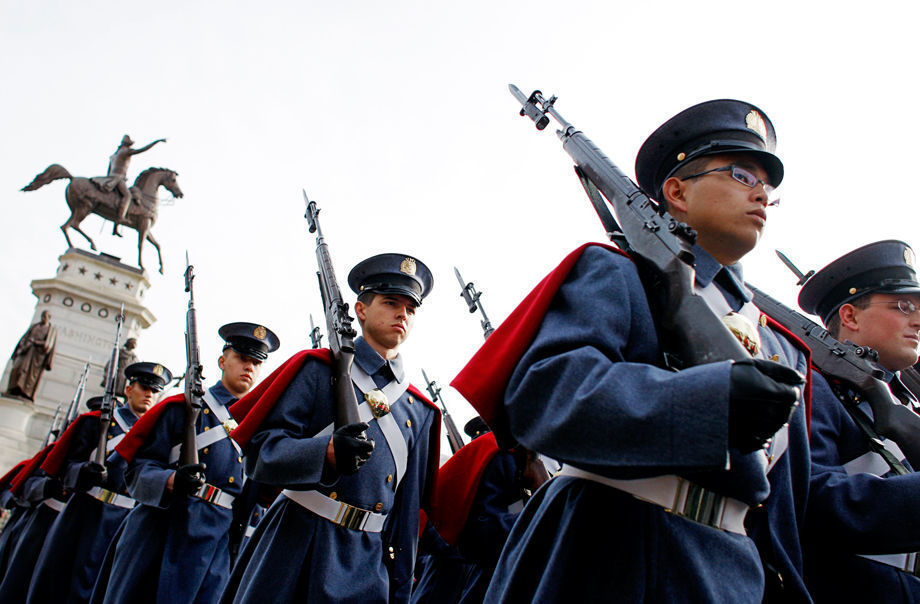 Virginia Military Institute's interim superintendent said last week that he remains committed to the military college's honor code and its single-sanction system, but will consider changes to the oversight of the student-run justice system.
In an email to the VMI community on Friday, retired Army Maj. Gen. Cedric Wins said that he is reviewing "the process by which we adjudicate honor violations to ensure that it allows for those accused to mount a legitimate defense and to ensure fairness to all those involved."
In particular, Wins told The Washington Post that he is evaluating whether to require unanimous juries in order to convict cadets of honor offenses and whether to prohibit convicted cadets from being named during the drumming out ceremonies that occur in front of the entire Corps of Cadets. Wins said he believes in the value of a single-sanction system, though he is "open to a discussion about it."
The Washington Post first reported on the honor code and its justice system in December, finding that Black cadets are disproportionately expelled from the military college. Black cadets make up 6% of the student body but represented 43% of honor code-related expulsions between the fall of 2017 and the spring of 2020, The Post found. That figure rises to 54% when including any non-white cadets, who made up 21% of the student population during that period of time.
In a follow-up story published Friday, The Post reported that Wins is evaluating the honor system. Wins, in his email, referenced his interview with The Post, of which VMI published a full transcript.
Wins said in the interview that "there's no denying" that raw numbers show a "disproportionate appearance." A deeper look is needed, he said.
"What I'm most concerned with here at VMI is whether there's a causal relationship that would suggest that given those numbers, that there is some inappropriate type of targeting or something like that that would occur," said Wins, VMI's first Black leader.
VMI's honor system "does not recognize degrees of honor," according to the college's website; any cadet found in violation of the honor code is dismissed from the college. The student-run Honor Court is in charge of investigating and prosecuting cases. The single-sanction system is unique; other senior military colleges and the federal service academies don't automatically expel students found guilty, according to The Post.
"During my interview with the Post, I reiterated my commitment to the Honor Code as it stands: A cadet will not lie, cheat, steal, nor tolerate those who do," Wins wrote in the email. "This is foundational to the Institute and in the individual lives of each cadet. As such, I will continue to vigorously defend and retain our single sanction honor system."
Replacing the single-sanction system with a "sliding scale of whether or not you lied and to what degree, I think just lowers the standard," Wins said, according to the interview transcript.
"I don't think that bar is set so high that it is unachievable by any young man or woman who comes here," said Wins, a 1985 VMI graduate, adding that he was "no angel" when he first arrived to VMI. "You do it because you know it's something you can live up to, and then over time you begin to recognize that your successes or failures are all based on you."
Wins has no intention of changing the code itself; rather, he is reviewing the honor system's procedure to make sure it "represents modern-day administrative processes for determining whether someone has committed an honor violation."
Specifically, Wins said he is focusing on whether conviction should require a unanimous jury. Currently, three of seven jurors must vote not guilty in order for the defendant to be acquitted.
He is also consulting with VMI's legal counsel to determine whether announcing an expelled cadet's name is in violation of the Family Educational Rights and Privacy Act.
When a cadet is expelled for an honor offense, a drumming out ceremony is held. The entire Corps of Cadets is awoken at 3:30 a.m. to the sound of a drum roll, and the Honor Court president announces the name of the expelled cadet, saying that they have left VMI "in shame," and that their "name shall never be mentioned within the walls of the Institute again," according to a script.
Wins told The Washington Post that the point of the ceremony is to remind cadets "what they've committed to in terms of prioritizing personal honor," something he is in favor of continuing.
In his email, Wins pushed back against the newspaper's depiction of the ceremony, which included interviews from faculty and a former cadet who was drummed out.
"The Post suggested that our drum-out ceremonies are humiliating and unnecessary," Wins wrote. "What he fails to realize is that the drum-out ceremony has little to do with the former cadet but rather serves as reminder of the commitment to honor made by those cadets who remain. It also re-emphasizes personal gain does not supersede personal honor."
VMI has faced national scrutiny over its culture and policies related to race and inclusivity ever since The Post published stories in the fall about Black alumni and cadets' experiences at the nation's oldest state-supported military college, leading to a rash of changes, including removal of the Confederate Lt. Gen. Thomas "Stonewall" Jackson statue, a third-party investigation ordered by state leaders and the resignation of the former superintendent, retired Gen. J.H. Binford Peay III, at the behest of state leaders.
The push for change had been building for months, though.
The Roanoke Times first reported on the effort over the summer, when Black alumni spoke out amid the national swell of racial justice protests, asking VMI to address racism and remove the Jackson statue. Other alumni subsequently called on VMI to resist change, starting a dueling petition to keep Jackson. A third group of alumni asked VMI to proactively revisit its Confederate iconography "before we're made to do those things that are inevitable."
That same group of alumni — Donnie Hasseltine, Conor Powell, Michael Purdy and Shah Rahman — penned another memo in mid-January, asking Wins to release acquittal and conviction data for the last 50 years and update the honor system. Some of their suggestions included creating a board of advisers, using unanimous juries and stopping — or at least limiting — use of Honor Court informants, colloquially known as "spooks."
"We believe that VMI has an obligation to assure the public, lawmakers, and alumni that the honor system is administered without discrimination, abuse, or unfairness," the men wrote. "Indeed, the most effective way to preserve the Honor Code is to ensure that the honor system is a model of fairness. Sadly, internal and external criticism of the honor system is not new, and given the recent reporting of the Washington Post, there is now data that supports the conclusion that the honor system is in need of serious reform."