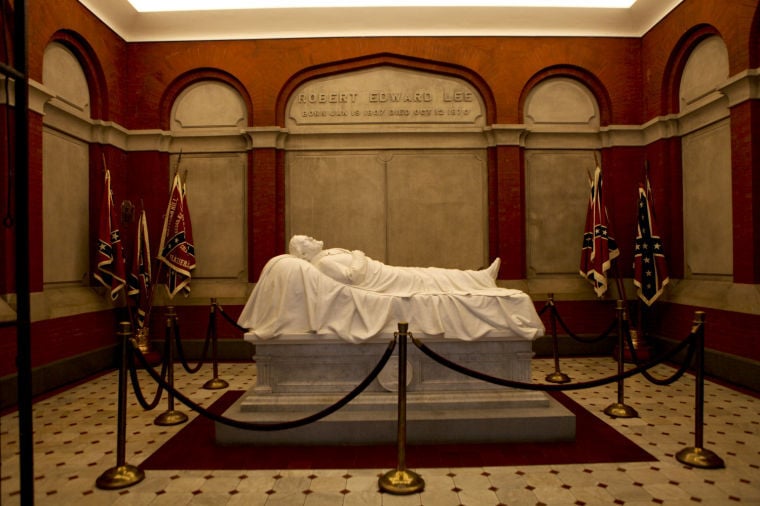 Washington and Lee University has been reexamining its relationship with one of its namesakes all summer.
But more time is needed to decide whether W&L will drop Robert E. Lee's name, according to an email sent Friday from Mike McAlevey, rector of the board of trustees. It will not be a swift decision, he wrote to the campus community.
"Given the scope of this assignment and the unpredictable impact of COVID-19, it would be unwise to commit to an exact timeline," McAlevey wrote. "Even prioritizing these issues, I expect it may take six months or more before the process is complete."
The board of trustees developed a special committee, composed of 10 current trustees, to review the university's symbols and name on July 7. In the past, the board has been reluctant to discuss a name change, maintaining that Lee, a former university president, should be recognized as an educator and not as a Confederate general.
The development of the special committee is the board's biggest commitment to date to the national conversation around renouncing legacies of the Confederacy.
The committee will "gather, assess and synthesize information and insights on the board's behalf," McAlevey wrote. When the board makes a decision whether to retain or remove Lee's name, "every trustee will be deeply engaged in the process."
But many members of the university community think that the decision is an easy one.
More than 260 faculty members attended a virtual meeting July 6, the day before the board announced the special committee. They passed a motion calling for the removal of Lee from the university's name, voting 188 to 51, according to Alison Bell, who leads the Faculty Affairs Committee.
The student governing body, the Executive Committee, also endorsed removing Lee's name from the university.
But the board does not want to make a hasty decision.
"We are aware that many of you think it should be easy to make a quick decision, but that is not the case," McAlevey wrote in a previous email from July 7. "Reviewing the name of a distinguished and historic institution is a task not to be taken lightly. At the same time, we are steadfast in our commitment to building and sustaining a more diverse and inclusive community."
McAlevey said every member of the campus community will be heard as they begin their process. Outreach, including a survey, will be begin this fall.
"We ask for your patience as we take the time to do this right."