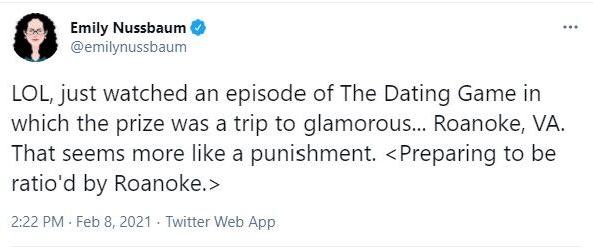 Who wouldn't have loved an all-expenses-paid trip to Roanoke in 1970?
Well, probably not Karen Carpenter, judging by her reaction when the famous pop singer actually won such a prize on the classic game show, "The Dating Game" 50 years ago. And definitely not Emily Nussbaum, Pulitzer prize-winning television critic, who would've been too young in 1970 anyway, and who LOL'd on Twitter after she watched an old clip of that show on YouTube.
"LOL, just watched an episode of The Dating Game in which the prize was a trip to glamorous... Roanoke, VA," Nussbaum tweeted Monday afternoon. "That seems more like a punishment. Preparing to be ratio'd by Roanoke."
Nussbaum's tweet sparked the usual outcry from defenders, haters, jokesters, kooks and spewers of false information (for the millionth time, those colonists did not get lost here, dangit. Their ghosts are still wandering around the coast of North Carolina!).
In short, it had everything you would expect from a Twitter spat. And before you knew it, #Roanoke was one of Twitter's top trending topics. Even Gov. Ralph Northam tweeted a photo of himself next to the Mill Mountain Star.
Of course, it didn't help us when Stephen King — yes, that Stephen King (and, just in case you weren't clear, yes, that Karen Carpenter, too) — a guy who has conjured up more than his share of horrifying locales, weighed in against us by tweeting the old joke: "First prize: A week in beautiful Roanoke! Second prize: TWO weeks in beautiful Roanoke!"
Roanoke lovers would not be silenced. Former Roanoke Times reporter and columnist Beth Macy dove into the Battle of Bestselling Authors by telling Nussbaum (and King):
"Actually, you would love my city of 30 years! Great outdoor amenities and an undercurrent of grooviness that's just enough to keep it interesting."
To be honest, the wide-lapel, bell-bottomed video clip from 1970 that started this whole Twitter brouhaha is kind of funny. Carpenter, then 19 years old and on the brink of major stardom with her brother, Richard, as the platinum-selling, soft-pop duo the Carpenters (think "Close to You," "Rainy Days and Mondays," "Top of the World" and about a hundred other puffy hits), was a celebrity guest on "The Dating Game."
For those who never saw the original show, a contestant asks revealing questions of three opposite-sex potential suitors, unseen behind a wall. After quizzing her three bachelors, Carpenter selected Bachelor No. 2, a bow-tied English chap.
In the video clip, Carpenter looks sheepish and nervous when joined by her British beau, as legendary host Jim Lange reads the description of their love-nest getaway.
"You can find authentic European touches really no matter where you travel in America, Karen," Lange says, all but admitting that this prize is going to be lame. "No matter where you travel in America?" Come on, Jim. He goes on to tell the couple to expect "Royal English atmosphere … will be waiting for you when your date" — who, it must be said again, really was an Englishman! — "takes you to Roanoke, Virginia!"
Karen's reaction was priceless. Her disappointment was palpable. She winced, kind of grimaced and smiled — like she had just heard a corny punchline to a really bad joke.
(You can watch a clip of this entire show, which also features Richard Carpenter, on YouTube at https://bit.ly/3a2ocNl.)
Nussbaum, a longtime staff writer for The New Yorker who won a Pulitzer in 2016 for criticism (which we do not think included critical tweets of any other midsized, mountainside cities), watched the clip as part of research for a book she's writing. After her initial tweet, she engaged in some minor cleanup by posting:
"I mean, I'm sure Roanoke is lovely. But I seriously doubt that Karen Carpenter was dreaming of going to a hotel there with some random British dude."
Roanoke's defenders responded quickly.
"It is quite nice and charming," somebody tweeted
"It's a lovely town. I went there for a conference many years ago," typed another.
When contacted by Roanoke Times editorial page editor Dwayne Yancey by email, Nussbaum wrote back: "Yep, that was just a throwaway Twitter joke, based on Karen Carpenter's polite but obviously disappointed facial expression, way back in 1970 (and to be clear, I wasn't even thinking that it was a backward town, more that it was not a pop star's idea of one of the 'romantic capitals of the world.') In any case, I certainly understand people defending their town."
For her part, Nussbaum good-naturedly responded to some of the comments.
"I mean, if you know you are going to be ratio'd for tweeting about something you know nothing about, maybe just don't tweet it," somebody commented to her.
Nussbaum responded: "Sometimes you just need to sacrifice yourself for the sake of Karen Carpenter in 1970."
A woman wrote that, "i actually had one of the best dates/one night stands of my life in roanoke, va when i was there for a work conference like 4 years ago."
"This makes a strong case for it as a Dating Game prize!" Nussbaum replied.
Nussbaum's tweet had garnered nearly 500 comments by Tuesday afternoon.
Admittedly, Roanokers can be a bit sensitive about depictions of the city and Southwest Virginia in general by out-of-town writers who have swooped in on news assignments only to come up with some of the goofiest, hayseed descriptions to make it into print.
In recent years, though, most of the travel coverage of Roanoke focuses on the city's abundance of outdoors sports, mountainous splendor, downtown revelry, retail shopping, outdoor concerts, microbreweries and other fun stuff the kids are into (mostly pre-pandemic, of course). Roanoke recently was voted top Adventures Town by readers of Blue Ridge Outdoors, besting hip locales such as Asheville, North Carolina, and Chattanooga, Tennessee.
"We've changed the narrative," said Catherine Fox, vice president of the Visit Virginia's Blue Ridge tourism bureau.
Tourism spending reached an all-time high of $461.7 million in 2019, the most recent years for figures, up nearly 20% over a five-year period.
Even Roanoke's mention in Nussbaum's funny tweet can be a boon, Fox said.
Already, Hotel Roanoke is hoping to cash in on the national exposure by offering a Valentine's weekend prize package, perfect for couples or fans of "The Dating Game."
As for Karen Carpenter and her date, they never made their trip to Roanoke, according to Richard Carpeneter's post on YouTube. Karen died of heart failure related to anorexia nervosa in 1983 when she was just 32.
The Carpenters did make it to Roanoke for concerts in 1971 and '73, drawing more than 5,000 fans each time.