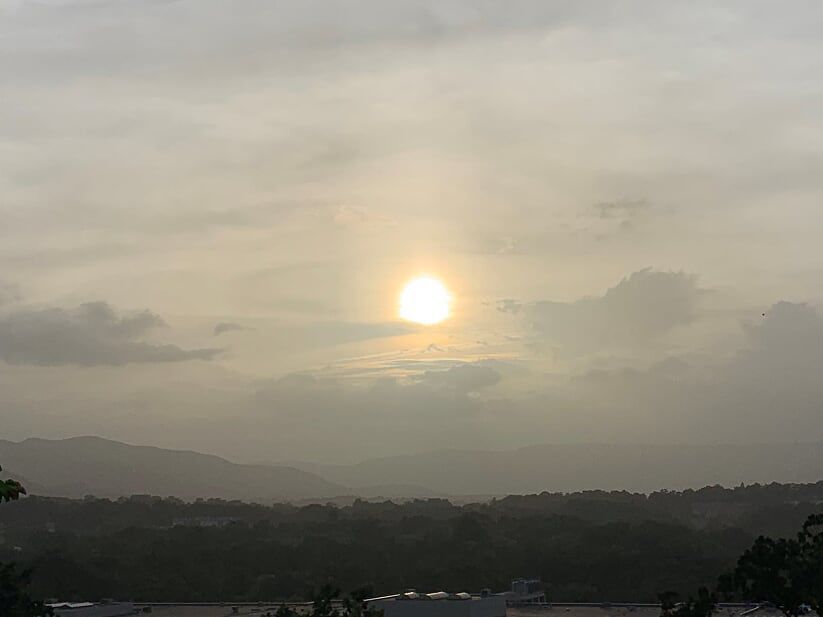 Halfway there and living on a prayer.
The lyrics of a Bon Jovi pop song more than 30 years ago capture where we are as we enter July in a 2020 full of pain, turmoil and uncertainty.
Weatherwise, for the Roanoke and New River valleys, the first half of 2020 has been an odd duck in many ways, a year with a winter that didn't seem like a winter and a spring that didn't seem like a spring.
But so far, as we remember where we were eight years ago with half of us lacking air conditioning in derecho power outages as temperatures soared to the 90s and 100s daily, there hasn't been massive meteorological mayhem locally.
We have certainly teetered on the brink of it with two rounds of persistent rainfall, on May 18-22 and again June 14-19.
Roanoke officially measured 9.26 inches in the May rainy spell and 7.08 inches in the June soaking. Those 11 days by themselves account for more than a third of the Star City's annual average rainfall. And you may have got more in your backyard gauge.
As we knew it would be two weeks ago, it is Roanoke's wettest first half of a year on record, going back to 1912, with 35.58 inches through 5 p.m. Tuesday, more than 3 inches ahead of second-place 1998.
It is also Blacksburg's third wettest first half of a year with 31.88 inches in the newly expanded official database going back to 1893, trailing 1998 and 1918 by less than an inch.
As we have discussed, those rainy episodes were both triggered by cut-off upper-level lows, systems that become entirely removed from the jet stream flow and wobble around aimlessly for several days.
Our region got in the firehose of longest rain in the first episode and in several hours of the heaviest rain for the second round. A third farther away to the west steered remnants of Tropical Storm Bertha through the area on May 23.
It's not unusual to have one cut-off low affect us at some point during the course of a year, but having three in about a month is downright odd.
But for all that rain, and the real problems it did create, we came short of widespread catastrophic flooding, owing to the light to moderate intensity of the lengthy May rain and the limited hours of the heaviest rain in the June episode.
2020 to date has been largely devoid of severe thunderstorms in our region, with no repeat of the destructive tornadoes that hit Appomattox County in 2016, Lynchburg and Amherst County in 2018 and southern Franklin County in 2019.
It was also almost totally devoid of significant snowfall, as the patterns that could have brought snow didn't show up until the latter half of April into May, when they brought frosty mornings and chilly rain instead.
Thanks to the mild winter, a couple of hot spurts before and after the cool, rainy spells of spring, and overall warmer low temperatures, the first half of 2020 is Roanoke's ninth warmest first half of a year out of 109 on record. It is Blacksburg's 37th warmest out of 128.
As for what the second half of 2020 will bring our region in terms of weather, our vision beyond a couple of what look to be typically summerlike weeks is as blurry as it always is.
Given the abundant rainfall we've already had, we are not going to lapse into long-term drought anytime soon, with dried-up reservoirs and the like. But don't underestimate the ability of short-term dryness to develop with even a couple of weeks with no rain.
Having less rain than we've seen so far would be a good thing; going cold turkey on rainfall would not.
With our rainfall fortunes in mind, the National Hurricane Center is projecting an above-normal Atlantic tropical season with 13 to 19 named storms, six to 12 hurricane and three to six major hurricanes. Since we've already got to the "D" storm before the end of June, that prediction seems to be off to a strong start.
The significance for our region is that the more tropical systems there are, the more likely it is we could get the downpour-producing remnants of one or more of them over us, boosting the chances of 2020 to challenge 2018 for wettest on record.
Roanoke topped 62 inches in 2018, largely on the strength of remnants of hurricanes Florence and Michael in the fall dumping downpours after an already wet first half of the year.
That wet first half of 2018 had almost 10 inches less than this one has had.
The equatorial Pacific is not giving much clear indication yet whether it will remain in a neutral state or shift to an El Nino (warm sea surface temperatures, often leading to wetter weather here) or a La Nina (cool sea surface temperatures, often leading to a drier pattern here — though sometimes increasing the tropical season).
Winter fans starved for snow after the meager 2019-20 season would prefer a weak to moderate El Nino to develop, often combining a wet pattern with blocked-in cold air, while La Nina patterns increase the odds of the relative snow drought continuing.
Even if we had more clarity on what months or seasons might look like, a short-term pattern could at any time deliver the extreme event that defines the local 2020 weather year.
With everything else we're dealing with in 2020, it would be just as well if we could sail through the rest of the calendar without anything all that meteorologically remarkable happening.
Weather Journal appears on Wednesdays.
Get local news delivered to your inbox!
Subscribe to our Daily Headlines newsletter.