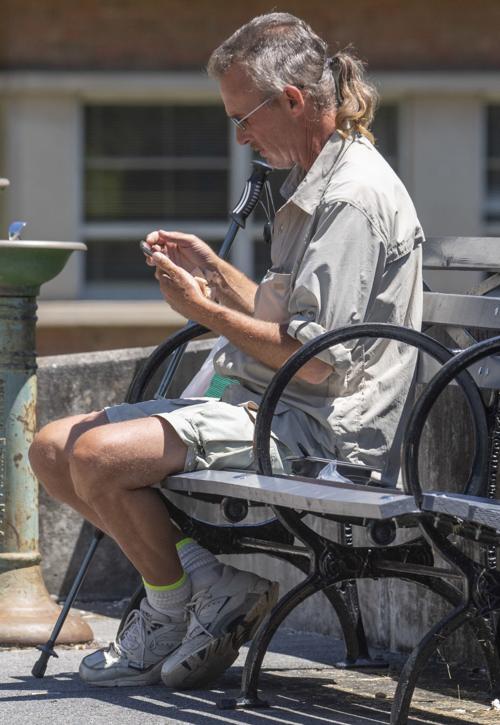 During her many years of being a teacher, after the students went home for the day, Cheryl Fulton stayed behind to do her work.
That's because she has no internet service where she lives in Axton, a small community in Henry County between Danville and Martinsville.
"It feels like we're in another world," Fulton said.
Not having internet access was mostly a hassle. But since the coronavirus pandemic, it's led to crippling effects.
Fulton couldn't effectively teach her students at a high school in Guilford County, North Carolina, from home. She'd try to work out math problems with them by sending pictures back and forth over phone or email. She bought a cellphone booster to improve her cellphone signal, but it barely helped.
So after 42 years of teaching and realizing public schools likely won't go back to normal in the fall, she retired at the end of the school year.
"I couldn't do it," Fulton said.
Having fast, reliable internet is essential for everything from getting a job to shopping. With the coronavirus pandemic forcing more people to work, shop and take classes from home and talk to their doctors on video chats rather than coming into the office, high-speed internet is more vital now than ever before.
At a time when having quality internet helps people stay connected, those without it feel the most alone.
"It hurts to know when you're missing out," Fulton said.
Fulton can't join the family video chats from home. She'll freeze or her audio will drop. Sometimes she'll drive 17 miles to her sister's house, which has a great internet connection.
While significant progress has been made over the years in expanding broadband service in rural parts of Virginia, many areas are still lagging behind. The coronavirus pandemic has revealed in the harshest way the digital divide, pushing federal, state and local governments to accelerate their efforts to build broadband infrastructure.
"A lot of people, including in Southwest Virginia, have access in ways they wouldn't have had 10 years ago," said Sen. Tim Kaine, D-Va. "However, as more and more will be done with broadband, it makes the remaining inequities starker and more urgent in terms of solutions."
Gov. Ralph Northam made closing the digital divide a top priority during his term and set a goal of 10 years to achieve functionally universal broadband coverage.
"There are 108,000 Virginians that can get online today that couldn't prior to Gov. Northam making this a priority," Evan Feinman, the governor's chief broadband adviser, said during a recent virtual town hall with Kaine.
About 98% of homes and businesses in Virginia's cities and suburbs have access to high-speed internet, meaning offering download speeds of 25 megabits per second or more. But nearly one-third of rural Virginia's homes do not. About 11% have no access to any internet service, according to the 2019 Commonwealth Connect report on Northam's initiative.
Funding has been a persistent problem, especially with homes and businesses spread out across the commonwealth and located in some of the more challenging terrain. And for people who were on the financial edge before the coronavirus crisis battered the economy and the job market, being able to afford internet is another problem.
A Roanoke Valley mother who is unemployed said her children didn't have internet at home to properly do their homework because the service provider raised the issue of an outstanding bill. For the time being, neighbors are sharing their Wi-Fi.
"You'd think the internet provider would look past it for right now," said the mother, who has been given anonymity to protect her from any other potential problems with the internet provider.
The pandemic smashed the state budget, causing it to postpone spending $16 million a year for expanding rural broadband.
The $2 trillion CARES Act, which Congress passed in March, included money for states, large cities and counties, but it didn't directly funnel cash to communities with fewer than 500,000 residents. The state is doling out federal aid to localities, and they can use that for internet projects.
Congress has been considering additional relief proposals, including money for broadband. The Democratic-controlled House passed the $3 trillion HEROES Act that includes $4 billion for broadband, but the legislative package in its entirety is unlikely to pass the Republican-controlled Senate.
"Under the current circumstances, this lack of broadband access threatens to greatly — and potentially lastingly — exacerbate disparities in health, education and economic equity," said Sen. Mark Warner, D-Va., who has written to the Federal Communications Commission with suggestions on how to reform rules to expand broadband.
"On nearly a daily basis, I hear from Virginians who are struggling to engage in telework, supervise their children's online learning, and engage in telehealth over antiquated DSL connections that make even a single one of these activities virtually impossible."
In the meantime, local governments and companies are working to put Band-Aids on the problem until there are long-term solutions.
Appalachian Power Co. is working with internet providers to set up about 25 hot spots in Southwest Virginia so people can pull up in their cars to places like a mall or park to download files onto their devices or do whatever else they need to do. The American Electric Power Foundation is donating $30,000 for the equipment for the hot spots.
Roanoke County Public Schools is providing nearly 700 hot spots for students who don't have internet at home. That will cost about $575,000.
Feinman suggested that rather than buying a bunch of new devices, schools could leverage the mobile devices already out there to enable them to be a Wi-Fi hot spot so children can learn at home. He said figuring out a way to incentivize mobile carriers to upgrade plans for devices people already have by paying the marginal cost of the upgrade could be cost -effective and have a broader effect.
School systems have to prepare for various scenarios for the upcoming school year, depending on the status of the coronavirus, but many are anticipating virtual learning will continue to play a role. Many are handing out devices for students to use at home if they have the internet capacity. But not all do.
"With equity, is it socioeconomic status of people who are not able to afford broadband, or is it an issue of geographic location?" said Smyth County Superintendent Dennis Carter. "In Smyth County, it's both."
There are days that Brandi Amburgey has to reset her internet multiple times a day.
"When you have two kids, and they're doing homework, and I'm doing work, you're going to have problems with the internet," Amburgey said.
Amburgey lives in Fries, a small community along the New River in Grayson County. Her internet is so bad she doesn't even bother to connect her phone to the Wi-Fi because it won't stay connected. No one would stream Netflix if her daughter was on a video chat for school. If Amburgey is speaking to someone on a video chat, everyone has to disconnect until she's done.
"It's horrible," she said.
Grayson County is one of the least-connected localities in the commonwealth, but that's about to change. Del. Israel O'Quinn, R-Washington, sponsored a bill that was signed into law last year to allow Virginia's two largest electric utilities — Dominion Energy and Appalachian Power Co. — to install cables that would carry broadband into hard-to-reach areas.
Appalachian Power is in the process of laying fiber-optic cable across Virginia to bring broadband to electric substations for the purpose of grid modernization. Under this law, it'll lay additional optic cable, the "middle mile," and then lease the extra broadband capacity to internet providers.
GigaBeam Networks will provide the "last mile," which is the part of the network that connects individual homes and businesses to the broader network. Grayson County is the first locality to take advantage of this new law.
"If we don't have broadband, we don't have one of the basics of society in the 21st century," said Bill Shepley, the county administrator.
County Supervisor John Fant said about 57% of the county is unserved by broadband. While some residences will start getting connected in the next several months, he said it'll take two to three years to get everyone who wants broadband connected.
"I do more calls about broadband than I do about potholes," said Fant, who has to go to his wife's office to work if he needs good internet. "It's the number one priority for county citizens."
Having broadband will open the doors to economic development and help the county work toward increasing its population, which has been declining.
It's hard to attract employers to an area without high-speed internet. Children have a limited idea of what they can do after they graduate high school because they're not familiar with technology capabilities, Shepley said.
"The goal is to future-proof Grayson County," Fant said.
Geography, demographics and number and types of service providers compound to make closing the last-mile gap a challenge. Having middle-mile networks in place can reduce costs associated with expanding last-mile broadband service to unserved areas.
The Virginia Tobacco Region Revitalization Commission, which focuses on economic development in Southwest and Southside Virginia, has dedicated nearly $30 million for last-mile broadband infrastructure since 2017. It has funded more than 100,000 last-mile connections to homes and businesses.
Georgia-based Point Broadband is working on expanding broadband to about 7,000 homes and businesses across far Southwest Virginia. The FCC's Connect America Fund is providing $24 million over 10 years for this project.
Joseph Puckett, general manager for Point Broadband, said it would be valuable for the FCC to expedite the payouts under the Connect America Fund. With more grant money available sooner, the company can build the infrastructure faster and add more jobs while doing so, which can put people recently out of work back on a payroll.
"Wiring the workforce is how you transform the economies of Southwest Virginia and Southside and Roanoke Valley and New River Valley," Puckett said.
For those local governments that have been working the past few years on plans to expand broadband, there's an urgency to get people connected as soon as possible.
In Botetourt County, about 30% of people don't have suitable internet, said Gary Larrowe, the county administrator. Fiber will be strung to about 600 homes within the next month as part of a project the county has been working on for a while.
The county is also working with Blue Ridge Towers, which has one cell tower in Blue Ridge and another on Purgatory Mountain, to have the company deploy broadband to nearby homes and businesses.