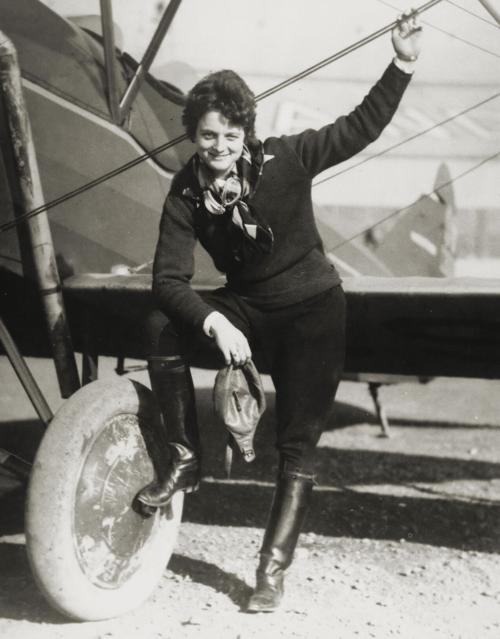 An airplane hangar would have been both appropriate and necessary to house the library of newspaper clippings Louise McPhelridge Thaden accumulated for her lifetime aloft.
A statue prominently displayed at an international airport would have worked nicely as well. A suitable model for the sculptor would have been the vintage photograph of Thaden posing with her left hand clutching a biplane wing strut, riding-booted right foot resting comfortably on the hub of the landing wheel assembly as she looked confidently toward the camera.
The press loved Thaden, she of the first generation of daring American women pilots. From east to west and north to south the headlines heralded her flying feats of speed, height, and endurance.
The Redondo (Cal.) Reflex, St. Louis Globe-Democrat, El Paso Evening Post, Oakland (Cal.) Tribune, Wilkes-Barre (Pa.) Times Leader, High Point (N.C.) Enterprise, Mattoon (Ill.) Journal Gazette, Brooklyn (N.Y.) Daily Eagle, Portsmouth (N.H.) Daily Times, Chattanooga Daily Times were just a few of the papers that covered her.
So did the Northwest Arkansas Times when she returned to her hometown of Bentonville in August 1976 for the dedication of Louise Thaden Airport. So did Buster Carico of The Roanoke Times in a January 1943 story several months after she and husband Herbert V. Thaden, an aircraft engineer, moved here.
Thaden was among those Marshall Harris and Nelson Harris wrote about in the 2014 history "Images of Aviation: Aviation in Roanoke."
Only a few of Louise Thaden's closest friends here knew that in the prior decade she was "front page news from coast-to-coast because of her daring exploits in setting altitude and endurance records," Carico wrote.
The aforementioned "few" of those familiar with Thaden has dwindled substantially since then.
Radford author D.J. Mathews, writing an opinion column in these pages recently on the role of such pioneering aviatrix as Thaden, has an idea why she and other female flyers lacked the renown enjoyed by contemporaries Charles Lindbergh and his male colleagues.
"The history books, written by men, have given short shrift to the flying goals and accomplishments of women," Mathews wrote.
With such overlooks partially in mind, sketches have appeared in this space of Roanoke's lady flyers of bygone days such as the late Martha Anne Woodrum Zillhardt and Katherine Lawson. Contemporary Helen Fitzpatrick, also profiled here, is a continuing witness to that high-flying era.
Although there is ample evidence in support of Mathews' views on the lack of recognition for pioneering lady pilots, Thaden (1905-1979) did not lack for fame both during and after her flying career ended. She is a member of the National Aviation Hall of Fame and is in the Smithsonian. Other of her decorations could have filled a cargo plane.
Having moved to California as a young woman to pursue her interest in flying, she was a pilot at age 21. By 1928, she was flying a Beechcraft Travel Air to U.S. female records for altitude (20,260 feet), solo duration (22-plus hours), and speed (156 mph) — the only person ever to hold all three records simultaneously, according to historian Michael J. Pulice in the 2013 Historical Society of Western Virginia Journal.
Thaden was the first winner of the Women's Air Derby from Santa Monica to Cleveland and followed that with a win in the prestigious Bendix Transcontinental Air Race.
The image of the pilots of that era was decidedly daredevil, and certainly there was some of that in Thaden, but she had a notably sober view of her calling in her 1938 autobiography "High Wide and Frightened."
"A pilot who says he has never been frightened in an airplane is, I'm afraid, lying," Kevin Kittredge quoted the book in a 1998 newspaper retrospective of her career.
(Thanks again to our friends at the Virginia Room of the library for the help.)
The Thadens moved to Roanoke with their two children to open Thaden Engineering Co. Herbert Thaden, who had flown during World War I and designed the Army's first all-metal aircraft, was designing and manufacturing secret military equipment for the Defense Department during the Second World War, Pulise wrote.
At roughly the same time, Herbert Thaden was working for Johnson-Carper (Singer) Furniture in Roanoke and Lane Cedar Chest in Altavista. Later, he partnered with Donald L. Jordan, whom he had met at Johnson-Carper, in Thaden-Jordan Furniture.
From a plant on Kessler Mill Road, the company manufactured innovative molded plywood furniture. The furniture didn't sell and the plant closed in 1952.
Yet one of Thaden's designs, a high-backed recliner fashioned from birch plywood and inspired by an airplane propeller, is considered a classic of modernist design. The Vitra Design Museum in Germany lists the chair among its "100 masterpieces," Pulise wrote.
Other Thaden designs are collectors' items. One of his side chairs sold recently for $1032.47 at 1stdibs.com.
The Thadens later moved to furniture mecca High Point, North Carolina.
As for Louise Thaden, she was known to not talk much about her own career in aviation unless asked. She did have pointed views about the lack of recognition for women in aviation. Complaining about the situation in Carico's profile, she said her lady colleagues had "beaten their heads against a stone wall" in attempts to gain recognition for their skills.
Even though the Thadens moved around, Roanoke was special to her, as Kittredge pointed out by detailing her last wishes.
Her ashes were sprinkled from an aircraft over the Roanoke Valley.
If you've been wondering about something, call "What's on Your Mind?" at 777-6476 or send an email to whatsonyourmind@roanoke.com. Don't forget to provide your full name (and its proper spelling if by phone) and hometown.
If you've been wondering about something, call "What's on Your Mind?" at 777-6476 or send an email to whatsonyourmind@roanoke.com. Don't forget to provide your full name (and its proper spelling if by phone) and hometown.