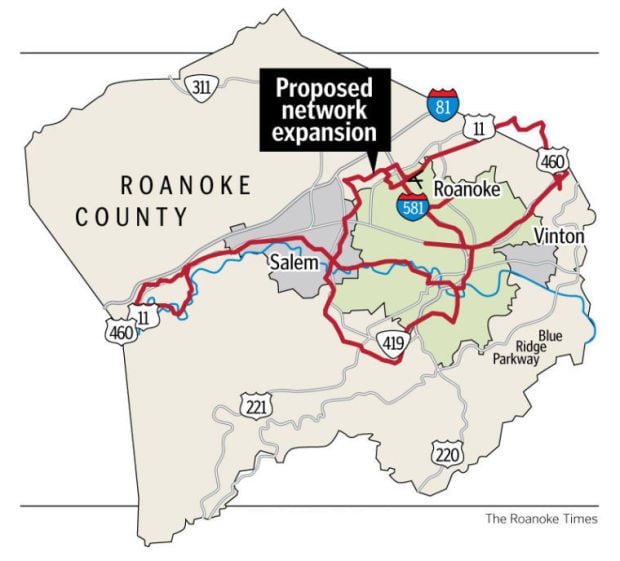 Three years after local governments first came together to try to bring faster, cheaper Internet to the Roanoke Valley, the localities considering a plan to build an open access fiber-optic cable network aren't on the same page, elected officials said Friday.
The cities of Roanoke and Salem are ready to pay their share of the $8.2 million project, while representatives from Roanoke and Botetourt counties have expressed hesitation.
The city of Roanoke has already set aside $2 million from this year's budget for broadband initiatives, but no locality has definitively said they're in or out.
The project proposal is the product of the Roanoke Valley Broadband Authority, which is an independent public body composed of the four localities formed to solve what has become known as the region's "broadband conundrum."
Local officials have said Roanoke is too large to qualify for federal grants to improve broadband infrastructure, but too small to attract the kind of private investment big cities enjoy. The result has been a sort of broadband doughnut hole, where communities all around the region are becoming more connected while Roanoke is at risk of being left on the side of the information superhighway.
While the region does have broadband infrastructure that was built by private companies to serve their individual customers, some elected officials and outside consultants believe local businesses could get faster connection speeds at lower prices if the governments were to invest in their own network.
The proposed line would be open access fiber, meaning taxpayers pay the cost of laying the cables which are then open for any Internet service provider to use to deliver content to their customers.
That means local businesses looking to buy Internet would have more providers to choose from, increasing competition and lowering prices.
Officials such as Salem City Manager Kevin Boggess have compared this project to highway construction. Governments invest in building the roads, which then make it possible for any number of businesses to operate on them and compete against one another.
But Roanoke County Administrator Clay Goodman said the board he represents is unsure about the plan, citing normal budget concerns but also a more philosophical debate about the role government should play in society.
Goodman said his board doesn't want to see the county fall behind technologically, but it also doesn't think government agencies should go out and compete in the business sector against private companies.
The Roanoke County Board of Supervisors will have to do more homework before it's ready to decide whether it wants to devote resources to the broadband initiative, Goodman said.
"Really, I understand the concern about it," Boggess said. "But what I see the authority's role as is kind of a governmental function of providing the infrastructure, not necessarily the services derived from that. … They [internet service providers already here] are participating, they want to listen, they want to hear what we're doing. But I can't say they're necessarily supporting what we're doing because it is bringing in a new level of competition into the valley."
As new applications now require faster connection speeds, fiber is becoming a standard need for some heavy users such as businesses and schools. Communities that can't offer access to a robust broadband network will lose out on economic development opportunities, local officials say.
Fiber optic cables already run north from Atlanta, crossing into Virginia at the North Carolina border and continuing on to Washington, D.C. The closest it gets to Roanoke is at the Bonsack area of Roanoke County.
The proposal Roanoke-area governments are now considering would spend about $8.2 million to extend fiber 60 miles from that network through parts of Roanoke and Botetourt counties, hitting the cities of Roanoke and Salem along the way.
If it's built, some Roanoke businesses would have a fiber-optic cable running from their front door to two of the largest Internet gateways on the East Coast.
The line wouldn't connect to any homes, but is rather built to serve as an economic development tool to attract businesses with hefty broadband needs.
"Either you believe there is a linkage between investment in technology and economic development, or you do not," Robert Picchi, a consultant for Blue Ridge Advisory Services hired to draft the plan, said during Friday's authority meeting in Roanoke. "And I cannot change your minds."
The line's price tag would be divvied among the localities involved in the project. Picchi has suggested all four government bodies split the bill evenly, though the Broadband Authority is also considering other ways of dividing payment, such as by population, miles served or businesses served.
Speaking theoretically, Boggess said the project would probably not go forward as planned if Roanoke and Botetourt counties do decide not to be involved. In that case, he said, the two cities would look at what they could afford and scale the project back accordingly.
Even so, because the fiber line must cross through the counties in order to reach Roanoke or Salem, Boggess said some businesses in those localities would still have access to the network.
"That doesn't mean that we would intentionally avoid going into a nonparticipating locality," he said. "We just might scale it back but might still hit all of the localities, even if they're not choosing to fully participate.
"If whatever we decide to do ends up going into a community that's not fully participating, it's still open access broadband for whatever business happens to be there. We're not going to restrict anybody's access to it. That's the whole idea of this. We're going to create something that's open to every potential provider, every potential customer. It's open access. That's what it's there for."