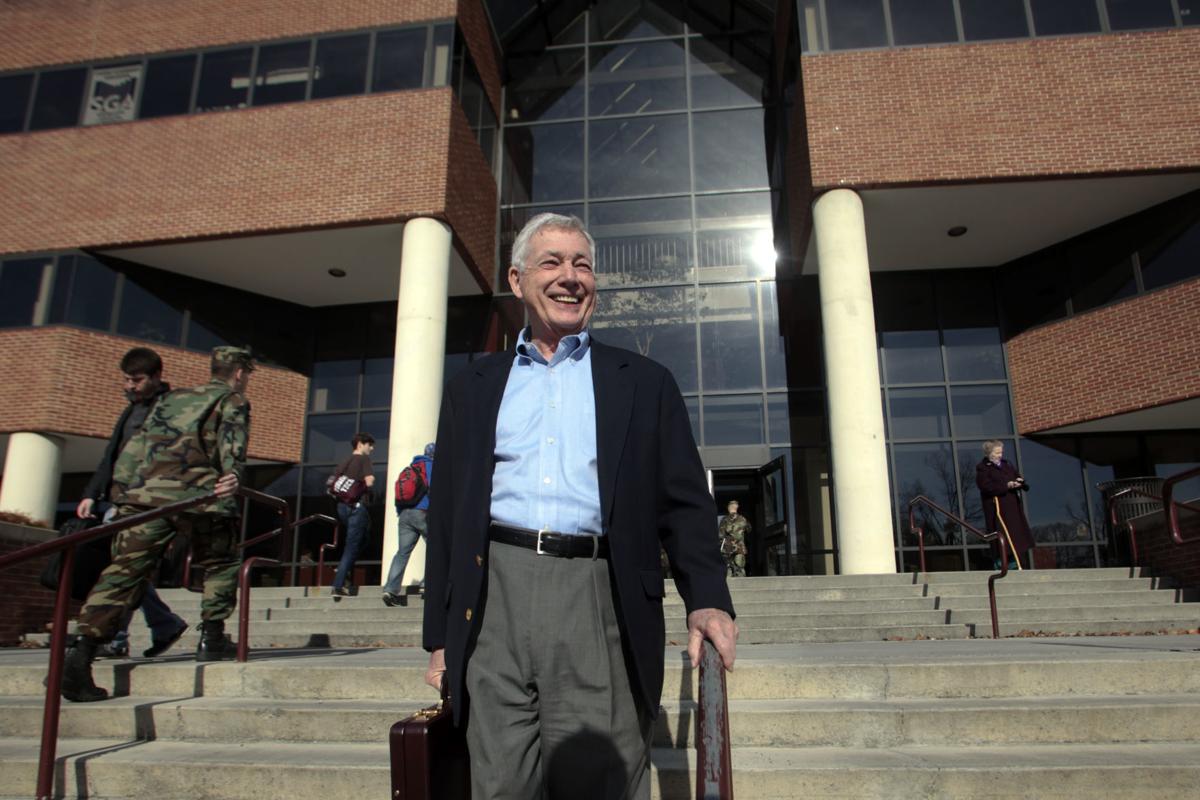 James I. "Bud" Robertson Jr., a well-known and nationally influential historian of the American Civil War, died on Saturday, Virginia Tech announced.
Robertson, 89, an Alumni Distinguished Professor Emeritus of History at Virginia Tech, passed away after a long illness, the university said in a news release.
In his characteristic Southside Virginia drawl, Robertson lectured to generations of Tech students, addressed countless historical gatherings and discussed the Civil War via many media platforms, including a longstanding commentary on National Public Radio.
Robertson retired from his full-time professorship in 2011 but remained active and maintained his public presence until his final illness. That energetic drive exemplified him, according to former colleague William "Jack" Davis.
"For fully six decades Bud Robertson was a dominant figure in his field," Davis, a Civil War author and editor and Robertson's successor on Virginia Tech's faculty, said in the release. "He has become virtually 'Mr. Virginia.' "
A Danville native, Robertson earned his bachelor's degree from Randolph-Macon College and advance degrees from Emory University, all in history.
During the Civil War Centennial, President John F. Kennedy asked Robertson to serve as executive director of the United States Civil War Centennial Commission.
In 1967, Robertson joined the faculty of Virginia Tech, where he taught Civil War courses to an average of 300 students each semester. During his 44 years at the university, more than 22,000 Virginia Tech students took his class. He ended up teaching three generations of the same families, according to the university.
Robertson wrote more than 20 books, with the best known among them his 1997 "Stonewall Jackson: The Man, The Solider, The Legend," a biography of the Confederate general.
A substantial work of more than 1,000 pages, the meticulous Jackson book was a Book-of-the-Month club selection and came to be regarded among historians as a definitive work.
"I'm busier than I've ever been, at a time I ought to be contemplating retirement," Robertson said at the time, before teaching at Virginia Tech for 14 additional years.
His ebullient presence was felt on and off campus regarding the Civil War. Robertson commented on video documentaries, narrated films at historical sites and spoke to gatherings across the country.
For example, under Robertson's advocacy, in 2015 the commonwealth adopted "Our Great Virginia," based on the folk song "Oh, Shenandoah," as the traditional state song.
Robertson felt the societal shift during his lengthy career regarding the Civil War's evaluation, away from the Confederate-focused 'Lost Cause' dogma and toward a more inclusive story that embraced neglected African American and wartime homefront history.
"People who see the Confederacy as some sort of 'Gone with the Wind,' magnolia and moonlight and sipping mint juleps — they miss the point completely," Robertson told The Washington Post in 2016. "The Confederacy was born in confusion and died in chaos."
The granular stories of individual soldiers, relayed through old letters and diaries and often found in attic trunks, were essential to his interpretation of the Civil War.
"If you don't understand the emotion of the war," Robertson said, "you'll never understand the war."
Robertson received numerous prestigious honors, including three commendations from the Virginia General Assembly; the Virginius Dabney Award, the highest recognition given by the Museum of the Confederacy; the Virginia Press Association's 2004 Virginian of the Year; the Best Non-Fiction Book Award by the Library of Virginia in 1997; and the Outstanding Professor Award of the Virginia Council for Higher Education.
He received honorary doctorates from both Randolph-Macon College and Shenandoah University.
In 2008, he was elected to the Virginia Tech Sports Hall of Fame. Robertson spent years as a faculty representative from Virginia Tech to the National Collegiate Athletic Association, and from 1979 to 1991 he served as faculty chairman of athletics and president of the Virginia Tech Athletic Association.
He also worked as an Atlantic Coast Conference football referee for 16 years.
In 1999, Robertson became founding director of the Virginia Center for Civil War Studies, an entity that was not a physical location but an effort to promote public education.
Robertson's annual Civil War Weekend, a campus symposium that has been attended by thousands of history buffs, will have its 29th meeting in March.
"Dr. Robertson was so many things: spellbinding lecturer, beloved teacher, accomplished author, guardian of Civil War history, big band player, ordained deacon, even football referee," Paul Quigley, director of the Virginia Center for Civil War Studies and the James I. Robertson Jr. Associate Professor in Civil War Studies, said in the release. "Above all else he was a Hokie, unfailingly dedicated to Virginia Tech and the thousands of students he taught here."
Robertson's first wife, Elizabeth "Libba" Robertson, died in 2008. He is survived by his wife, Elizabeth "Betty Lee" Robertson, former principal of Roanoke's Patrick Henry High School; his sons, James I. Robertson III and Howard Robertson; his daughter, Beth Brown; his stepson, William W. Lee Jr.; and his stepdaughter, Elizabeth A. Lee.
Ever the showman, he proposed to Elizabeth "Betty Lee" Robertson in front of a crowd of Hokies at an alumni chapter event in 2010.
Funeral arrangements were not immediately announced, nor was the location of Robertson's death. After retirement, he had moved from Blacksburg to Virginia's Northern Neck Peninsula.
Virginia Tech said Robertson's family asks well-wishers to consider giving in support of the Virginia Center for Civil War Studies or the University Libraries at Virginia Tech.
The family also requested that people explore their attics for possible Civil War artifacts they might consider donating to enhance the Virginia Tech special collection.
"Dr. Robertson was a remarkable person who shared his life and gifts with so many," Virginia Tech President Tim Sands said in the release.
"His service to the nation, the commonwealth, his profession, and the Virginia Tech community is unparalleled. We are incredibly fortunate to have had the great benefit of his talents for so many years."
Be the first to know
Get local news delivered to your inbox!