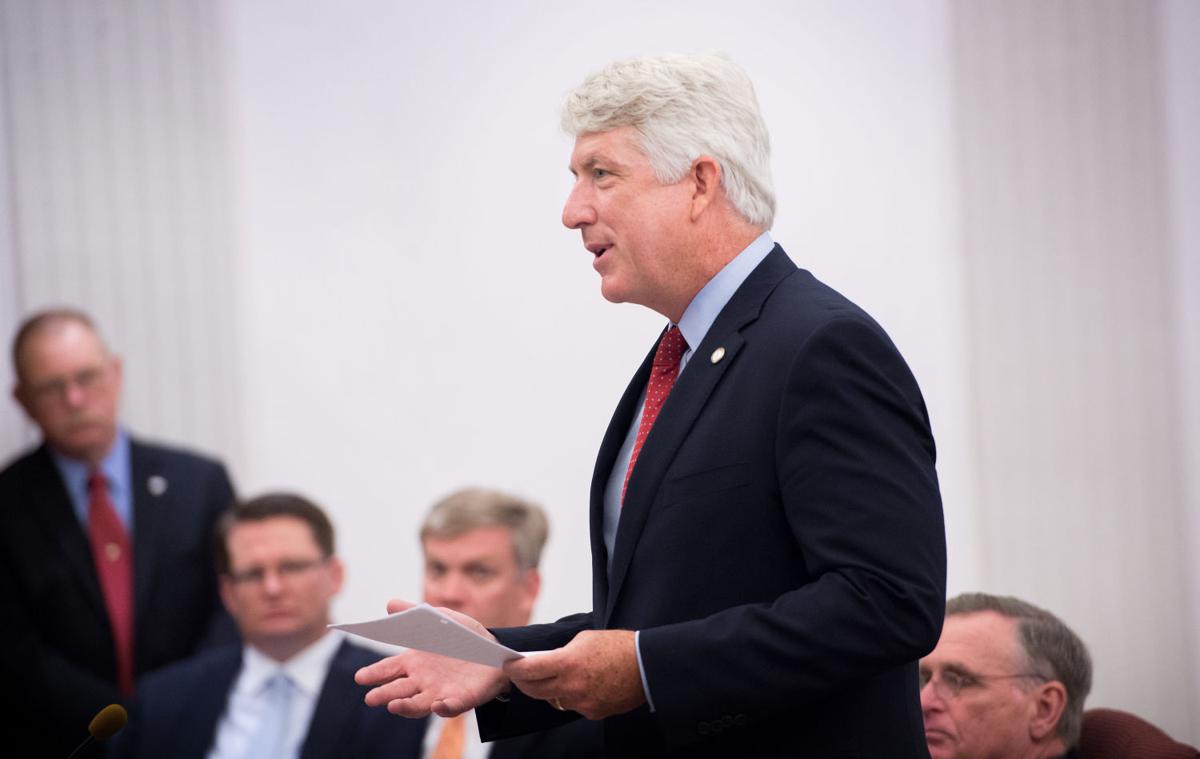 Attorney General Mark Herring announced Wednesday that he is running for re-election as attorney general in 2017, avoiding a divisive fight with Lt. Gov. Ralph Northam for the Democratic nomination for governor.
"Our future progress as a commonwealth requires an attorney general who is fiercely and fearlessly committed to promoting justice, equality and opportunity for all Virginians," Herring told reporters at a news conference on Capitol Square.
Northam said in a statement that Herring, whom he calls "a good friend," has his full support.
"In just 20 months, Mark has changed the course of our history by fighting for marriage equality, Dreamers, the Chesapeake Bay, and a host of other important issues," Northam said. "Virginia is stronger with Mark Herring as attorney general, and I am proud to stand with Mark and endorse him in his run for re-election."
Herring is the first Virginia attorney general to seek re-election since Democrat Mary Sue Terry. She won re-election in 1989, then lost the 1993 contest for governor to Republican George Allen.
"This is great news for Virginia Democrats," said Larry Sabato, director of the Center for Politics at the University of Virginia. "Parties can still win despite a divisive nominating contest, but it is much easier if you have no fight for the top position and an incumbent anchoring the ticket in the AG spot."
The Republican Party of Virginia said in a statement that the "new face of crusading liberalism" has decided to run again for attorney general.
"Mark Herring has run the Virginia Attorney General's Office like Barack Obama's Justice Department. While he promised to get politics out of the Office, he has done the exact opposite," said John Whitbeck, chairman of the Republican Party of Virginia.
"Herring has at times refused to enforce Virginia law and instead advanced a Bernie Sanders-style progressive agenda."
State Democratic leaders praised Herring for his decision.
"Mark is fearless and fiercely committed to promoting justice, equality, and opportunity for all Virginians," Gov. Terry McAuliffe said in a statement.
"From defending affordable health care, fighting against campus sexual violence, and courageously standing up for marriage equality, Mark's leadership has brought incredible progress to our commonwealth.
"I'm so excited that he's made the decision to run for another term as Attorney General so he can defend and build on this progress. He has my full support."
Herring's predecessor, Republican Ken Cuccinelli, served out his term as attorney general while running for governor in 2013, breaking a long trend of Virginia attorneys general stepping down while seeking the Executive Mansion.
Herring, a former state senator from Loudoun County, was elected in November 2013, winning a recount by a razor-thin margin against state Sen. Mark Obenshain, R-Harrisonburg, the Republican nominee.
He put Virginia in the national spotlight a mere 10 days after assuming office by announcing that he would not support the state's same-sex marriage ban. His stance made him a hero among liberals, but it sparked angry responses from Republicans who accused him of politicizing the office and not doing his job to uphold the Virginia Constitution.
Northam, a pediatric neurologist and former state senator from Norfolk, said in a February interview then that he was in the preliminary stages of assessing whether a run is feasible and could be successful before deciding whether to seek the office.
"We are putting ourselves in a position that if the opportunity is there, we will run," he said.
Herring rejected the notion that he decided to step aside in exchange for the promise of a future political payoff.
"It's something that I have been thinking about over the last few months and I have reached the conclusion," he said. "I thought that's where my heart is, that's where my mind is, I might as well let folks know."
Herring said he went to see Northam on Monday to inform him of his decision.
"He is a great friend, he and I had been friends in the Senate, and we were ticket mates. I am going to work as hard as I can for him to be governor, and he is going to be a great governor," he said.
With the top and the bottom of the Democratic slate for 2017 likely set, the question remains who will be Northam's running mate.
Sabato said some prominent Democrats are suggesting privately "that it is vital to have a woman and/or a minority" to run for lieutenant governor in 2017 with a ticket bookended by Northam and Herring. "That will help with turnout in an off-year."
He tweeted that some potential names for lieutenant governor that Democrats are circulating include Del. Jennifer McClellan, D-Richmond; Sen. Kenny Alexander, D-Norfolk; Del. Eileen Filler-Corn, D-Fairfax County; and Justin Fairfax, a former federal prosecutor who lost the 2013 Democratic nomination for attorney general to Herring.
Richmond Mayor Dwight Jones, a former chairman of the Democratic Party of Virginia, is also pondering his political future.
The Democrats' arrangement "really puts the onus on the Republicans to come up with a ticket that has broad appeal, unlike the one they nominated in 2013," Sabato added.
"By no means does this guarantee a Democratic victory in 2017," he said. "It's a big plus for them, but the election will be determined by factors we can only guess at more than two years in advance."