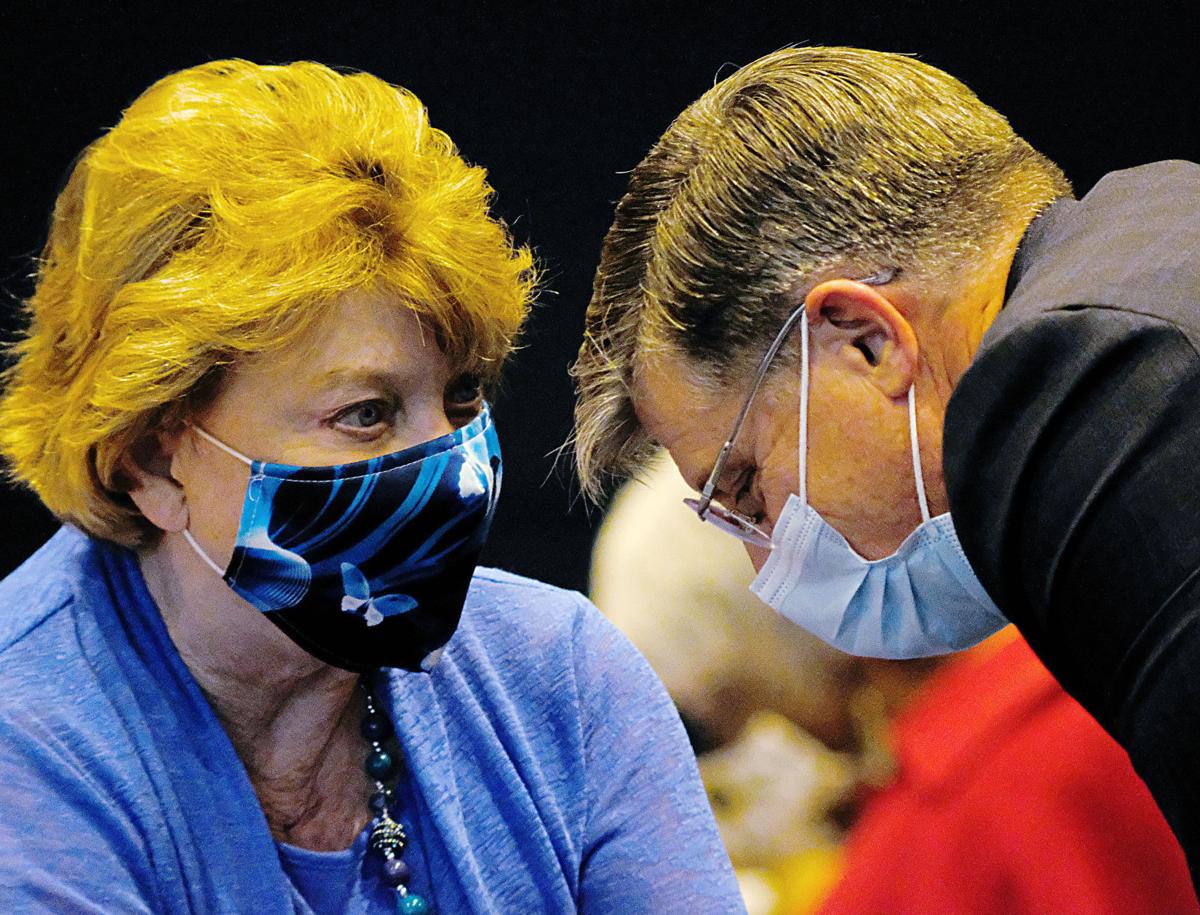 A historically odd session of the General Assembly has ended, but the legislature could be required to convene in special session this year to exercise newfound authority over federal COVID-19 relief funds and to elect judges, including seven members of an expanded Virginia Court of Appeals.
The two-year budget includes language that would require the assembly — not the governor — to appropriate any additional emergency relief approved by Congress and President Joe Biden. That could be an additional $3.8 billion, based on the emergency funding package the U.S. House of Representatives passed last week.
State legislation the assembly adopted on Saturday will add six seats to the appeals court, which already has one vacancy, and establish an automatic right of appeal in state courts. Those elections are likely to cause a domino effect in lower courts presided over by judges raised to the appellate level.
Alena Yarmosky, spokeswoman for Gov. Ralph Northam, said Monday that the governor will "continue to work with the General Assembly to make sure judgeships are filled."
"That may very well mean a special session, but we'll coordinate with General Assembly leadership in determining the next steps," Yarmosky said.
Northam also could address authority over federal emergency aid, as well as other disputed budget issues, when the assembly reconvenes next month to consider any gubernatorial vetoes or amendments to legislation.
In a prepared statement Monday, Northam thanked legislators for their work.
"We have approved a state budget that helps Virginians get through the ongoing pandemic, while laying a foundation for economic recovery," said Northam, adding that his administration and lawmakers have worked together to create a framework for students and school personnel to safely return to the classroom.
Tuition assistanceOne issue that already has arisen is the assembly's decision not to appropriate $6.3 million that the governor had included in the budget for tuition assistance grants to members of the Virginia National Guard to provide the first boost to program funding in more than a decade.
"This is obviously disappointing," said Andrew J. Czaplicki, president of the Virginia National Guard Association. "We're grateful to Governor Northam and members of the administration and General Assembly who championed this effort, but ultimately the budget conferees chose their priorities, and we just didn't make the cut."
Northam had reminded assembly budget negotiators that more money for tuition assistance for members of the Guard is a priority for him, and he isn't backing off of it, his spokeswoman said Monday.
"Virginia's National Guard members have served abroad and at the United States Capitol, and have been instrumental in our COVID testing and vaccination efforts," Yarmosky said. "We will continue to work with the General Assembly to make sure we provide for them, as they do for us."
Federal reliefThe governor's office says it is also working with the assembly budget committees on how to handle any additional federal relief that Congress might approve.
However, before the Senate adopted the budget on Saturday, Sen. Steve Newman, R-Lynchburg, extolled the assembly's expanded authority over federal aid that it would require to be deposited in a special fund and appropriated by the legislature.
"I'm OK with a short special session, doing our constitutional duty," Newman said in an interview on Monday. "Otherwise, we have one individual, the governor, appropriating about $3.8 billion."
In the meantime, the assembly is turning from legislating to politicking, especially in the House of Delegates, where all 100 seats are up for election in November. At the same time, 11 sitting members of the assembly, as well as Lt. Gov. Justin Fairfax, are competing for party nominations for the top three statewide offices — governor, lieutenant governor and attorney general.
Politics turned the normally modest odd-year session into a historical oddity. Republicans refused to extend the session beyond 30 days for the first time since the adoption of a new state constitution in 1971, so Northam called a special session that required a transition that ultimately added two days to the customary 46-day session.
Different viewsMonday was the final day, which ended almost as quickly as it began with pro forma sessions in both chambers.
House Speaker Eileen Filler-Corn, D-Fairfax, who last year became the first woman to preside over the House, had already delivered her parting remarks late Saturday to highlight what she called historic progress made under the Democratic majority.
"I'm proud to say that the work we have accomplished here will lay the foundations on which a healthier, safer, more equitable and more prosperous commonwealth will stand," Filler-Corn said.
House Minority Leader Todd Gilbert, R-Shenandoah, offered a much different assessment of the session on Monday. He faulted Democrats for being slow to reopen public schools during the pandemic, releasing violent criminals from prison, and stifling the economy.
"That's the road Democrats are taking Virginia," Gilbert said. "A path that takes us right back to harder, less prosperous times."
Said Northam in his statement: "We are ending the death penalty in Virginia, and legalizing marijuana possession and use. We've passed a provision to automatically expunge certain crimes from a person's past, so they can move forward with a clean slate. And we have taken the first step toward a constitutional amendment for a process to restore political rights automatically.