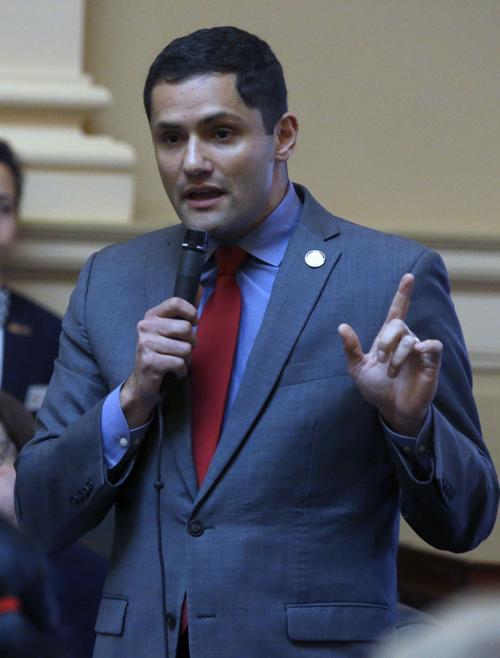 Roanoke Del. Sam Rasoul will run for majority leader in the House of Delegates, one of a handful of leadership positions Democrats will decide on Saturday.
No other House Democrats have publicly indicated they will seek the majority leader position in the House. Democrats won majorities in both the House of Delegates and state Senate on Tuesday.
Rasoul, 38, a Palestinian American, was elected to the House in 2014, becoming the first Muslim member of the legislature. He came close to winning the party leader position against four others a year ago, but lost in the final round of voting to current House Democratic Leader Eileen Filler-Corn of Fairfax.
House Democrats will gather for a closed-door meeting Saturday to pick a speaker, majority leader and caucus chair who will take office when they assume control in January.
Dels. Lashrecse Aird, D-Petersburg, and Luke Torian, D-Prince William, said they are challenging Filler-Corn for House speaker.
Filler-Corn replaced Del. David Toscano, D-Charlottesville, who decided to leave the party leader post he'd held since 2011. Toscano did not seek reelection this year.
Aird, 33, and Torian, 61, are both black. Filler-Corn is 55 and white. Either Filler-Corn or Aird would become the first female House speaker in Virginia history.
Rasoul, a Roanoke Valley businessman, has a reputation as a progressive Democrat and often mentions his Libertarian leanings on certain issues.
He's a member of the Legislative Black Caucus along with Aird and Torian.
He has been vocal about Democrats neglecting rural Virginia. In 2016, he stepped down from his leadership position in the caucus to protest what he said was a lack of outreach to rural voters who support President Donald Trump.
Rasoul becoming majority leader could play a crucial role in providing Southwest Virginia a seat at the table on policy issues as Democrats prepare to take over the legislature. Rasoul, Sen. John Edwards, D-Roanoke, and Del. Chris Hurst, D-Blacksburg, are the only three Democrats representing Southwest Virginia in the General Assembly.
Currently, the only Southwest Virginia legislator in a leadership position is Del. Nick Rush, R-Christiansburg, who serves as the whip for the House Republicans.
Morgan Griffith, now a Republican in Congress, was the last majority leader from Southwest Virginia. Griffith, of Salem, served in the role from 2000 to 2010. Richard Cranwell, of Vinton, served as majority leader for House Democrats from 1991 to 2000 and then was minority leader until 2002. Ward Armstong, from Henry County, was minority leader from 2007 to 2011.
Aird, chief of staff to the president of Richard Bland College, was first elected to the House in 2015. Her first job out of college was as a General Assembly staffer.
Aird said in an interview Wednesday morning that she wants to bring values of transparency, collaboration and inclusiveness to Richmond governance.
Winning control of the General Assembly was "only the first step in truly being able to advance the lives of Virginians, and I strongly believe that the mandate that we received from Democrats across the commonwealth was not just to take the majority but to govern in a way that has been unlike the past," she said.
"The unique experiences that I offer as a black woman also properly position me to speak with a voice of authority on a number these issues, particularly around equity."
Aird said Democrats had strong candidates on Tuesday's ballot, but she said a court-ordered redistricting this year helped lead the party to control of the House.
"We won ... because of redistricting, not because of some brand new approach that was taken," she said. "I think I'm exactly what is necessary to unify us as a caucus."
Torian, 61, the longtime pastor of First Mount Zion Baptist Church in Dumfries, was elected to the House in 2009.
In addition to being speaker, he has expressed interest in being chairman of the powerful and budget-writing House Appropriations Committee. Republicans in 2018 made Torian the chairman of the Appropriations Committee's Subcommittee on General Government and Capital Outlay.
Earlier in the 2018 session, Torian seconded the nomination of Del. Kirk Cox, R-Colonial Heights, as speaker to succeed Del. Bill Howell, R-Stafford, after Howell retired.
"I enjoy serving beside Eileen and Delegate Aird," Torian said. "We just look forward to coming in, in January, and doing a good job for the commonwealth."
Torian said that if he's not speaker, he would like to be chairman of Appropriations.
"I would hope whoever is speaker would respect their peers and their years of seniority," he said.
The Richmond Times-Dispatch's Michael Martz contributed to this report.
Be the first to know
Get local news delivered to your inbox!