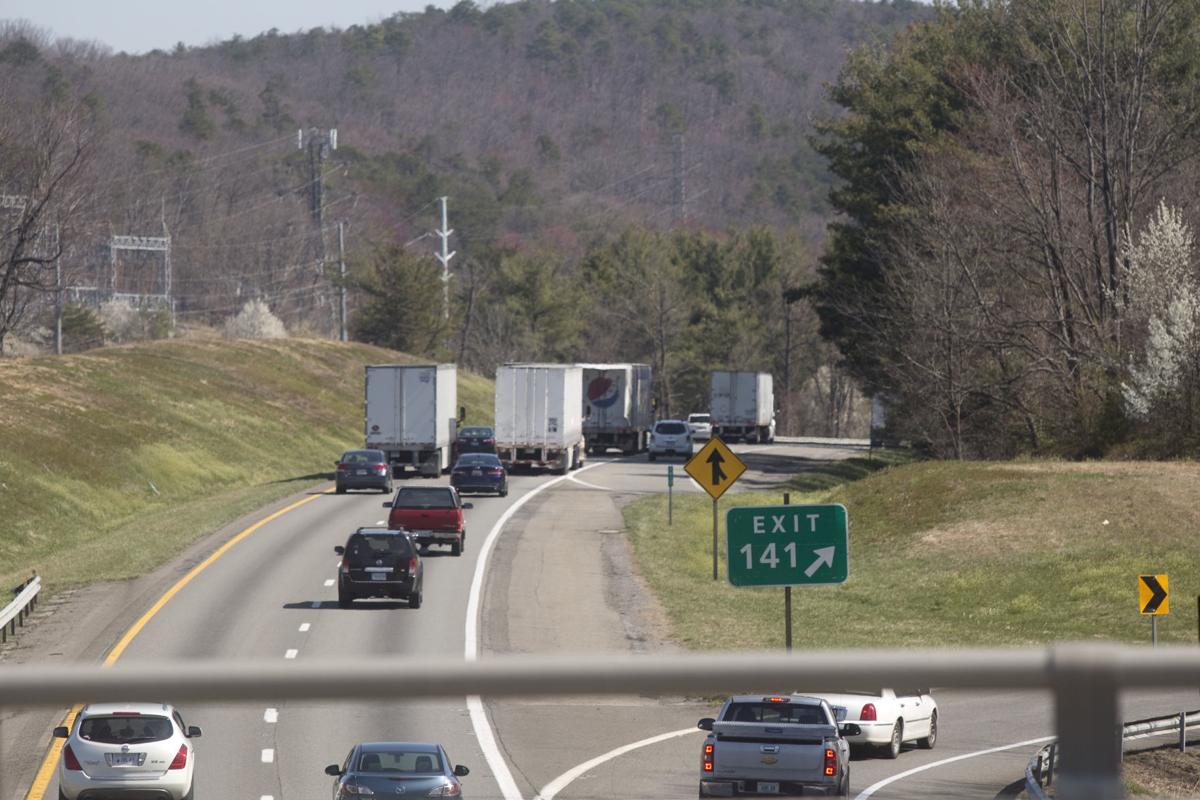 RICHMOND — Lawmakers have broken through the congestion and have backed a plan to fund improvements to Interstate 81.
The General Assembly passed amendments from Gov. Ralph Northam on Wednesday, turning around what had been a failure by the legislature this past session to agree to a funding mechanism. It also marked a major triumph for the legislature, which has been talking for nearly two decades about making significant upgrades to the 325-mile highway and coming up with the money to do them.
Under Northam's amendments, tractor-trailer registration fees will increase later this year. The diesel tax will increase to 2.03% of the statewide average wholesale price per gallon, which would begin in July 2021.
Based on truck miles traveled on interstate highways, revenues will be distributed between the I-81 Corridor Improvement Fund as well as other transportation projects across the commonwealth, including Interstate 95 and Interstate 64.
Also, in the localities that line the I-81 corridor, the regular gas and diesel tax paid would go up, with a 2.1% wholesale tax added. All of the revenue from the local gas and diesel tax will go directly toward I-81 improvements.
Of the total $280 million these funding amendments would raise annually, I-81 will receive about $150 million. The funding can be leveraged through bonds to support $2 billion in critical projects identified by the Virginia Department of Transportation and approved by the Commonwealth Transportation Board.
The regional and state gas tax does not have a defined expiration date, so once the debt is paid, an advisory committee can recommend to the General Assembly that those taxes end.
The House passed the amendments 58-39. The Senate took separate votes on the truck registration fees — approving those 25-13 — and the diesel and gas tax on a vote of 22-14.
"This is important not just to my region, but to other regions, as well," said Sen. Bill Carrico, R-Grayson, who co-patroned a Senate bill to fix I-81 this past session and voted in favor of all the amendments.
Lawmakers adjourned in February without establishing a funding plan for I-81. Sen. Mark Obenshain, R-Rockingham, and Del. Steve Landes, R-Augusta, both presented bills to put tolls on I-81. The legislation would have charged 17 cents per mile for trucks and 11 cents per mile for other drivers. Car drivers — but not truckers — could purchase a $30 annual pass.
But the legislation appeared doomed to fail if put to a floor vote. Northern Virginia lawmakers expressed discontent over the idea that tolls would be much lower along I-81 than its own highways. Even along the I-81 corridor, legislators on the southern end said it was unfair for them to pay tolls when their road projects were valued at less than repairs along the rest of the highway. The trucking and manufacturing industries pushed back against the tolls, saying they put an unfair burden on them.
"It's been an arduous path that this has taken," Obenshain said on the Senate floor.
So Obenshain and Landes revised their bills to create the Interstate 81 Corridor Improvement Fund and create a committee — made up of state legislators and local officials — focused on fixing the highway.
Northam amended their legislation to put in place the funding plan, which drew support from truckers, business groups and lawmakers committed to passing a funding plan.
Landes did not vote to approve the governor's amendments. Obenshain voted for the truck registration fees but opposed the gas tax.
Former Gov. Terry McAuliffe emailed all the Democrats in the House and Senate Tuesday night encouraging them to support the amendments.
"These funds will be essential to making major improvements to I-81, thus providing more economic and job creation opportunities along the more than 300 miles the interstate covers across Southwest, Western and Northern Virginia," he wrote.
Del. David LaRock, R-Loudoun, took issue with the Northam administration rolling out this proposal last week without it going through the legislative process and without allowing an opportunity for the public to comment. He admitted he didn't understand the amendments.
"I have a few things I do during the week," he said. "I don't fully understand what's going on with this money."
Del. Terry Austin, R-Botetourt, who co-patroned the House bill and has played an integral role in trying to improve I-81, pushed back at the notion that information was unavailable to lawmakers. Public hearings and conversations over funding options and the highway projects took place over last year.
"I think there have been multiple opportunities for conversation throughout this whole process," Austin said.
The breakthrough on fixing I-81 came last year, when Obenshain authored legislation to set in motion a study about I-81 upgrades and how to pay for them.
"This is a serious issue that needs to get resolved," Obenshain said.
Crash-related traffic jams plague I-81. There are about 2,000 crashes a year, about 45 of which take more than four hours to clear. Transportation Secretary Shannon Valentine said the improvements will reduce the number of crashes.
"This is an opportunity to save lives," said Sen. Dave Marsden, D-Fairfax.
Nearly 12 million trucks travel I-81 each year, hauling freight valued at $312 billion. No other interstate in the commonwealth carries a heavier share of truck traffic.
Carrico said this funding mechanism will free up about $930 million from Smart Scale, a competitive program that scores locally submitted transportation projects seeking state funding. That money can go toward other transportation projects. In the last round of funding requests, it received $7 billion in requests, but it could only fund $780 million in projects.