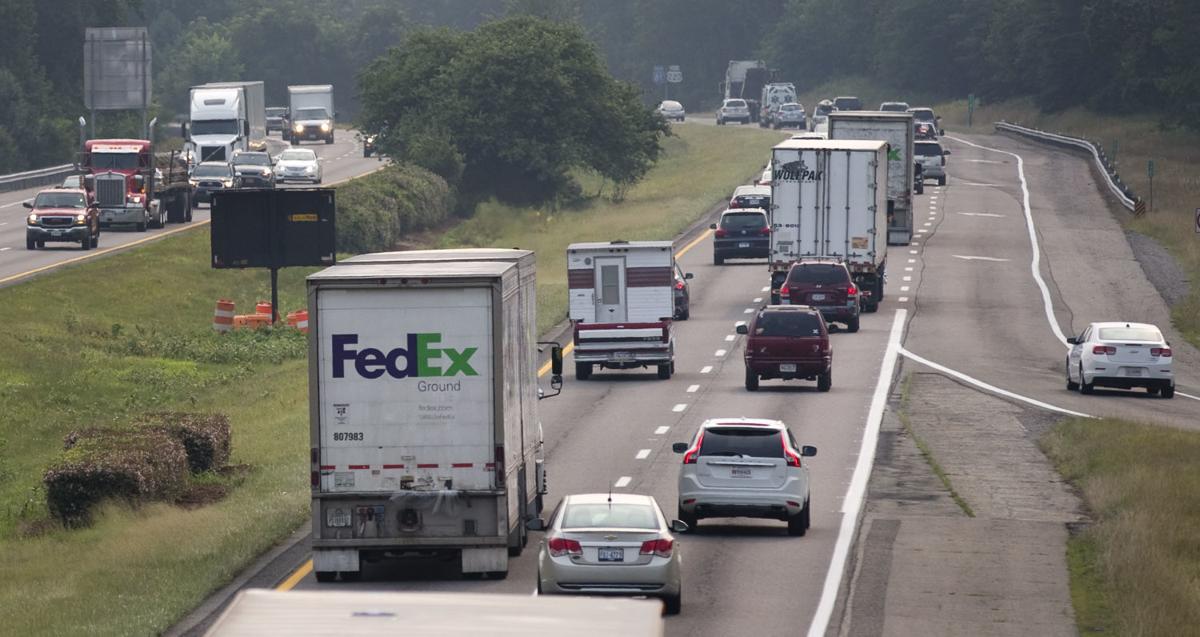 RICHMOND — Legislation dealing with funding to improve Interstate 81 is at a standstill for now.
SB 1716, sponsored by Sen. Mark Obenshain, R-Rockingham, was set to be heard before the Transportation Committee on Wednesday but has been rerouted to the Finance Committee.
Obenshain's bill focuses on tolls to generate the funds to go toward $2 billion in upgrades identified by the Virginia Department of Transportation.
Sen. John Edwards, D-Roanoke, filed SB 1470, which would increase the statewide wholesale gas tax to 5 percent. His bill has been referred to Senate Finance but also has not yet been scheduled to be heard.
Meanwhile, in the House of Delegates, HB 2718, from Del. Steve Landes, R-Augusta, is sitting in the House Rules Committee, whose chairman is House Speaker Kirk Cox, R-Colonial Heights. Cox's spokesman, Parker Slaybaugh, said it was referred there because it is considered "legislation with major policy implications."
"It will be referred to committee at the appropriate time," Slaybaugh said Wednesday.
Legislators in both chambers are torn on tolls or taxes or whether to support any of the legislation at all. Gov. Ralph Northam signaled support for tolls.
The Finance Committee meets Tuesdays, Wednesdays and Thursdays. None of the Senate bills were scheduled to be dealt with on Thursday. The House Rules Committee meets whenever Cox calls for it to meet.
The General Assembly reaches its "crossover" deadline on Feb. 5, which is when the House and Senate must each finish work on their own bills so they can cross over to the other chamber.
Bill to regulate explosive targets rendered inert
A bill aimed at prohibiting people from setting off the explosive Tannerite in residential areas turned out to be a dud in a General Assembly subcommittee on Wednesday.
HB 1776, sponsored by Del. Mark Cole, R-Spotsylvania, would have allowed localities to adopt ordinances prohibiting or regulating the use of Tannerite or a similar explosive in or near residential areas. Violating the ordinance would result in a Class 3 misdemeanor.
Tannerite is the brand name of a legal explosive that is popular with shooting hobbyists. Cole said people will shoot jars filled with it.
Beyond target practice, blowing up large amounts of Tannerite has become a source of YouTube entertainment. People will pack dozens of pounds of it into junked cars, refrigerators, washing machines, or an abandoned barn, causing large explosions.
"They're using it to do really dumb things," Cole told a subcommittee of the House Counties, Cities and Towns Committee.
Cole brought the bill on behalf of a constituent, a veteran with PTSD in Fauquier County.
"When he hears these large explosives, it rattles their windows and things like that, and it causes him to have problems," Cole said.
There have been a couple court cases in recent years in Virginia addressing Tannerite. Last year, a prosecutor argued in a case in Henry County involving three men that by exploding a large quantity of Tannerite, it caused a disturbance to area residents. They pleaded no contest to misdemeanor charges of interfering with the property rights of others, according to court records.
The subcommittee discussed whether to treat Tannerite like firearms or fireworks. It's illegal for people to willfully discharge firearms within city and town limits. The delegates thought the bill needed more clarity on defining a residential community and how far away a person should be from it
A lobbyist for the Virginia Fire Prevention Association wanted Tannerite to be treated like fireworks under the fire code, which would make it illegal to set off anywhere.
No delegates made a motion to vote on the bill, so it died there.
Bill for Giles County business passes House
A bill that would allow a Giles County farm to serve mixed drinks passed the House of Delegates.
It's a little known quirk in Virginia's liquor laws, that if an establishment is on or adjoining national forest land or on the Blue Ridge Parkway, it needs the General Assembly to authorize its ability to serve mixed drinks on its property. The bill passed the House on a 89-6 vote.
Del. Chris Hurst, D-Blacksburg, carried the HB 1905 at the request of Doe Creek Farm. The farm located next to Washington and Jefferson National Forest near Pembroke serves as a wedding venue. Hurst said the business simply wants future newlyweds to be able to have mixed drinks served .