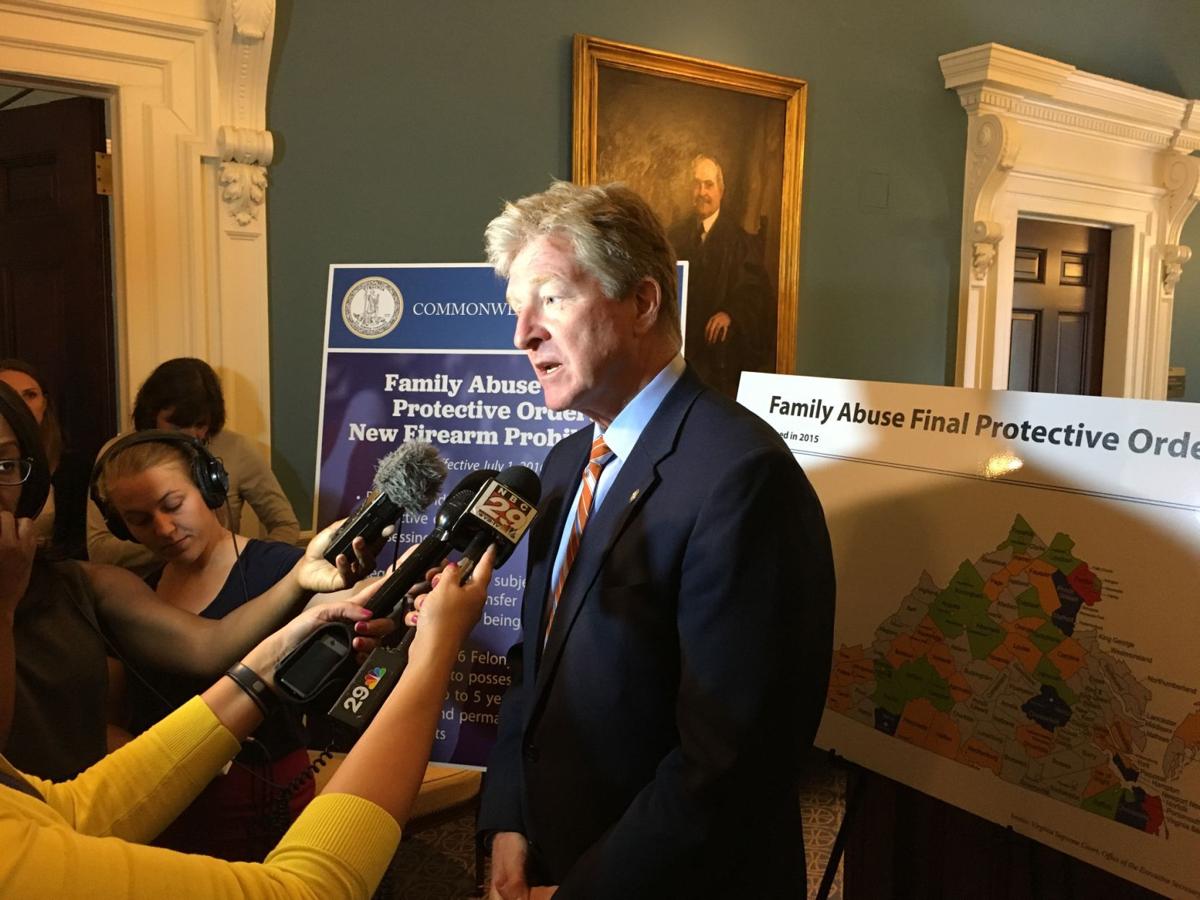 RICHMOND — Domestic abusers will have to surrender their firearms within 24 hours of being served a civil, family abuse final protective order or face felony charges, under a law scheduled to take effect July 1.
The firearms surrender provision is part of a far-reaching gun rights and gun control legislative compromise reached in February between Republican legislative leaders and the administration of Democratic Gov. Terry McAuliffe.
As part of the deal, Virginia will recognize concealed-carry firearms permits issued by other states.
The superintendent of the Virginia State Police and the Virginia attorney general have 60 days to enter into reciprocal agreements with states that require an agreement before recognizing a Virginia gun permit.
In exchange for maintaining firearms reciprocity with other states, the new law will require a Virginia State Police trooper to be available at all gun shows in the commonwealth to do voluntary background checks on firearms purchases.
Public safety officials from the administration held a news briefing Tuesday to outline the protective order provision of the new law, and said that 53 law enforcement agencies in the commonwealth have agreed to accept and store firearms surrendered under the law.
The law does not apply to temporary or emergency orders, which do not require a judicial determination or personal service of the order. Nor does the law require a person subject to a permanent order to surrender their firearms to a law enforcement agency; they only need to hand the firearms over to a third party, which may include a friend or family member who is not prohibited from possessing a firearm.
The law simply requires that a person subject to the protective order may not possess a weapon for the duration of the order, which can last up to two years.
Some of the largest jurisdictions in the state — including Fairfax County, Arlington County, Norfolk and Newport News — have signed on. In the Roanoke and New River valleys, Blacksburg, Boones Mill, Radford and Wytheville police departments will accept firearms.
Secretary of Public Safety Brian Moran said Virginia is one of only 17 states that require firearms forfeiture subject to family abuse final protective orders — and one of only four states that require surrender in 24 hours and make violators subject to a felony charge.
He called it "one of the toughest domestic violence laws in the nation, if not the toughest."
While Moran said that he would like people subject to the order to turn their weapons over to law enforcement, he said that a number of agencies expressed concern about having the necessary storage capacity and assuming liability for the guns' safekeeping.
There are more than 150 law enforcement agencies responsible for public safety in the commonwealth's 133 localities. Moran said the Department of Criminal Justice Services would be providing a total of $300,000 in grants for law enforcement to help implement the law.
"There are legitimate concerns, and we want to get them from 'no' to 'yes' " in accepting surrendered firearms, he said. "We are committed to making this work."
Asked whether he was concerned that most people forced to surrender firearms would simply choose to hand them over to a friend or family member rather than law enforcement, even if that option were available, Moran said:
"I'm concerned that there is too much gun violence in Virginia. This is an important step."
In 2014, 66 people were killed in Virginia by guns in incidents classified as family and intimate partner homicide. Women are five times more likely to die in domestic violence events in which firearms are involved.
According to the administration, there were 5,271 family abuse final protective orders issued in Virginia in 2015.
Moran said he expects that more victims of abuse will use the new law to pursue permanent protective orders that remove guns from abusers rather than temporary or emergency orders, which do not require surrender of firearms.
Be the first to know
Get local news delivered to your inbox!