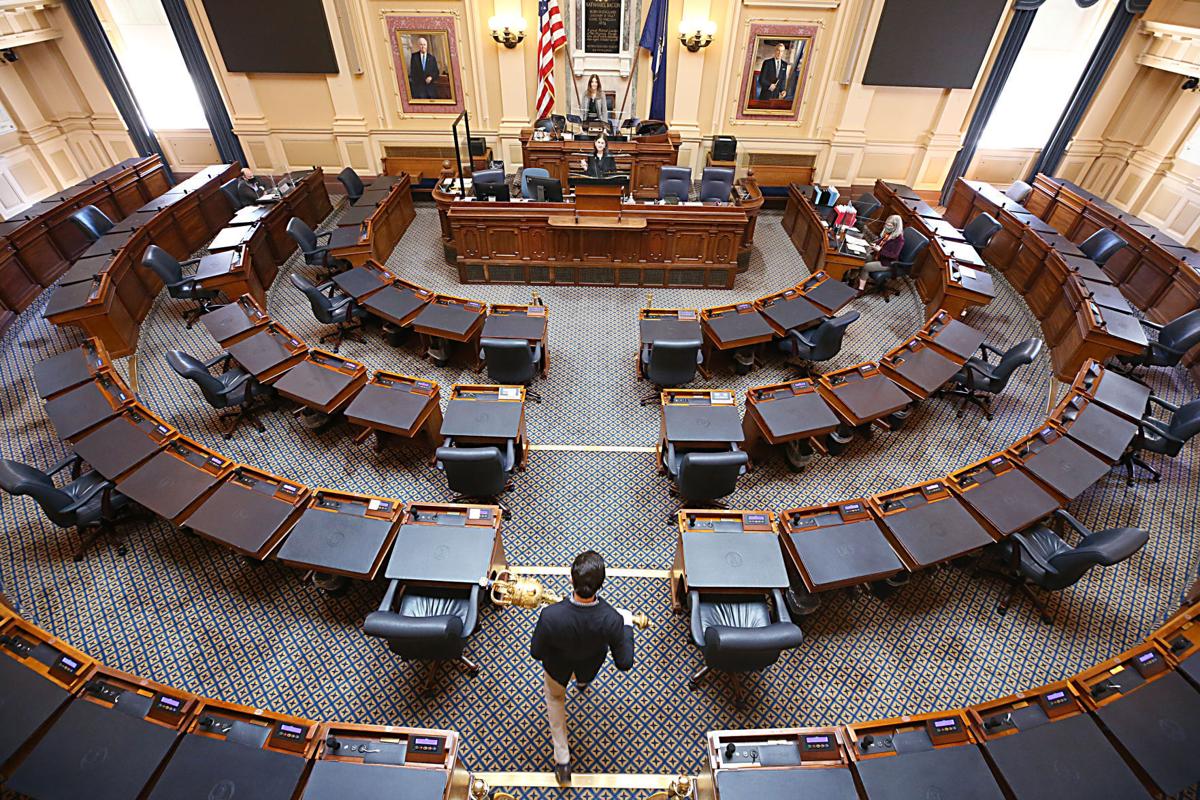 The General Assembly on Monday formally capped a COVID-complicated session that featured landmark action on issues ranging from the death penalty to future marijuana legalization.
Here are 26 reasons why the session mattered.
AbortionThe House and Senate backed legislation to remove the ban on abortion coverage on the state's health care exchange.
AlcoholLawmakers backed restaurants' ability to sell cocktails to-go through July 1, 2022. The legislation is a first step toward making permanent a temporary pandemic provision that has allowed restaurants to sell cocktails to-go since April.
Censure The Senate censured Sen. Amanda Chase, R-Chesterfield, a GOP candidate for governor, for "conduct unbecoming" of a member of the Senate.
COVID-19Gov. Ralph Northam signed emergency legislation aimed at speeding up vaccine distribution efforts by widening the pool of who's eligible to be a vaccinator. The bill also calls on all vaccinators to collect patient data, including race and ethnicity, so the state can better ensure equitable distribution.
Death penaltyThe House and Senate passed measures that would make Virginia the first state in the South to abandon capital punishment.
Dominion EnergyThe Senate stopped House bills designed to reform Virginia's electricity rate system and provide customers with refunds for overpaying on their Dominion Energy bills. On a bipartisan vote the House rejected a Dominion-priority bill that would have let the utility expand its monopoly and use over-earnings for a new electric school bus program.
Separately, lawmakers approved a bill that would create a grant program that could receive federal transportation funds to help school districts transition from diesel buses to electric buses.
Democrats approve the Voting Rights Act of Virginia, which would codify protections for voters who might face discrimination based on their race or ethnicity. The bill would also require that localities give the public 30 days to comment on proposed changes to voting — including moving polling places, closing a precinct or curtailing interpreting services — with some exceptions.
Lawmakers also approved legislation to make permanent the use of drop boxes for absentee ballots, prepaid postage on absentee ballots, and a requirement that localities offer voters a chance to correct their ballots if they find errors that render them invalid. The bill requires localities to begin counting early votes sooner to speed election night results.
Both chambers passed a bill to extend pandemic-era protections for renters until July 1, 2022. It would require landlords to offer a tenant a payment plan to catch up on back rent before pursuing an eviction. Lawmakers also agreed to expand a tenant's so-called right of redemption. Both chambers endorsed a measure cracking down on landlords who illegally evict tenants. It would require courts to intervene sooner when tenants file emergency petitions.
The House and Senate reached agreement on a bill that would allow automatic expungement of about eight misdemeanor crimes, and create a process for people to request a court remove other crimes from their record after seven years of good behavior. Advocates said it would allow a clean slate for people seeking jobs and housing.
The Senate rejected a late attempt by House Democratic leadership to remove a guardrail from the Virginia Freedom of Information Act that requires the legislature to meet in person. The House amendment could have led to more virtual legislative meetings, even after the pandemic.
A bill to prohibit people from possessing guns inside a polling place passed both chambers. The House and Senate also passed legislation that would write into law bans on guns in the Capitol and state buildings and ban possession of guns on state Capitol grounds.
The governor signed a bill that expands from three to five days the time for State Police to do a background check before a gun sale.
The House passed a bill to ban possession or sale of guns without serial numbers that are designed to avoid detection devices. The House and Senate could not agree on a final version so the bill died.
Personal care attendants who work directly for home bound Medicaid clients are slated to receive up to five days of sick leave each year. The state budget also would increase the Medicaid rates paid both to the attendants and home health agencies to pay for increases in the minimum wage on May 1 and Jan. 1. The budget provides money for a $15 daily stipend to nursing homes for each Medicaid resident to help pay for staff.
Legislators voted to require five universities that were built or maintained by enslaved workers to offer scholarships or other community programs to descendants of the enslaved. The assembly agreed to require college governing boards to reach a higher standard for transparency, and to ban most public colleges from asking about applicants' criminal records. Legislators also agreed to allow undocumented immigrants to apply for financial aid.
The state will give Virginia Commonwealth University almost $15 million to purchase the Virginia Alcoholic Beverage Control Authority property on Hermitage Road in Richmond for an athletic village that will include a stadium for collegiate and minor-league baseball (the state will get the money back through ABC profits.
VCU also will lead a new research partnership at the Commonwealth Center for Cloud Computing in eastern Henrico County. The budget also includes $7.5 million for cancer research at Massey Cancer Center
The Senate and House passed legislation to repeal the requirement that mental health facilities report documented and undocumented immigrants to ICE upon screening. A bill that would allow a parent expecting deportation to provide a standby guardian for a child under 18 passed both chambers unanimously.
Lawmakers backed legislation to tighten privacy protections for undocumented immigrants signing up for driver privilege cards, which would limit the power of ICE in accessing state databases.
The Senate rejected a House push to include farm workers in Virginia's minimum wage laws. Northam signed a bill to ensure access to COVID-19 testing, treatment and vaccination for undocumented residents, effective July 1.
Virginia will join 14 other states in establishing a reinsurance program to lower health insurance premiums by creating a separate pool to pay for people with expensive medical conditions. The federal government will pay most of the cost under a Medicaid waiver that Virginia will request, but the state will contribute about $40 million.
Lawmakers approved legislation requiring that school districts offer full-time, in-person learning to public school students for the fall semester. If a school has high levels of COVID-19 transmission, it may revert to virtual learning temporarily. School districts may provide virtual learning to any student whose parent requests it as long as the state remains under a state of emergency.
The Senate Education and Health committee killed efforts to diversify the state's Governor's schools. The legislation would have required the Virginia Board of Education to create guidance on best practices for equity and diversity. The 19 Governor's schools in Virginia have long been plagued with pipeline issues that present roadblocks for Black and Latino students' attendance, resulting in their underrepresentation at those schools.
Lawmakers passed legislation under which teachers would be evaluated on their level of cultural competence, and the Virginia Board of Education would come up with standards for what that means.
The House and Senate endorsed a proposed constitutional amendment that would repeal Virginia's 2006 amendment that defined marriage as between a man and a woman. A proposed constitutional amendment would have to pass again next year and then succeed in a statewide voter referendum.
Lawmakers passed a bill to repeal the "conscience clause" that lets child placement agencies refuse to take part in child placements that violate the agency's written religious or moral convictions or policies.
Virginia lawmakers backed legislation that would ban the "gay or transgender panic" defense, which has allowed people charged with assaulting or killing someone in the LGBTQ community to cite panic as a reason for their actions. Supporters say it also has enabled assailants convicted of such crimes to receive lesser sentences. A Senate amendment made "hitting on someone" an unjustifiable excuse for the panic defense.
The House and Senate passed legislation that would eliminate most mandatory minimum sentences, but the House and Senate could not agree on a final bill, and the effort died. Supporters said mandatory minimums are discriminatory and result in sentences that are too long.
Lawmakers approved legislation that in 2024 would legalize recreational use of marijuana by adults over the age of 21 and create a regulated market for the drug. Lawmakers are putting off to next year final votes on the framework for the legal market and reworked criminal penalties. The Northam administration and legislative leaders signaled Saturday that the governor will propose amendments to the bill.
Racism as public health crisis
Lawmakers sent Northam a resolution declaring racism a public health crisis. Virginia, which the resolution notes is "the site where the first enslaved African people arrived in what is now the United States," and housed the former capital of the Confederacy, would become the first Southern state to pass such a measure.
Lawmakers passed legislation that would give employees of many businesses that don't offer retirement savings plans an option to put aside a portion of their pay in an Individual Retirement Account. The Virginia Saves program would require businesses with at least 25 full-time employees to offer the IRA plan, but they would not be required to contribute to it. Virginia529, which runs the state's college tuition savings program, would administer the program. The budget authorizes a $2 million annual Treasury loan to support the program.
The General Assembly gave initial approval to a proposed constitutional amendment that would restore the voting rights of people convicted of a felony and released from prison. The measure would restore those rights automatically upon release; currently, people can petition the governor to restore their voting rights.
The budget includes money for a 5% raise for teachers, state employees, college and university faculty and employees, and state-supported local employees, such as sheriff's deputies. Virginia State Police troopers will get an additional 3% raise, plus money for each year of service to prevent pay for veteran officers from lagging behind newly hired officers.
The budget also includes a $1,000 bonus for correctional officers, $800,000 in raises for Capitol Police, $3.5 million for general registrars and $2.2 million to raise minimum salaries for social services workers.
The Senate passed legislation that would end most uses of solitary confinement in Virginia prisons, but House leadership killed the bill by leaving it in the Appropriations Committee without a hearing.
The House and Senate backed measures to remove the statue of segregationist Gov. and U.S. Sen. Harry F. Byrd Sr. from Capitol Square and to erect a statue of teenage civil rights pioneer Barbara Rose Johns at the U.S. Capitol.
Taxpayers will save $221 million over two years because of changes in state tax code to conform with new federal laws in the CARES Act and Consolidated Appropriations Act that Congress passed last year in response to the pandemic.
Staff writers Mel Leonor, Michael Martz, Patrick Wilson, Sabrina Moreno, Kenya Hunter, Mark Robinson, Eric Kolenich and Karri Peifer contributed to this report.