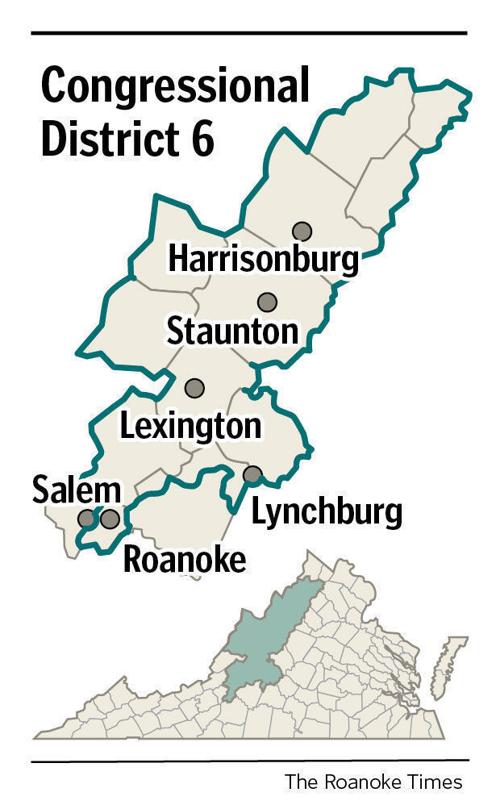 Jennifer Lewis won the Democratic nomination Tuesday to take on Del. Ben Cline, R-Rockbridge, in November for Virginia's 6th Congressional District seat.
Lewis, 36, of Augusta County, collected 50 percent of the vote in the primary election with 91 percent of the precincts reporting by 9 p.m. Lewis beat Sergio Coppola of Harrisonburg, Charlotte Moore of Roanoke County and Peter Volosin of Roanoke. Volosin, who had the endorsements of some state lawmakers and two incoming Roanoke City Council members, came in second.
Lewis, who describes herself as a "bold progressive" fighting against corruption in the federal government, will be the first Democrat in 26 years to challenge a Republican in the district other than U.S. Rep. Bob Goodlatte, who announced in November he would retire after 13 terms. The 6th District stretches from Roanoke eastward to Lynchburg and north to Front Royal.
"I've been a hardworking advocate for people," Lewis said. "I'm going to fight for the values of the 6th District."
President Donald Trump won almost 60 percent of the vote in the district in 2016. Goodlatte, chairman of the House Judiciary Committee, has never received less than 60 percent of the vote in his re-election bids.
Cline, 46, a Rockbridge County lawyer, is an eight-term member of the House of Delegates with a conservative voting record in the General Assembly, which includes sponsoring a resolution to declare the anniversary of Roe v. Wade a "Day of Tears" and legislation to ban sanctuary cities. He leads a House committee that blocked all gun control legislation this year.
Lewis is a mental health professional who works with mentally ill adults who are transitioning from inpatient care and are returning to the community. She founded Friends of Augusta, a group that opposes the Atlantic Coast Pipeline, and serves on the boards of Wild Virginia and the Headwaters Soil and Conservation District.
She's focused her campaign on three issues: the environment, health care and campaign finance reform.
Lewis wants a higher priority on renewable energy infrastructure. She says all Americans should be able to buy Medicare coverage. And she has vowed not to accept campaign contributions from corporate PACs . She supports a constitutional amendment to eliminate so-called corporate personhood, the notion that corporations share some of the same legal rights as individual citizens.
She wants to expand the Deferred Action for Childhood Arrivals program and the visa program through which immigrants already residing in the United States can bring their family members.
She supports gun reform, such as strengthening and expanding background checks, as well as banning firearm accessories such as bump stocks. She wants the minimum wage raised to $15.
Lewis has received the endorsements of Our Revolution, a Bernie Sanders-inspired organization; Moms Demand Action for Gun Sense in America; and Food & Water Action Fund, which focuses on healthy food and clean water.
"If you want a better quality of life in the 6th District you need to vote for me," Lewis said.
The Democrats have high hopes of flipping the seat, which is one of the reddest in the state.
Lewis, who credits her grassroots campaign for Tuesday's victory, said she plans to continue her efforts of knocking on as many doors as she can.
"We're hitting the ground running tomorrow," Lewis said. "I might not sleep tonight so I might start running tonight."