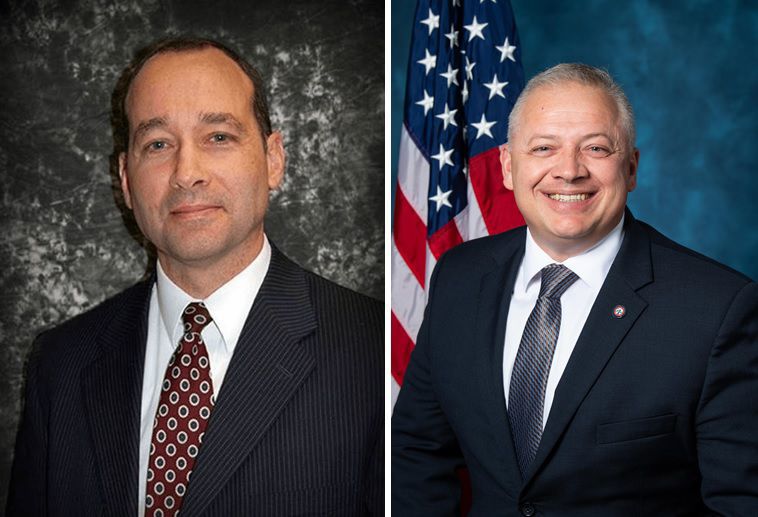 An athletics official at Liberty University intends to challenge Republican Rep. Denver Riggleman for the party nomination next year.
Bob Good, who also sits on the Campbell County Board of Supervisors, said Riggleman has "betrayed the trust of the Republican conservative base" in the 5th Congressional District. He plans to make his formal announcement about his candidacy in the coming days. He's the only person to announce an intraparty challenge against Riggleman so far.
"It's my contention and many others that he has so severely damaged himself within the party that he's made himself unelectable in a general race next November," Good said in a statement. "So I can confirm and will confirm that I responded to the call from the party to give our voters a concerted choice as their nominee and I do plan to formally announce my candidacy soon."
Republican political activists in the district have been feuding for months since Riggleman officiated a same-sex wedding in July for two men who volunteered for his campaign last year.
Good does not allude to the wedding as a reason for his candidacy, which was first reported by The Hill. He cites Riggleman's votes on immigration and border security bills — legislation Trump supported.
"This new primary opponent was handpicked by the establishment of the Republican Party who are upset with the congressman for defeating their chosen candidate in the previous nomination contest and for officiating a same-sex wedding," Riggleman spokesman Joe Chelak said in a statement Wednesday. "For this entire career, Congressman Riggleman has fought for transparency and inclusiveness, something that is sorely lacking in the leadership of the 5th District Republican Party."
Riggleman's district stretches from Fauquier County in the state's northern Piedmont to the North Carolina border and includes Franklin County and part of Bedford County. He has libertarian leanings, and has taken a states rights approach to same-sex marriage.
Riggleman narrowly won the party nomination last year against several candidates, including religious conservative Cynthia Dunbar. Social conservatives who supported Dunbar took issue with Riggleman's positions on gay marriage.
Members of the 5th Congressional District Republican Committee tried to censure Riggleman in July over the wedding. Other local political committees have since reprimanded Riggleman.
Others have come to Riggleman's side, including former Virginia Gov. George Allen, a Republican, and Liberty University President Jerry Falwell Jr., who wrote to Riggleman saying he supported his reelection bid.
Good serves as the senior associate athletics director and chief fundraiser for athletics at Liberty University.
The 5th Congressional District Republican Committee has not yet selected a nomination method. Riggleman could face a more contentious battle for the nomination if it goes with a convention, where there are fewer voters. More conservative Republicans tend to favor conventions as a way to ensure ideological purity.
Support for same-sex marriage has steadily grown over the past 15 years, with a majority of the public favoring it, according to a Pew Research Center survey conducted in March. It's still politically divisive, with 44% of Republicans and Republican leaners supporting same-sex marriage.