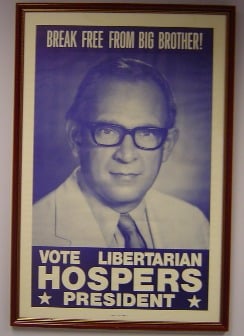 John Hospers died Sunday.
Who was John Hospers, you ask? He was the Libertarian Party's first presidential candidate, back in 1972.
He got one electoral vote -- from Virginia.
Specifically from Roger MacBride of Charlottesville. MacBride was treasurer of the Republican Party of Virginia at the time, and was honored with what is usually the ceremonial post of being one of the state's "electors" in the Electoral College.
However, instead of routinely casting his vote for the Nixon-Agnew ticket (which had carried Virginia and the rest of the country in a landslide), MacBride voted instead for the Libertarian ticket of John Hospers for president and Theodora "Toni" Nathan.
For that, MacBride was branded a "faithless" elector. He also had the historial distinction of becoming the first elector to cast a vote for a woman.
Four years later, MacBride himself was the Libertarian Party's candidate for president. He also inherited the rights to the Laura Ingalls Wilder publishing estate and co-produced the "Little House on the Prairie" television series.
MacBride passed away in 1995.
And now, so too has his party's first nominee.
Hospers was a professor of philosophy at the University of Southern California. You can read more about him here.