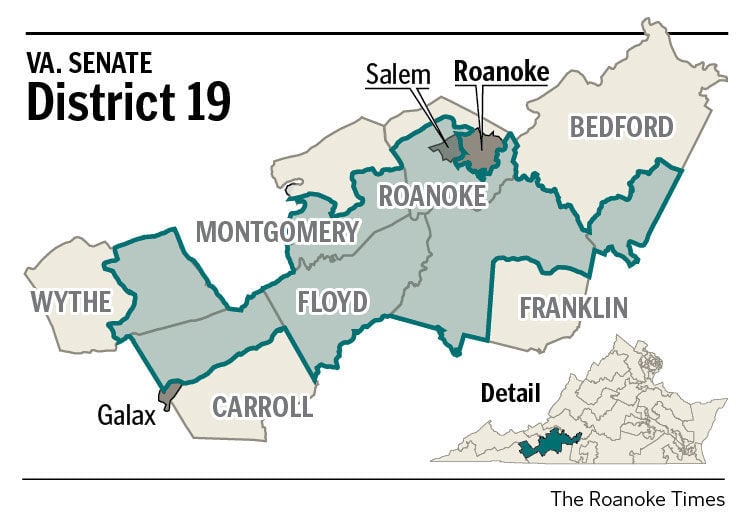 Republican Sen. David Suetterlein and Democrat Flourette "Flo" Ketner want to put more money in Virginians' pockets.
But they have different ideas for how to go about that.
Suetterlein, a conservative Republican from Roanoke County, fights for fair electric rates to stop utility companies from overcharging people. He's one of the legislature's most vocal critics of Dominion Energy and Appalachian Power, two of the state's politically powerful electric utilities.
Ketner, who opposes Suetterlein on the Nov. 5 ballot, wants to increase the minimum wage from $7.25 to $10 per hour.
"I'm fighting to get you a raise," Ketner told a Salem woman standing inside an apartment door.
Suetterlein is seeking a second four-year term, and Ketner is making her second run for a seat in the General Assembly.
Here's more background on this largely rural, firmly Republican district that Suetterlein likes to cite when speaking to a roomful of voters. District 19 is composed of parts of Roanoke, Franklin, Montgomery, Floyd, Wythe, Carroll and Bedford counties as well as Salem. It's a patchwork assembly of Southwest Virginia municipalities, with split counties, magisterial districts and town boundaries.
Suetterlein said some might rationalize that the district's line has to be drawn somewhere.
"But this has gone way beyond," he told district voters at a candidate forum earlier this month, explaining when communities are needlessly divided, it makes it hard for legislators to be as present in all the communities and represent their views.
Suetterlein has pushed anti-gerrymandering legislation, across the legislature's aisles, although Gov. Ralph Northam has vetoed his bills.
In his four years in the Senate, Suetterlein has had 23 bills signed into law. A significant victory — which had bipartisan support — was increasing the felony threshold for larceny and other property crimes.
An effort he said his constituents support has been attempts to increase from 80 to 85 mph the threshold for reckless driving in areas of Virginia where a 70 mph limit is posted. However, his bills have never reached the governor's desk.
He's supported a proposed neonatal intensive care unit at Salem's LewisGale Medical Center for ill newborns and is optimistic that's close to fruition.
In contrast to his initial campaign for Senate in 2015, Suetterlein has increasingly brought up the issue of abortion with voters.
In campaign materials, many state Republicans have referenced a controversy that erupted earlier this year over legislation introduced by Democrats that would have eased restrictions on third-trimester abortions. Virginia law allows for third-trimester abortions if the mother's health or life is in severe risk, but they are rarely performed. Two confirmed abortions have been performed during the third trimester of pregnancy since 2000, according to the Virginia Department of Health.
Northam made awkwardly phrased remarks defending the bill, which opponents then used to claim he supported infanticide, which the governor — who is also a physician whose specialty is pediatric medicine — did not.
The legislation would have reduced the number of doctors required to certify a third-trimester abortion from three to one, and removed a requirement that anticipated harm be "substantially and irredeemably" in order for patients to be denied an abortion.
The legislation never made it to the House or Senate floors for a vote, and Suetterlein joined Republicans in defeating the bill in a committee.
"I think if a human life is going to be extinguished, it's not unreasonable to say that a second doctor should be consulted," he said.
Ketner supports abortion rights and doesn't believe the government should regulate these health care decisions.
Suetterlein is a realtor with MKB. He has three children, two of whom attend Roanoke County Public Schools. At 34, he's the youngest member of the Senate, and said he's the only member of that chamber who had to take state Standards of Learning tests.
He's a proponent of reforming the SOLs to move away from redundant tests and shift toward skill-based assessments.
Ketner, 36, a stay-at-home mother who lives in Montgomery County with her husband and three children, also wants to see more changes to the SOLs so students graduate with critical thinking skills. She also wants universal preschool programming available to families.
"It's going to advance our children to do better," Ketner said.
Ketner ran unsuccessfully against Del. Nick Rush, R-Christiansburg, in 2017.
"No one else would do it," Ketner said about why she decided to run again. "Somebody needs to give people hope."
Ketner said she grew up in poverty. Her disabled grandmother raised her after Ketner's mother died from a drug addiction. She worked minimum wage jobs to help support the household, so she said she understands how every dollar of income makes a difference.
Virginia's minimum wage was set in 2009 at $7.25, and Ketner said prices have gone up since then.
While knocking on doors at a low-income apartment complex in Salem, a woman told Ketner how she moved from Washington state, where the minimum wage was $12 and has struggled financially to raise her children.
"I was raised in a blue collar lifestyle," Ketner said. "When you put more money in people's pockets, they'll spend it. They'll buy the new TV to replace the one giving them trouble. It will help businesses."
Legislation to increase the minimum wage to $10 this year, $13 next year and $15 by 2021 died in the General Assembly this year. In a 21-19 party-line vote, Suetterlein joined Republicans in rejecting the bill.
Suetterlein argues that when wages go up, prices will also go up, so minimum wage workers won't see a real economic gain. He said employees could also see their hours reduced, which could complicate their eligibility for public benefits.
Suetterlein raised $158,114 this year through the end of September, and had $105,861 on hand, according to campaign finance reports aggregated by the nonpartisan Virginia Public Access Project. Ketner brought in $38,265 in that same time period, and had $17,901 in the bank.
Suetterlein said he's the only current Senate member who has never taken campaign donations from utilities Dominion or Appalachian Power. He said he can't in good conscience accept money from energy companies when Virginians are paying excessively high utility rates.
He said legislators need to fight to return authority to the State Corporation Commission, which regulates Virginia utilities, to critically review electric rates. Suetterlein doesn't like a 2015 law — passed before he was elected — that has allowed the utilities to pocket millions of dollars they would have otherwise had to return to ratepayers, while state regulators have been prevented from ordering those refunds. He opposed a 2018 law that Dominion pushed through the legislature that has led to an increase in electric bills, with the money put toward capital investments rather than ratepayer refunds or reduced electric rates.
"One of the great things about our area is we have a lower cost of living. But that means that when you have things like electric bills going higher, it disproportionately hurts Southwest Virginians," Suetterlein said.
Another pathway to ensuring people keep the money they earn is through tax reform, he said. Suetterlein supported legislation this year that resulted in compensating state taxpayers who paid high taxes as an unintended consequence of federal tax changes.
"I think you should try to offer as much freedom to families to pursue what's in their best interest," he said.