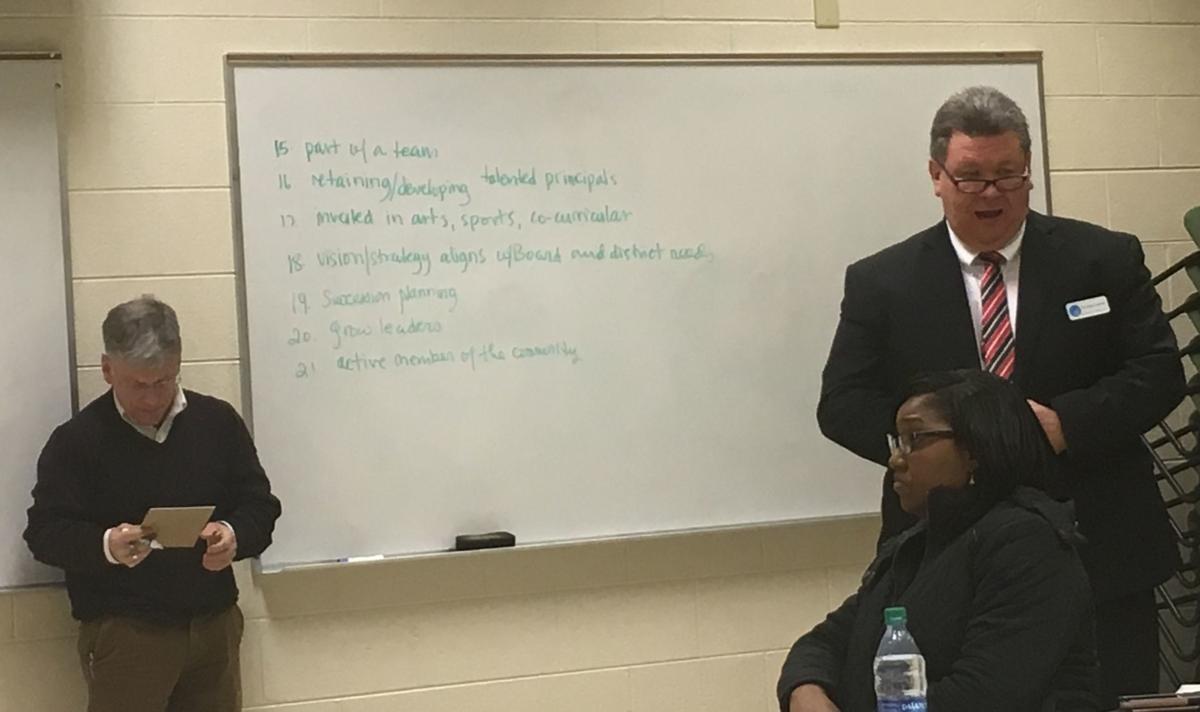 Parents, students, employees and others will have hours of opportunities in February to tell what they want in the next superintendent of Roanoke City Public Schools.
The executive search firm hired to find the successor for retiring Superintendent Rita Bishop outlined for the city school board on Tuesday a schedule and process for the search highlighted by a series of meetings for stakeholders they'll host Feb. 10-12.
Board member Lutheria Smith, who helped select the firm, said Omaha, Nebraska-based McPherson & Jacobson LLC stood out among three applicants for the role because of their approach to gathering input from a comprehensive range of people.
The firm will be paid $28,800 to guide the board to selecting a new superintendent from a nationwide search in time to start work July 1.
"This is the most important work you'll probably do as a board," said Barry Carroll, a consultant from McPherson & Jacobson.
A centerpiece of the process will be a series of hourlong meetings with a diverse mix of parties with an interest in the hire. The meetings, to be announced in detail later, will be held with no school board members present to encourage candor.
The list typically includes school faculty, staff and administrators, PTA leaders, faith leaders, students, government officials, business people and community members at large, said Carroll and Ralph Ferrie, another consultant from the search firm.
Board members suggested also including representatives from other groups including the arts community, nonprofits and the NAACP.
"It's critical there's a cross section of community members, administrators, teachers, students," Ferrie said.
Anyone who cannot attend one of the meetings can respond to an online survey, Ferrie and Carroll said.
While the process will be careful to include outside input, it will be opaque in terms of who the applicants are.
The board agreed Tuesday not to reveal a list of finalists, and only to divulge the name of the person who will take the job.
Tuesday's meeting did, however, include an exercise during which board members identified the characteristics they consider most important in their next superintendent.
The board wants a leader who:
Will provide inspirational, creative leadership in an urban district.
Is a strategic thinker with strong fiscal management skills.
Can create a high-performing, collaborative and respectful work culture.
Is committed to excellence in academics, arts, technology, athletics and co-curricular activities.
Appreciates "urban diversity" and is committed to equity.
Can effectively partner with civic, cultural organizations through personal engagement.
Carroll and Ferrie laid out a schedule that advertises the opening by the end of next week, closes to applications about a month later and brings in a small number of candidates for in person interviews in late April and early May.
The job will be advertised on all popular job boards, and probably also in key education trade publications.
The consultants warned that the task won't be easy because the person hired will be succeeding Bishop.
"We know that one of the big challenges is … you have a very, very successful longstanding superintendent," Ferrie said.
Selling Roanoke as a community to the candidates will be part of the board's job.
Chairman Mark Cathey said he's hoping for a selection of strong candidates from which to choose.
"We hope it will be a hard choice," he said.
Be the first to know
Get local news delivered to your inbox!