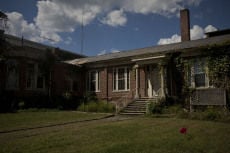 FAIRLAWN -- Time is now ticking toward the demolition of the historic St. Albans hospital.
Plans call for the former hospital to be demolished in January if an offer to buy is not made on the property.
"We've given it enough time -- three years -- to see if anyone's interested in buying it," said David Hagan, an owner of the property. "We think an empty commercial lot would be a lot more valuable to the community."
Meanwhile, the nearby King House, the family home of Dr. J.C. King, who opened St. Albans Sanatorium in 1916, is undergoing about $200,000 in renovations, according to its owners.
Hagan, who owns Shah Development and other companies with Larry Shelor, purchased both the former St. Albans and King House at auction in early 2008 for $777,000.
Built as the St. Albans boys school in 1892, one building held classes and the other was a dormitory. The school closed in 1911, and, five years later, King opened the sanatorium.
Later, it became the St. Albans Hospital, a part of the Carilion Health System. The hospital moved in 2003 when it was folded into the Carilion New River Valley Medical Center near Interstate 81.
It was given to Radford University in 2004 as part of the school's plans for a separate campus called RU West, an idea that was later scrapped as the university moved away from the idea of a divided campus and the high cost of bringing the building up to code.
The abandoned structure has been the site of theft, vandalism and late-night parties since it closed; it now sports graffiti and broken windows inside and out.
Tim Gregory, who, along with his wife, Victoria, owns New River Trail Outfitters in Galax, had an agreement last year to purchase St. Albans for $500,000 and invest $3 million in rehabilitation. The sale was never completed.
Messages left this week for Gregory and his group, Friends of St. Albans, were not returned.
Plans called for the renovated St. Albans Center for Research and Enlightenment, which Gregory called a peaceful place for seminars, retreats and vacations.
"I see people with all different ideas coming to seminars," Gregory said in 2010. "I want poets, writers and everyone else to come and be inspired."
Groups of Radford University students had given tours of the site and helped raise about $10,000 for the building rehabilitation last year, said Teresa O'Bannon, recreation, parks and tourism professor.
Students are no longer involved in the tours, although some paranormal groups are still using the building.
"It could use investors or a buyer," O'Bannon said. "I'd be interested in working with anyone who is interested in purchasing it for historical preservation."
Along with tours, fundraising events held at the former hospital brought people from all over the country, O'Bannon said, including events with TV personalities Steve and Tango from the Syfy network's "Ghost Hunters Academy."
Although the two buildings are often linked, the King House is being marketed separately for sale or lease.
The former home is zoned for commercial use, and has been used as a business site in the past.
Plans call for the 2,280 square-foot house to be completely renovated while "maintaining the integrity of the building," Hagan said.
He anticipates renovations will be finished in the next few months and the space will be for sale or lease, he said.
Other changes are occurring in the same area involving Shah-owned property. Across the street from St. Albans, a strip mall with six commercial spaces under construction should be finished in September, although no tenants have signed on yet, Hagan said. There is also the possibility that a Goodwill Industries facility will be built along U.S. 11 in Fairlawn, next to the Bojangles restaurant, Hagan said.
About a year is left on the lease of Goodwill's Fairlawn location, said Jim Shaver, vice president of marketing and development for Roanoke-based Goodwill Industries of the Valleys.