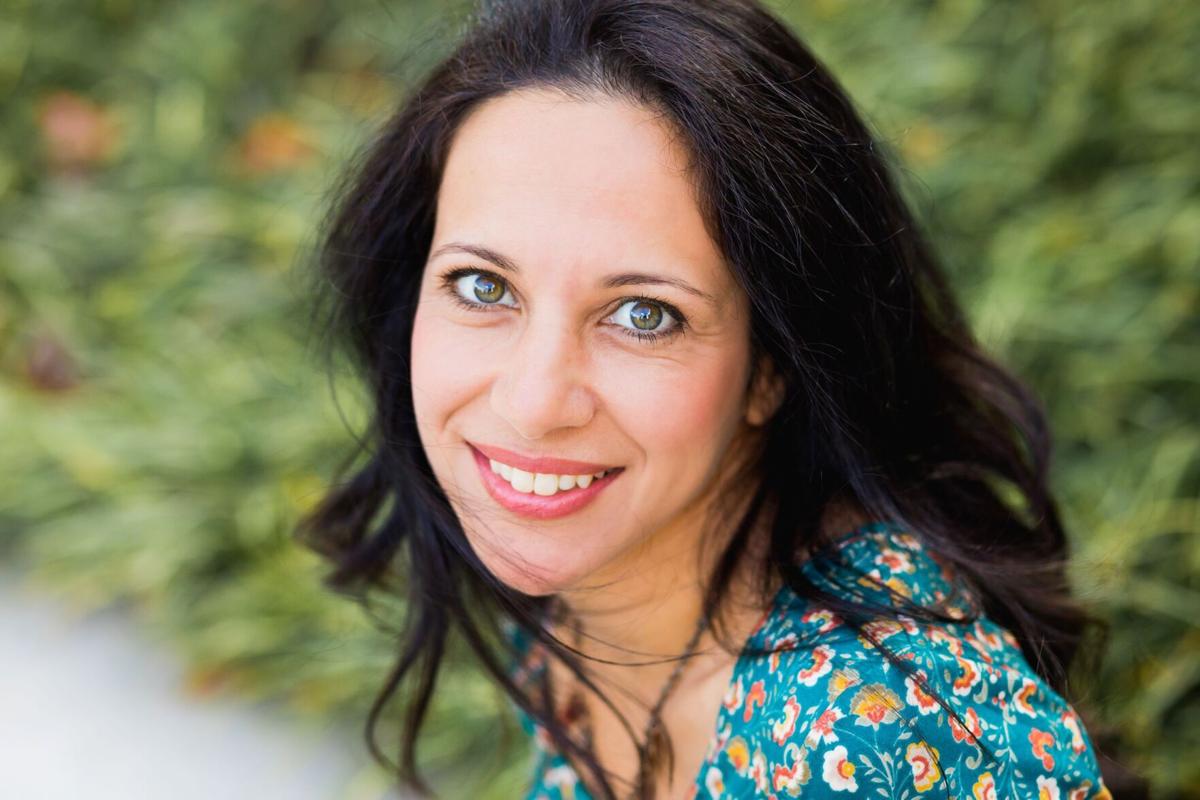 Lynchburg resident and writer Dina Gregory celebrated the worldwide release of the album for a new musical in development, "My Marcello," to which she penned the lyrics.
"My Marcello" can best be described as a romantic comedy about death.
Adapted for stage by Broadway producer and Tony Award winner Corey Brunish from the 1997 film, "Roseanna's Grave," later re-titled "For Roseanna," "My Marcello" tells the story of the title character, Marcello, and his gravely ill wife, Roseanna. The dying Roseanna's one wish is to be buried beside their daughter — but plots in the cemetery grow fewer by the day, threatening Roseanna's desire, so Marcello makes it his mission to keep everyone in town alive for as long as possible in order to see that his wife gets her final wish. In the process, he becomes something of a nuisance in the small Italian village, and comedy ensues.   
A lifelong writer, Dina has written some 20 short stories for Audible since settling in Lynchburg with her husband and their children a few years ago. She is also a lyricist, and has written other musicals in the past.
For Dina, writing lyrics for "My Marcello" was a true passion project.
In addition to being an Italophile, the result of many trips to Italy growing up, Dina has been a longtime fan of the film "For Roseanna." She first saw the movie shortly after her father died, and the timing made its themes of love and loss more poignant.
Upon learning the rights to adapt "For Roseanna" into a musical had been secured in 2015, Dina leapt at the opportunity to help bring the vision to fruition.
After connecting with Brunish, who asked her to write some "spec songs," Dina knew exactly who to go to for setting music to her lyrics: her twin sister, UK-based musician Rosabella Gregory.
For Dina and Rosabella, writing a musical together was the most natural thing in the world. The twins had been at it since childhood in their small hometown in Devon, England, with Rosabella at the family piano in the hall and Dina sitting on the stairs nearby making up lyrics for her sister's tunes.
At age 16, the twins wrote a rock opera together called "Melissa's Maelstrom," which won a contest run by English National Opera's Baylis Program, and was produced at the Britten Theatre in London for a five-day run. Dina and Rosabella also won the Vivian Ellis Prize for a musical entitled "In Nomine Amoris" at age 21.
Their work writing and composing later led the sisters to take part in a musical theater workshop as adults, connecting them with industry professionals from New York.
The sisters' spec songs for "My Marcello" were successful, and in 2015 they were commissioned to write the songs for the developing musical. The album was released worldwide on Aug. 20.
With Dina in Virginia and Rosabella in England, the sisters worked together across time zones and an ocean to produce the musical's 18 songs.
"I think it was the most natural thing in the world to tell stories. Dina does it with words, and I've always felt that my language is music," Rosabella said.
"Our Story" was the one track written when Rosabella visited Dina in her home, bringing back childhood memories of making up songs at the piano in Devon.
With their history of writing music together, combining Dina's skills as a writer and Rosabella's career as a musician, which has led her to do a little bit of everything in the music realm after studying at the Royal Academy of Music , they knew that although there would be inevitable push and pull through the process, they were on the same page artistically.
"Collaboration can be really tricky. I've learned that over the years. My safest place is Rosie," Dina said. "I love working with other composers as well, but I think there's a special source that comes from doing it with your sibling."
"It's just effortless with her [Dina], because I just literally look at a page, and if it's a lyric, or a story, I'm already hearing music. I just need to get home and write it."
The project as a whole began three years before the sisters were commissioned to create music and lyrics for "My Marcello."
Brunish also had an affection for the movie "For Roseanna," and decided to pursue adapting it into a musical.
After securing the rights to the film for adaptation, Brunish wrote the book. The major component still lacking were the songs.
Through what Brunish called a "serendipitous connection," the producer found the twin sisters, Dina and Rosabella, who also harbored a deep, personal passion for the movie he was adapting, and together they had the skillset he needed.
"I really liked the idea that they were sisters, and I really liked the sample work that I saw and heard, and I guess I just liked the fact that they had a connection to the story," Brunish said. "That always is a huge motivator as a writer, if it's something that is already near and dear to you. You're not only going to have a leg-up in terms of knowing the story, but you're going to be highly motivated to make it work."
In the musical process for a theatrical project, Dina and Rosabella said lyrics almost always come first.
"Composer-lyricists don't have to deal with this. It's all one person," Dina said. "I've often thought that's a luxury, but the next best thing is, it's your twin doing it."
The job of the musical score is to say what words do not, Rosabella said.
"Because I'm a bit of a music nerd, I'm really fascinated by how much you can convey that you couldn't possible explain with words," she said. "In all the music, I think for me, whatever the sounds are that you're hearing, the job was to try and keep the visuals. You do sort of want to see and feel the town, or the quirky circus, the way it opens."
To bring the feel of the story to life most poignantly, Rosabella opted for orchestra, with each composition fitting the scene and characters to evoke setting and emotion in listeners. Each instrument has its own character, she said, and songs were all composed with this in mind to tell the story through music. For a story set in Italy, traditional Italian music styles and sounds, such as lively tarantella music, were drawn in.
The story of "My Marcello" is, perhaps, more timely than ever.
Since the COVID-19 pandemic broke out, humankind has been confronted on a painfully real level with death, end-of-life planning, sickness, love and loss, even romance. "My Marcello" tackles many themes the world is enduring today. The show's creators ultimately hope the story will offer audiences a form of healing and coping.
"Right now, so many people are losing loved ones, and what I think this piece does beautifully is show you how humor can pull you through challenging times," Dina said.
Rosabella noted the theme of connection; how, for many, the sudden inability to be in physical contact with those one cares for has caused re-evaluation of priorities.
"If you're ignoring it, you're not processing it, and so what better way to process it than with humor, and with heartfelt emotions, such as lifetime devotion and deep, lasting love?" Brunish said.
Community is another major theme Dina found in the story, which she likened to Lynchburg and the town she grew up in in Devon. Close communities where almost everyone knows everyone, where people band together and support one another through challenging times.
"Even though this piece is set in Italy, I hope it would resonate with people anywhere, because it brings out the kind of universal themes that touch us all, especially right now in a pandemic," she said.
It was during the time of theater closures that Brunish called up industry friends and colleagues and asked if they would be interested in a job doing a world-premiere concept recording of a new musical in development.
"I was very pleased that almost everybody I contacted said, 'Yes! Let's do this!' So that's what we did," he said.
Artists were sent any recording equipment they needed, and recorded all their songs remotely from home studios, with some musical direction conducted via Zoom. The pieces were then seamlessly edited together in a New York studio.
"When Corey asked if I could help out with some demo recordings I jumped at the chance," said Santino Fontana, Tony Award-winning actor of stage and screen, performing in the lead role of Marcello. "Getting to do these recordings was a bit of a lifeline during a tough time."
From a home studio set up in a closet, Fontana recorded his parts of the performance. By now, he has done a handful of similar remote work in what he called a bizarre, but fun process.
"In some ways, the pandemic is closing doors, but in other ways, it opened some doors, too, because they were available and willing to try this new work," Dina said.
Broadway has so far re-opened at least half its 41 New York City theaters, Brunish said with cautious optimism. "My Marcello" still has a journey to go before making it to New York, but the album is a start in the show's production.
Dina and Rosabella are not done writing musical theater together.
Dina currently is penning a new musical about the history of the T-room, or Texas Inn, to premiere at Endstation Theater Company in Lynchburg. Rosabella is composing.
The album to "My Marcello," featuring a Broadway star-studded company, is available on broadwayrecords.com and other digital music platforms.
"We are so lucky that this is a way to keep making art and keep going," Dina said.