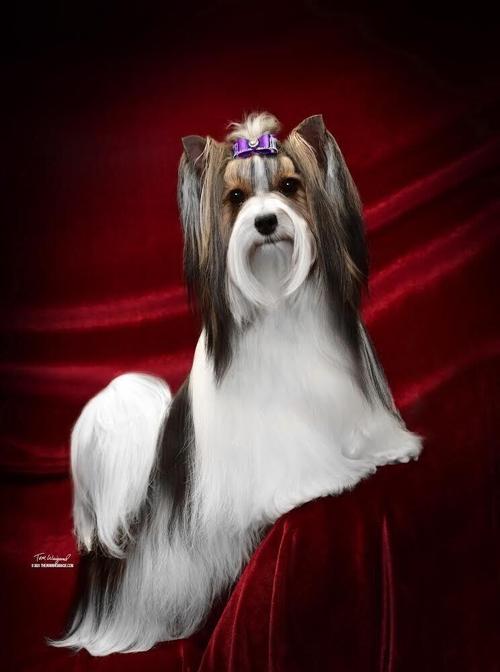 BLOUNTVILLE, Tenn. — Local dog lovers have an additional reason to spend a part of their Thanksgiving Day watching canines compete in the popular annual National Dog Show.
This year, the region has a dog in the fight.
Rumor, a 19-month-old Biewer terrier owned by Debarah Billings of Blountville, competed in the 20th annual show at the Greater Philadelphia Expo Center, which was held Saturday and Sunday. It will air on NBC from noon to 2 p.m. Thursday, following the 2021 Macy's Thanksgiving Parade.
According to Billings, Rumor won Best of Breed and will represent all Biewer terriers in the Toy Group and on TV in the Thanksgiving telecast.
The Biewer (pronounced "beaver") terrier is the newest recognized breed by the American Kennel Club, which authorized them earlier this year to compete in all dog shows. It is one of four new breeds introduced at the show.
Rumor, whose registered name is Grand Champion Bronze "Windsong's Somethin' To Talk About," competed against more than a dozen entries at the show.
According to Billings, her dog was the first American-bred AKC Champion and Grand Champion. She placed Best of Opposite Sex at Westminster Kennel Club Dog Show this year in Tarrytown, New York.
In addition, the dog is the No. 1 Biewer Terrier All Breed in the country. She has won nine group placements and is the only Biewer terrier to win the Toy Group.
She has won the Best of Breed at the prestigious Morris & Essex Dog Kennel Club Show held every five years. She has finished her Championship Title from the puppy classes.
Small and elegant
After Billings, 66, retired in 2008, she started looking for a puppy to help her pass the time, especially while her truck-driving husband was on the road during the week.
Little did she know that her interest in dogs would lead her to a new career as a dog breeder and exhibitor of Biewer terriers.
When Billings began her search for a dog, she stumbled on the Biewer terrier, a small, elegant, tricolored dog. She knew she had to have one. She sent messages to breeders who put her name on waiting lists.
According to her, the breed, which resembles a Yorkshire terrier, originated in Germany. It's known for its soft, silky coat and fun-loving disposition.
At the time of her search, the breed was considered rare because it had not yet been accepted by AKC and the United Kennel Club (UKC) show standards.
Her first puppy, Landie, was purchased from the co-founder of the Biewer Terrier Club of America in Alabama, who encouraged Billings to consider breeding and showing the breed.
After a few lessons at the Kingsport Kennel Club, Billings competed at her first dog show in 2009.
"I had never even been to a dog show," she said.
"It was overwhelming. There were at least 500 dogs competing. I later found out that was considered a small show, but to me it was enormous."
Landie won all four of the rare breed shows, competing against 12 other dogs in the category.
"I was amazed that after four little training classes, Landie had her tail up with confidence. I was shocked. I thought this must not be all that hard. I think I can do this," said Billings with a laugh.
With a taste of success, she purchased two more Biewer puppies. This time, she attended seminars in Florida conducted by industry experts to help sharpen her handling and training skills.
"When I do anything, I like to do well at it," Billings said.
She created a kennel on her property named Windsong, raised a litter of puppies and started a breeding program, all in the same year. The kennel, which currently holds 12 of her dogs, is like a hotel, of sorts. It features a dog grooming area, along with a washer and dryer, refrigerator and dishwasher — all used for the upkeep of the dogs.
Billings quickly discovered her newfound hobby requires a lot of money, travel and time.
When her husband retired, they purchased a recreational vehicle, traveling to as many as three shows during a weekend in locations from Florida to Michigan and Missouri.
She flew to Seattle, Washington, four times in 2013 just to compete at dog shows.
Billings is now a member of the board of directors for the Biewer Terrier Club of America — the same club she found while scouting the internet for a puppy. She will take over as president of the club in January.
She will continue to participate in dog shows but confessed her role as president will demand a lot of her time.
Billings said she's excited to represent the region and the breed.
The dog breeder, who owns three of the top five Biewer terriers in the country, has been invited to compete in the next Westminister Kennel Club Dog Show in January.
"And, just think, I was just looking for a little puppy when I retired. Who would have thought I would have gotten this far?" she asked.