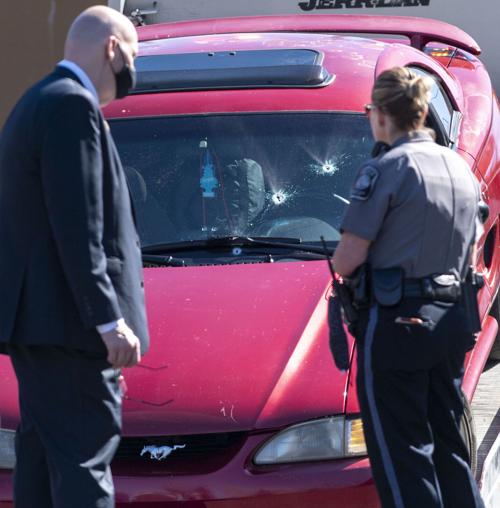 A Bristol, Virginia, police officer has been indicted on a charge of murder in an officer-involved shooting that killed a man in a motel parking lot in March — marking the first time a Twin City officer has been charged with murder in more than 100 years.
On Monday, a grand jury in Bristol handed down three indictments — murder, use of a firearm in the commission of a felony and shooting into an occupied vehicle — against Officer Johnathan R. Brown, 31, of Piney Flats, Tennessee.
Roanoke Commonwealth's Attorney Donald Caldwell has been named special prosecutor in the case.
"I have no statement to make in this matter, as it is pending in the Circuit Court for the City of Bristol," Caldwell said Tuesday.
It's not clear exactly what happened prior to the shooting. The Virginia State Police said the day of the shooting that Jonathen Blake Kohler refused to get out of the car and drove toward the officers; however, a State Police spokeswoman declined to clarify Tuesday.
Shortly before 4:30 a.m. March 30, the Bristol Virginia Police Department received a 911 call reporting shots fired from a person staying at the Rodeway Inn on Euclid Avenue near Gate City Highway. When officers arrived, they encountered Kohler, 31, of Bristol, Tennessee, who was seated in the driver's seat of a red 1994 Ford Mustang, according to a statement released by the Virginia State Police on Tuesday.
"As officers were verbally engaged with Kohler, he backed up and then drove forward in an attempt to exit the parking lot, at which point one of the officers fired at Kohler's vehicle," the VSP said in the statement.
Kohler, previously of Shallotte, North Carolina, died at the scene. No officers were injured.
City Police Chief John Austin requested that the VSP Criminal Investigation Division investigate the fatal shooting.
A search warrant was executed April 5 on Kohler's vehicle, which was stored at a state police office in Wytheville. Investigators searched for bullets, bullet fragments, cartridge casings, ammunition, firearms and cellphones, according to the search warrant, which was filed in Wythe County Circuit Court.
The investigators found bullet fragments and a cartridge case in the car, the warrant states.
Brown turned himself in to VSP on Tuesday and was released on $25,000 bail.
The city has also begun an internal affairs investigation, according to a statement from City Manager Randy Eads and Mayor Bill Hartley. The investigation was not conducted during the criminal investigation so it wouldn't hamper the probe, they said. The internal affairs investigation is anticipated to be completed within 10 days.
Brown was suspended with pay following the shooting, which is normal protocol for officer-involved shootings in Bristol. On Tuesday, the officer was suspended, without pay, pending the outcome of the internal affairs investigation, according to Eads.
"We do not condone, nor will we tolerate the unnecessary use of force by our police officers," Eads and Hartley said in a statement. "There is a time and place for the use of force, and force must be used sparingly and within the bounds of the law."
Brown is the first Bristol police officer, from either side of the state line, to be charged with murder since 1903, when Bristol Virginia Police Officer Grat Walk shot Bristol Tennessee Police Officer Samuel H. Childress. He was convicted of second-degree murder and sentenced to 20 years in prison.rsorrell@bristolnews.com — 276-645-2531 Twitter: @RSorrellBHC Facebook.com/robertsorrelltn