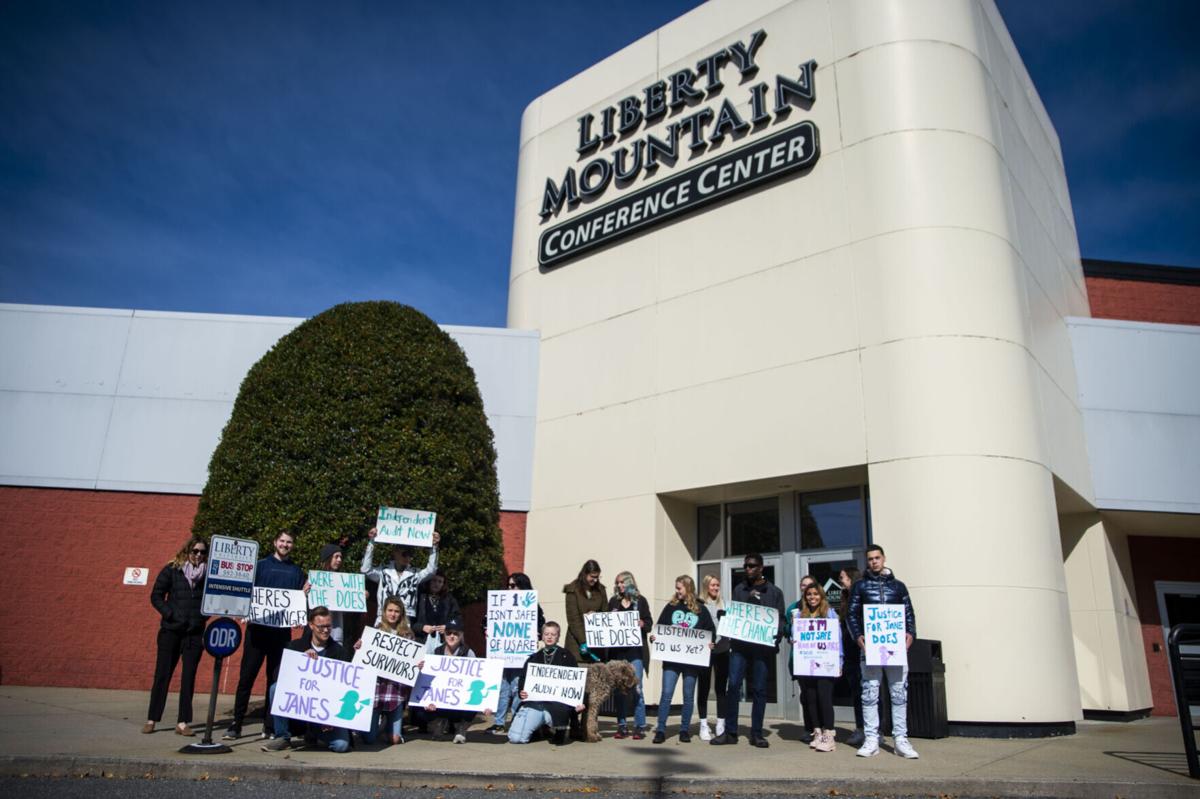 Liberty University's board of trustees issued a statement Friday evening after its fall meeting that mentions investigations into Title IX policy and broader policy changes.
But critics who staged a campus rally Thursday calling for a third-party investigation into LU's handling of sexual assault cases and other aspects of campus culture — prompting in-person promises from President Jerry Prevo — voiced doubt and disappointment over vague wording choices they said appear to contradict Prevo's promises.
Transparency was a major focus of rally leaders Thursday, but nothing in Friday's statement indicates there'll be public disclosure of the changes and processes mentioned, Save71 group co-founder Dustin Wahl pointed out. Save71 is an LU alumni group that's called for greater integrity from the school on several issues.
Though Friday's statement reads the board unanimously voted to "approve or revise 10 institutional policies which strengthen the university's processes for governing its business conduct and executive management," it doesn't enumerate what existing policies are included in that list or what exactly any new policies would be.
"The policies related to ethics in business conduct, conflicts of interest, nepotism, acquisition processes, whistleblower protections, political limits training for 501(c)(3) organizations and training on the new policies, among others," it continues, without providing details on those policies.
"These decisions were the results of months of Trustee work and follow the charter and bylaw revisions passed in the immediate previous meeting of the Trustees," the statement continues.
Those revisions ostensibly refer to the board's decision last year to change LU's leadership back to a model with both a chancellor and a president, which was posted to the school's website. That announcement also laid out the structure for committees that'd search for a new chancellor and president.
Clarification questions sent to a LU media spokesperson Friday night were not returned as of press time.
"They don't release those bylaws publicly, so when they announce policy changes that seem to imply positive developments … there's no benchmark, there's no ability to determine what it actually means," Wahl said in a Friday night interview.
Changing the policies was done in response to "external and internal reviews" of LU, the release states, likely including the private results of a monthslong, school-funded investigation launched after Jerry Falwell Jr.'s resignation as president in August 2020. That investigation has been the subject of public scrutiny since it was referenced in a lawsuit filed last month.
"The whole world knows that the last year has been challenging for Liberty University," board chairman Tim Lee is quoted as saying in Friday's statement. "What they may not know is that these challenges are only making us stronger. This has become a banner year for Liberty University."
That, too, was a red flag for Wahl, who called the statement "shocking" and "unbecoming of anyone involved in a Christian institution."
Dozens of people have come forward in the past few months accusing the school of systemic mismanagement of sexual assault reports. Twelve of those claims from anonymous women, many of whom have expressed themselves further through news stories and social media, were collected into a case pending in federal court that's had a ripple effect on and off campus: the "Jane Doe lawsuit."
John Larkin, an attorney representing the Jane Does, has confirmed LU officials have been discussing policy, policing and procedural changes in negotiation talks that have put a three-month pause on progression in that lawsuit.
Wahl, current LU students and other advocates were joined Thursday by Rachel Denhollander in a rally calling for multiple campus changes centered on those claims. Denhollander, who spearheaded accountability for Larry Nassar's years of unchecked sexual assault against hundreds of women in the USA Gymnastics sex assault scandal, spoke up for a holistic independent investigation "that can assess the culture of the university, the structure and the policies, and then produces a fully public report."
Quietly joining the rally and speaking with organizers afterward, Prevo promised the school would work with a third party firm for such a review. He referenced recommendations made to him by Denhollander in a private meeting about firms LU could work with and said "there will be a release of that investigation."
Reports of sexual assault fall under Title IX policy, which the board voted on Friday as well, according to Friday's statement.
"The board also voted unanimously to have an independent and comprehensive review of its Title IX policies and processes, including recommendations for improvement with best practices consistent with Liberty's mission," it reads. "The Board authorized President Prevo to engage a third party to independently assess the facts necessary for Liberty University to make things right with the Jane Doe Title IX plaintiffs, regardless of how long it has been. President Prevo noted during the board meeting that the institution wasn't going to wait until the reviews were complete in order to take positive actions."
Wahl noted this promise lacked a public transparency component.
Denhollander took to Twitter on Saturday for her reaction, saying she was "disappointed and grieved" since the board's response fell far short of what she and the others were requesting.
"While a Title IX review is not a bad step," she wrote, not all of the complaints relate to technical policy violations. Other major issues to her included leadership and board failures, as well as campus culture issues and a lack of channels for students to make their voices heard.
Also at Friday's meeting, the board determined it'll start searches for its new president and chancellor next summer through a designated committee, according to the statement.
"The search committee intends on having both leaders in place for the summer of 2023," it reads. "The board expressed full confidence in Prevo continuing to serve as President through the May 2023 Commencement."
Prevo was initially brought on as LU's interim president, but shed the "interim" part of that title some months ago. Wahl said a three-year stint as president is longer than he and others expected.
"This is something of a power grab by him, not that it's a change in the status quo," Wahl said.
He added he's hopeful more specific details will be forthcoming.