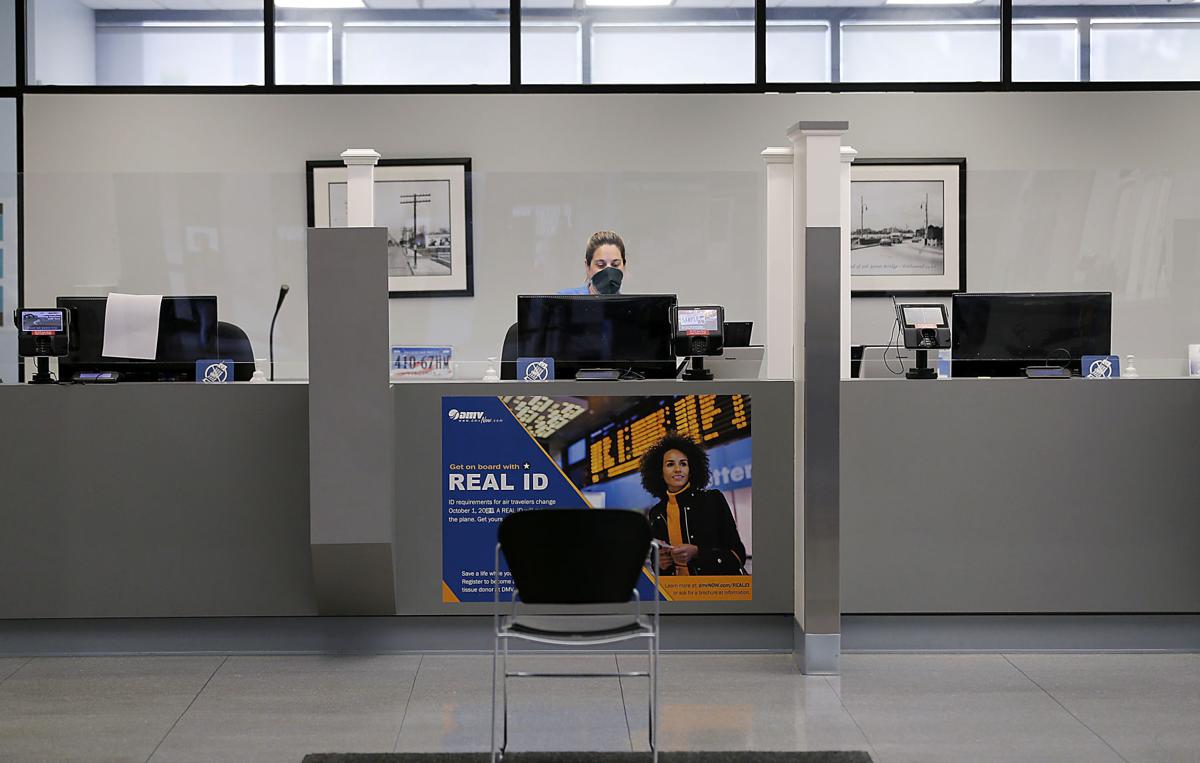 Virginians will be able to walk into Department of Motor Vehicles offices for service again beginning on Oct 5, but they'll still have the option of making an appointment under a new alternating daily schedule unveiled on Thursday.
Pushed by the General Assembly to reopen 75 offices across the state for walk-in service, the DMV answered with a hybrid plan that also recognizes the popularity of appointments that many customers have found more predictable and less time-consuming than the old cattle-call system.
"We hope this is the best of all worlds," Motor Vehicles Commissioner Rick Holcomb said in an interview on Thursday. "We certainly will monitor it as we go along and make any adjustments we need to make."
The plan will offer walk-in service at all DMV offices on Tuesdays, Thursdays and Saturdays. The agency will provide services by appointment only on Mondays, Wednesdays and Fridays. The offices will be open from 8 a.m. until 5 p.m. on weekdays, and from 8 a.m. to noon on Saturdays.
"We really think the hybrid service approach is going to offer customers a lot more flexibility," Holcomb said. "They can determine how they want to be served and what meets their needs the best."
Led by Sen. Chap Petersen, D-Fairfax City, the assembly adopted a revised budget during special session that requires DMV to produce a plan within 30 days for reopening offices within an additional 30 days.
Petersen is not happy with the new plan because it wouldn't provide walk-in service every day.
"No, it's not satisfactory," he said.
Petersen said he was responding to widespread dissatisfaction among constituents over waiting for appointments after the COVID-19 pandemic forced the offices to close and then reopen 16 months ago without walk-in service.
Petersen, a lawyer, said courthouses are open every day, and so are most retail businesses.
"I don't understand why they think they're different from any customer-facing retail business," Petersen said.
Waits for appointments varied widely among DMV offices, based on population and demand, but the agency says it actually handled 50,000 more transactions in an average week during the pandemic than it did previously. The biggest increase came in internet transactions - as well as by mail and over the telephone - while the largest dip came at customer service offices.
DMV also conducted a survey that it says found that 77% of Virginians prefer service by appointment to the old system of coming into an office, taking a number and waiting until it is called.
"They absolutely can plan their day. ... They love the predictability of that," Holcomb said.
Under the hybrid plan, DMV offices will provide all services on walk-in days, including knowledge and skills testing for driver's licenses. The offices also will provide all services on appointment days, with the exception of renewing registration and license plate decals, which DMV encourages people to handle online or by mail, as about 40% currently do.
Some visits, such as getting a Real ID driver's license or identity card, must be handled in person, but DMV encourages people to make appointments after receiving notice 90 days in advance that their licenses or ID cards will expire.
People relying on walk-in service sometimes will have longer waits, as they did before the pandemic upended the system, because DMV won't be able to plan ahead on the time necessary, depending on the service requested. Obtaining a handicap placard takes about 5 minutes, but issuing a new license and tags generally takes about 45 minutes.
"There will be waits," Holcomb said.
The agency decided to not provide walk-in and appointment services on the same day after surveying other states that took that approach. "We found that states that opted to offer walk-in and appointment service simultaneously were met with long lines and dissatisfied customers," the DMV plan states.
"Specifically, problems included customer confusion; interruptions and delays; crowding and safety concerns; and dissatisfaction with both types of service."
DMV said customers will be "strongly encouraged" to wear face masks in the offices to prevent the spread of COVID-19. Chairs will be spaced at least 6 feet apart, and the agency said it would strictly enforce limits on the number of people who can be inside the buildings at any time.
All DMV offices will be open under the hybrid plan, except one in Smithfield that the agency plans to replace by early next year because the old office couldn't be adapted to provide safe distances among customers during the ongoing pandemic.
DMV opened a new office in eastern Loudoun County in January and replaced an office in Lexington the next month. The agency also plans to replace offices in northern Henrico, Leesburg and Fairfax County (at Fair Oaks Mall) next year.
"As COVID-19 remains an ever-changing threat to the health and well-being of Virginians, DMV will need to maintain its ability to quickly adapt operations based on factors, including service demands, public health, and staffing levels," the agency cautions in the plan.
"At a minimum, DMV will evaluate the plan within 60 days of implementation and make adjustments as needed."